Stryker: I-back quartet Huskers' best since 1995
Nebraska is rebuilding its identity as a power running team. The Cornhuskers are back in the top 10 for rushing yardage and have had four different players crack the 100-yard barrier so far this season.
Much has been made of Taylor Martinez's new footwork and his prediction that he'll complete 70 percent of his passes this season. Those are important, and although he hasn't proven he can win games with his arm alone, Martinez has improved this year as a passer. But he'll never be a consistently good passing quarterback. He's a great athlete – a good running quarterback who can hurt you with the pass if the Huskers macke you respect their run game.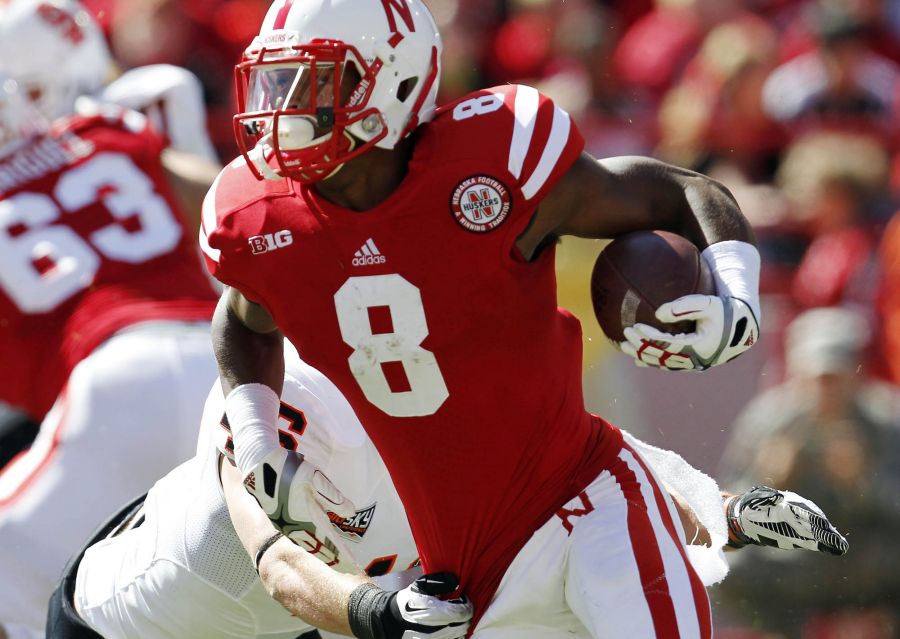 Ameer Abdullah breaks away for a touchdown against Idaho State's Mitch Beckstead. | Bruce Thorson-USA TODAY Sports
A 73-7 victory over Idaho State Saturday was a a glorified scrimmage that worked well to get Rex Burkhead back into playing shape after sitting out two and a half games with a sprained knee. It was a good way to build depth. It was nice to see backup quarterback Ron Kellogg play half the game and throw a touchdown pass. But it is becoming obvious that Burkhead, Ameer Abdullah, Braylon Heard and Imani Cross are the workhorses that will fuel this team. Running backs coach Ron Brown has a lot of talent to work with, and seems to be developing it well.
Nebraska has its best stable of I-backs since 1995, when Lawrence Phillips – the most talented running back in NU history before he wrecked his own career with emotional and legal problems – was backed up by future Pro Bowler Ahman Green, plus two other very talented backs, Clinton Childs and Damon Benning.
If Burkhead makes a full recovery from his knee sprain – and his performance Saturday indicates he is well on the way – the Huskers will have benefited both in the short term and long term because Abdullah, Heard and Cross will be ready for almost anything they are asked to do during the Big Ten season, and over the next couple of years. That's partly because of Burkhead's selfless attitude and leadership skills. While he sat out, his understudies gained carries and confidence. And now Burkhead will be fresher for the conference season.
Burkhead is the steady hand that Martinez can depend on to help move the chains, the master of converting third-and-short situations by either slithering or smashing for a first down. He's looking a little more explosive this year, having tallied the two longest touchdown runs of his career in the few chances he's had to carry the ball as a senior.
I originally thought Abdullah would always be a good kick returner who should be limited to third-down duty, but he is becoming a dependable every-down back who can hit the home run. Heard may be the fastest runner of the four, although the least likely to mix it up between the tackles. Like Burkhead and Abdullah, he can catch passes well. Cross is the bruiser who already shows more ability to cut and change directions than someone like Dan Alexander ever did. Cross shows a lot of promise. Burkhead and Abdullah can pick up the blitz well; Heard and Cross are serviceable in that department.
With Justin Jackson at center, Spencer Long and Seung Hoon Choi at guard, and Brent Qvale and Jeremiah Sirles at tackle, the offensive line is crystalizing with Cole Pensick (center/guard), Andrew Rodriguez (tackle) adding quality depth. It can be an excellent line when it gets its rhythm right. Its communication and cohesiveness are improving.
This is not the speed option team of the 1990s, but the Husker can still run the ball. When it gets rolling, Nebraska is a power running team out of the I formation that can line up in the shotgun spread and run the read option. Taylor Martinez can run straight ahead, but his cutting ability is mediocre at best, and the offensive line seems best suited to blocking for the off-tackle, trap and pitch plays anyway.
Offensive coordinator Tim Beck talked about a 50-50 mix of runs and passes this season, but After four games, Nebraska has run the ball 192 times and thrown 97 passes. That two-to-one ratio seems to be working well, although I think it will even up a bit more during Big Ten play.
The question is this: will Beck have enough wisdom and patience to keep pounding Husker opponents with the running game or will he panic and abandon it after three or four scoreless possessions as Nebraska enters the five-game stretch that will pretty much define its season?

Formerly the sports editor at the North Platte Bulletin and a sportswriter/columnist for the North Platte Telegraph, Tad Stryker is a longtime Nebraska sports writer, having covered University of Nebraska and high school sports for more than 25 years. He started writing for this website in 2008. You can e-mail him at tad.stryker@gmail.com.
---