Stryker: Husker coaches make the right moves to shut down Penn State
In Lincoln, it's not just the players who have learned to be resilient in the homestretch of the 2012 season. On Saturday in windblown Memorial Stadium, Bo Pelini and his coaching staff stepped up as well.
It took a while for them to figure it out. They were thoroughly outcoached in a first half that went exactly the way Penn State and its coach, Bill O'Brien, wanted it. They got their patented quick start. They kept the Huskers out of the end zone on two long drives. They took advantage of every Nebraska mistake, which were numerous. NU was confused on defense and let Penn State escape third-and-10 and third-and-13 situations on first quarter drives. To top it off, their erratic field goal kicker, Sam Ficken, split the uprights from 27 and 38 yards away. The Nittany Lions led 20-6 at halftime. The buttoned-down Nittany Lions had the sloppy Huskers backed into a 20-6 corner.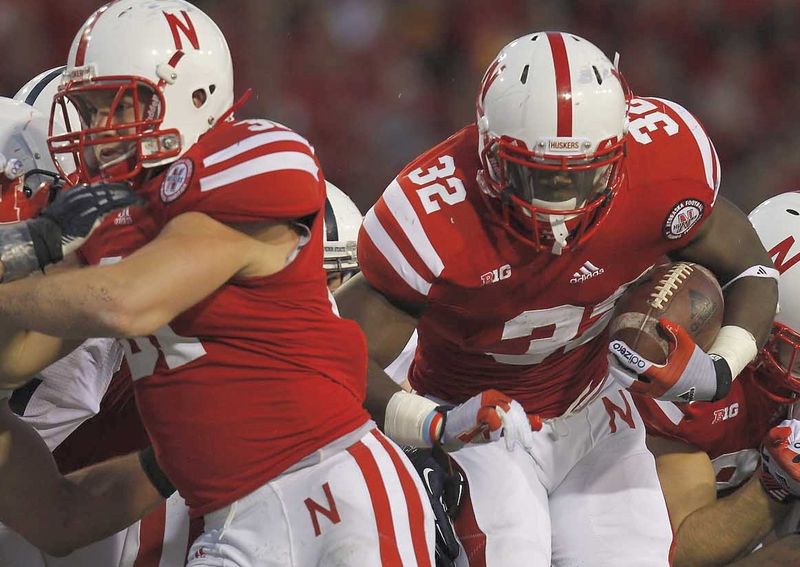 Imani Cross breaks through the line in the second half. | Bruce Thorson-USA TODAY Sports
Yeah, whatever. Nebraska went on another rampage, overcoming a double-digit second-half lead to earn a victory for the fourth time this season.
O'Brien may get the Big Ten Coach of the Year award, and I'd cast my vote for him if I had one because of the way he has his players believing in each other after being torched by serious penalties not the fault of anyone who was on the Penn State sideline in Lincoln Saturday. But this day belonged to Pelini. If you've been cussing him out for "not making adjustments" at halftime, well, I hope you were paying attention.
Pelini kept his team focused. Offensive coordinator Tim Beck went old-school, hammering the Nittany Lions with the I-formation running game. Defensive coordinator John Papuchis found a way to keep Penn State out of the end zone, mainly by confusing quarterback Matt McGloin. Nebraska found a way to keep its momentum moving toward Indianapolis.
Nebraska (8-2 overall, 5-1 Big Ten) has emerged from what what many predicted would be be the decisive six-game stretch of the 2012 season. The Huskers won five of those games and hold all the cards in the Legends Division race.
It was a windy November game in Lincoln, a reminder of why Nebraska always need a dependable running game. And after halftime, the Huskers cranked it up. With Rex Burkhead on the sideline again, Ameer Abdullah and Taylor Martinez teamed up to move the ball downfield behind a Husker o-line that keeps making enough good plays to outweigh its ongoing string of nagging illegal procedure penalties.
Nebraska came out in the second half and hit PennState in the mouth with an eight-play, 75-yard drive ending in a 1-yard TD run by freshman Imani Cross, who helped overcome his team's Burkhead deficiency in the red zone by scoring twice.
And the Blackshirts kicked in. Penn State's senior quarterback completed only eight of 19 second-half passes and was picked off by Daimion Stafford, who set up Cross's tying touchdown with his return to the Lion 4-yard line. McGloin also was called for intentional grounding in his own end zone, which handed two more points to the Huskers. The Lions converted four of eight third-down situations in the first half, but only two of seven in the second. They never got a fourth-down conversion.
Martinez, who struggled in the first half, recovered to patch together an efficient performance, finishing with 12 completions in 20 attempts for 171 yards, giving balance to the Husker attack which churned out 77 snaps and held the ball more than 34 minutes. Although he lost a fumble inside the Penn State 5-yard line, he never lost control and hit Jamal Turner for the game-winning touchdown pass for the second week in a row. After Martinez and Turner connected on a 5-yard scoring play with 10:57 left, the Blackshirts got three stops to seal the game.
Pelini's team is learning to make plays in critical moments. If they can figure out a way to steady up their kicking game – especially punt returns, which have gone from mediocre to nonexistent – the Huskers can be very dangerous. A rapidly-maturing Martinez makes them very difficult to defense. This season, which teetered on the brink of swampland midway through the fourth quarter in Evanston, Ill., is heading toward high ground.

Formerly the sports editor at the North Platte Bulletin and a sportswriter/columnist for the North Platte Telegraph, Tad Stryker is a longtime Nebraska sports writer, having covered University of Nebraska and high school sports for more than 25 years. He started writing for this website in 2008. You can e-mail him at tad.stryker@gmail.com.
---
---
---
---