DENNIS CLARIDGE

Dennis Claridge did it all during his playing career at Nebraska from 1961 to 1963. Tall, fast and tough, he not only quarterbacked the team but also served as punter and played some defensive back and outside linebacker. In fact, he led the team in both passing and interceptions in 1961, and his interception set up NU's final touchdown in the 1962 Gotham Bowl. His single-game record of 57.3 yards per punt (against Syracuse in 1961) stood for nearly four decades before Dan Hadenfeldt broke it in 1999.
But it was at quarterback where Claridge made his mark, and when he graduated after the 1963 season, he was listed as the school's leading career passer. He was at the helm when Nebraska traveled to Michigan in 1962 and came home with an upset victory that propelled the program back into national prominence. He also engineered the first two bowl victories in Nebraska history: He completed 9 of 14 passes for 146 yards and a TD in the 36-34 win over Miami in the 1962 Gotham Bowl, and his 68-yard touchdown run on Nebraska's second play from scrimmage helped the Huskers to a 13-7 victory over Auburn in the 1964 Orange Bowl.
A 1963 Academic All-American, Claridge was drafted by the Green Bay Packers.
STATISTICS
Passing
125/298 41.9% | 1,733 yds | 8 TDs | 90.3 rating  
Scoring
17 TDs | 2 two-pt. conv. | 106 pts.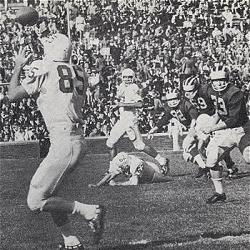 Connecting with receiver Jim Huge during the big win at Michigan in 1962.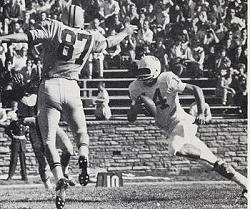 Finding an opening against Colorado in 1962.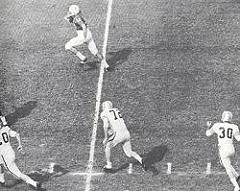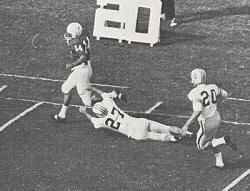 Breaking loose and shaking a tackle during his 68-yard TD jaunt in the 1964 Orange Bowl.