Nebraska Theme License Plates - HUSKR 29 Illinois

Here is an Illinois plate for you. I moved to the Chicago area 13 years ago having graduated from UNL in May 1997. In Illinois you used to be able to pay just $5 more for personalized plates if you included a number. Well, I put in HUSKR 1,2, and 3 as my first choices, so I got the next available number which was HUSKR 29. On the way to work (a fantastic 1 and half hour commute one-way) I happened to see HUSKR 5 and HUSKR 13 on the road. My friends used to give me a hard time about the 29 because it really didn't mean anything. I could have picked 97, the year I graduated, but didn't. Oh well, opportunity missed.
As for my history as a Husker fan...my family has had North end zone seats since expansion. I personally started receiving Nebraska Media Guides in 1981 at the age of 8 and acquired my grandfathers since 1973, the year I was born. I went the 1994 Orange Bowl (1993 season) and the 1996 Fiesta Bowl (1995 season) while in school. 1994 Orange Bowl is the best game I have watched in person. My first game was 1985 (I lived in Dallas from 1975-1986) against Colorado. Tom Rathman ran 80 yards up the middle towards the North End Zone. All great memories of Husker games. So lots of history and a reason to get the plates when I moved to Illinois.
Dalton R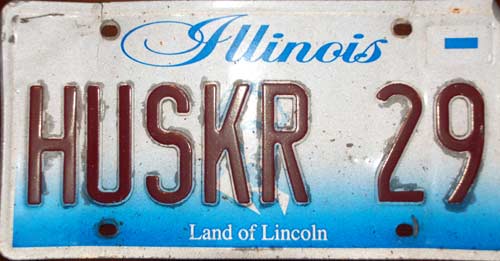 Send your plate image and story to [email protected]. Return to Return to license plate index.