Nebraska Theme License Plates - NEBRA1 and HUSKR 2

I was born in Omaha and my Dad was stationed @ Offutt AFB but I grew up where Phil K is now in Gwinnett Co, GA and moved to Tampa, FL in Feb 2003. Diehard Husker fan and only been to 3 great games, 1997 NC in Miami, 2009 Gator Bowl and finally made it back to the holy grail of college football, Lincoln for the home opener 2009 FL Atlantic game, got some good tickets off their website. My Dad drove out from Atlanta, I flew up from Tampa and he was my personal guided tour the whole weekend. We put the top down on the PT Cruiser, cruised all over both cities and then the game just topped it off as one of the best weekends ever in my life!

You can only have prestige tags in FL for 5 years so the first one I went off the we're number 1 theme but changed it to Nebraska of course and the new one I just got is for when I pass other Husker fans on the road to let them know I'm a Husker too...

Thanks for the website and keep up the great work on it.

GBR!

~Darin S. Tampa, FL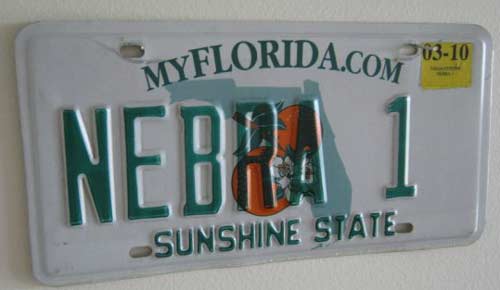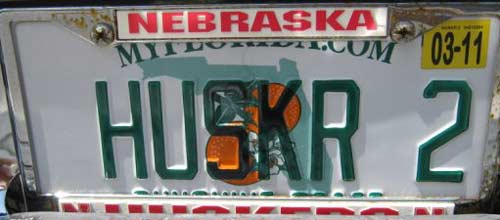 Send your plate image and story to [email protected]. Return to Return to license plate index.