Nebraska Theme License Plates - Husker6


Max, I am a California farm boy who was introduced to the Huskers at a very early age. NU vs OK games on TV. Really took off when I was 11 or 12 when visited friends in Lincoln. Back to back summers, visited the campus, been addicted since. (My son's initials are NE)
In 1999 I purchased the HUSKER6 license plate thinking NU was only a few years away from National Championship number 6. I even took it with me to the Rose Bowl vs.the gangsters from Miami. I was in a wheelchair at the game (just had back surgery on Dec. 18th) and my awesome wife pushed me through the muddy golf course parking lot. Well, I am still waiting for number 6.
My friends used to call my cars (plate was first on a Camry, then 2 different Lexus models) "HUSKER6" and dogged me every year when Championship #6 never came. My latest car didn't have the privilege of the HUSKER6 plate, but will soon have a new NU license plate centered around BO!
Thanks Max for such a great website.
GBR!!!
Bo Rules!!!
pjbighuskerman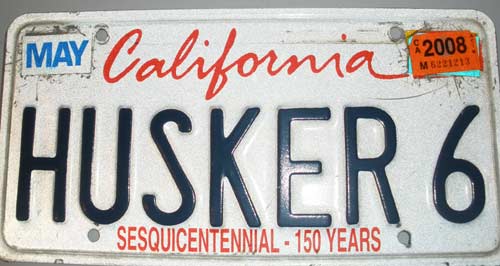 Send your plate image and story to plates@huskermax.com. Return to license plate index.