January 1, 2017
Huskers Rally Late to Beat Maryland 67-65

Webster

Morrow Jr.

Watson Jr.

----------------------------- 
           1   2   total 
Maryland  30  35    65 
NEBRASKA  34  33    67 
----------------------------- 
College Park, Md. —
Tai Webster finished with 18 points, including a go-ahead layup with 31.2 seconds left, as Nebraska rallied from a 13-point deficit in the last seven minutes to stun Maryland, 67-65, Sunday afternoon.
Webster, who battled foul trouble for most of the second half, keyed the Husker rally, scoring NU's last seven points in the final 2:32 as Nebraska (8-6, 2-0 Big Ten) scored the last 14 points to hand Maryland just its second home loss in Big Ten play since the Terrapins joined the Big Ten.
Nebraska trailed 64-51 rallied behind the Husker frontcourt, as Ed Morrow Jr. and Michael Jacobson got some timely baskets as the Huskers began whittling away the deficit, as Jacobson's two free throws with 3:19 left made it a five-point game before Webster took over down the stretch.
Maryland, which was held to 35 percent shooting, missed its last nine shots from the field and committed three turnovers in the final six minutes, giving the Huskers a chance to rally. The Terrapins (13-2, 1-1 Big Ten) had two possessions in the final 30 seconds, but the Husker defense held firm, forcing a turnover on one possession before forcing a pair of Melo Trimble misses in the final 10 seconds.
Webster finished with a team-high 18 points, along with five assists to pace three Huskers in double figures. Glynn Watson Jr. added 17 points and three steals, while Michael Jacobson finished with 10 points and nine rebounds, including seven offensive boards.
With the win, NU improved to 2-0 in conference play for the first time since 2005-06 while winning its first two conference road games since the 1978-79 campaign.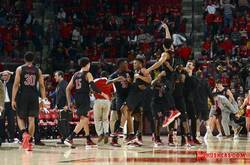 Photo Courtesy of Huskers.com
Nebraska celebrates after completing a 14-point comeback rally to defeat Maryland on the road.
The Huskers' comeback seemed unlikely as Maryland ran off 17 straight points, turning a 47-43 deficit into a 60-47 advantage. Trimble, who finished with 14 points, gave Maryland a 49-47 lead after a four-point play before Kevin Huerter scored seven of his game-high 26 points, including a 4-point play with 8:37 left to give the hosts a 13-point lead.
Maryland cut the lead to 35-33 after a Huerter 3-pointer, but Nebraska ran off six straight points to take its largest lead at 41-33 after a Jacobson tip in. Webster picked up his third foul and Maryland capitalized with a 10-2 run, tying the score at 43 on a Melo Trimble drive before baskets by Webster and Isaiah Roby stretched the lead back to four.
In the first half, the Huskers overcame a slow start to take a 34-30 lead into the locker room. NU, which missed its first five shots, ended up shooting 48 percent from the field in the opening 20 minutes while holding the Terrapins to 33 percent shooting.
Glynn Watson Jr. keyed the Husker effort with 12 first-half points while Webster had eight points and five assists in the opening 20 minutes.
The first 10 minutes saw the lead trade back and forth until NU seized control. Leading 18-17, the Huskers used a 8-2 surge to build its largest lead of the half at 26-19 after a Evan Taylor jumper.
Maryland rallied behind the play of Huerter, who had 13 first-half points, as the freshman scored five straight as part of a 10-0 run that put the hosts ahead 29-26 with 2:26 left in the half. The Huskers then closed the half with an 8-1 run of its own behind its backcourt. Watson and Webster combined for seven points in the spurt, as Watson's 3-pointer with 30 seconds left gave the Huskers a four-point halftime lead.
The Huskers return to action on Thursday evening, when they host Iowa. Tipoff at Pinnacle Bank Arena is set for 8 p.m. and a limited number of holiday break tickets are available by visiting Huskers.com/Tickets or calling 800-8-BIGRED during business hours beginning on Tuesday.