December 7, 2016
Huskers Fall
to No. 10 Creighton

Webster

Morrow Jr.

Watson Jr.

----------------------------- 
                1   2   total 
Creighton (10) 31  46    77 
NEBRASKA  (NR) 30  32    62 
----------------------------- 
Lincoln, Neb. —
Tai Webster scored 20 points, and Ed Morrow Jr. grabbed a career-high 13 rebounds, but it was not enough as the Huskers fell to No. 10 Creighton, 77-62, in front of 15,902 fans at Pinnacle Bank Arena on Wednesday.
The Huskers drop to 5-4 on the season, while the Bluejays improve to 9-0 behind a 25-point, eight-assist effort from Maurice Watson Jr.
Webster, who added six rebounds, four assists and three steals, scored 12 of his 20 tallies after the break, even though he dealt with foul trouble for most of the second half. The senior guard picked up his fourth foul with 14:53 left in the game and Creighton clinging to a 41-37 lead, but the Bluejays scored the next 12 points and outscored the Huskers 36-25 the rest of the way.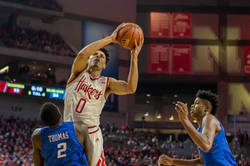 Photo Courtesy Scott Bruhn/NU Media Relations
Tai Webster scored 20 points and grabbed six rebounds Wednesday night against Creighton.
Glynn Watson Jr. scored nine points and Jack McVeigh added seven for the Big Red. Morrow led the Huskers on the glass, while freshman Isaiah Roby posted a career-high eight rebounds for the Big Red.
In the first half, the Huskers overcame a very sluggish start to get back into the game, as Creighton took a 31-30 lead into the locker room.
The Huskers opened the game by missing 11 of its first 12 shots, while Creighton hit eight of its first 13 shots and built an 18-4 lead after a Khyri Thomas steal and dunk before the Huskers regrouped. Michael Jacobson and freshman Jordy Tshimanga keyed a 11-2 NU spurt, combining for eight points as the Huskers pulled to within 20-15 after a Jacobson basket.
Nebraska continued to battle behind the play of Webster, who scored six of his eight first-half points in an 8-1 spurt that knotted the score at 25 with 3:18 left in the half. Nebraska then answered Creighton's 5-0 run with a 5-0 spurt of their own, as McVeigh tied the game with a 3-pointer with 1:06 left in the half.
Nebraska was within four when Webster picked up his fourth foul with 14:55 left, but the Huskers went ice cold, missing its next nine shots, while Creighton ran off 11 straight points to build a 14-point margin to seize the momentum and hush the sellout crowd.
NU held Creighton to its lowest scoring output of the season, but the Bluejays held Nebraska to just 32 percent shooting, including a season-low 3-22 from 3-point range.
Nebraska will hit the road to take on former conference rival and third-ranked Kansas on Saturday afternoon at historic Allen Fieldhouse in Lawrence, Kan. Tipoff with the Jayhawks is set for 2:15 p.m. (CT) and the game will be televised nationally on ESPN and can be heard around the world on the Husker Sports Network