March 14, 2013
Huskers top Purdue
in Big Ten tourney opener
Chicago Shavon Shields wasn't about to brush this one off, to dismiss it as simply one small step for a program trying to make a big leap.
The way he sees it, this could be a start for Nebraska.
Shields scored 19 points, Brandon Ubel added 16 points and eight rebounds and Nebraska beat Purdue 57-55 Thursday in the first round of the Big Ten tournament.
"Just build off this and keep going," Shields said. "The only way we can go is up."
The Cornhuskers (15-17) just completed their second season in the Big Ten, and after falling to Purdue in their first Big Ten tournament game last year, they returned the favor this time. They hung on after Purdue's Terone Johnson missed two shots in the closing seconds and will meet No. 10 Ohio State in the quarterfinals on Friday.
UP NEXT

Nebraska will play second-seeded Ohio State at 5:30 p.m. Friday. The game will be televised on BTN
Nebraska started the second half on a 9-0 run to turn a two-point lead into a 39-28 advantage and withstood a late push by the Boilermakers (15-17) to come away with a surprising victory.
It was 54-53 after Purdue's D.J. Byrd made a 3-pointer with 40 seconds left. Nebraska's Ray Gallegos then made the first free throw and missed the second, but the Cornhuskers recovered the ball.
Ubel then hit the second foul shot after missing the first to make it 56-53 with 28.6 seconds left. Byrd put back a missed 3 by Ronnie Johnson to pull Purdue within one with 13 seconds left.
Gallegos then hit 1 of 2 free throws to make it a two-point game. Purdue had one last chance but Johnson missed two shots in the lane and Gallegos grabbed the rebound to secure the win.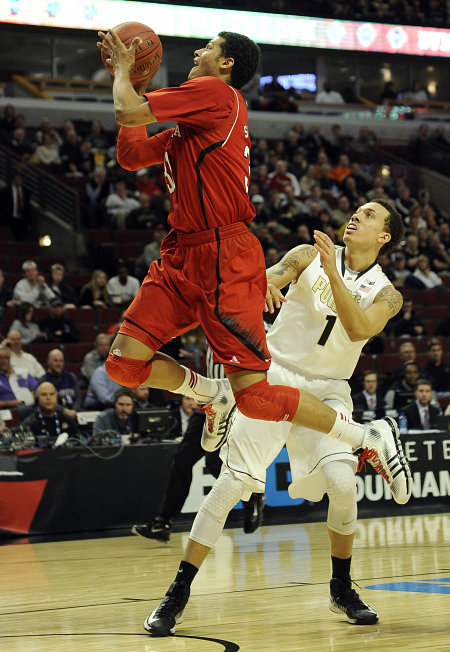 David Banks-USA TODAY Sports
Shavon Shields drives past Anthony Johnson in the first half.
"We were picked dead last by everybody but my mom," Nebraska coach Tim Miles said. "We at least outperformed that expectation. Sometimes you have to creep to crawl to walk to run. That's where we're at right now. To be able to beat the hottest team in the league was a good accomplishment for this group."
Byrd led Purdue with 15 points and eight rebounds, but the loss left coach Matt Painter questioning some players' dedication while vowing to recruit more "12-month guys."
"We just have to be more into it, in terms of having 12-month guys," he said. "We've just got to get a more skilled guy."
He was talking about players who are more committed, who put in the extra time in the offseason as well as before and after practice.
"I'm going to migrate to those guys," Painter said. "I'm not going to migrate to guys that come in when practice is at 3 o'clock right at 3. And (it) ends at 5:30, they leave right at 5:30. And I'm always going to be that way. I always tell them when I recruit them, 'If you work on your game and you care and you love it, I'm your guy. But if you go through the motions or whatever, I'm not your guy."
The seventh-seeded Boilermakers struggled on offense just when they appeared to be hitting their stride.
They averaged just under 78 points and shot nearly 48 percent the previous three games -- a win over Wisconsin, a narrow loss to Michigan and a 16-point victory over Minnesota -- but screeched to a halt in this one.
They shot just over 40 percent overall, including a miserable 2 of 12 from 3-point range, and they weren't much better at the foul line, going 7 of 14.
"We were just digging ourselves in a hole," Ronnie Johnson said. "They were scoring and we were going down and throwing up bad shots. That's not what you want when you're trying to win."
Even so, they jumped back into it after Nebraska built an 11-point lead early in the second half.
The 10th-seeded Cornhuskers were leading 39-28 after Dylan Talley nailed a 3, capping a nine-point run to start the half, and were still up nine when Purdue made a move.
Byrd hit a jumper off a screen and a step-back 3-pointer to pull Purdue within 48-47 with just over four minutes left.
Talley answered with a jumper, ending about a five-minute scoring drought for the Cornhuskers, and Ubel scored inside to make it a five-point game after Sandi Marcius missed two free throws for the Boilermakers.
A layup by Marcius made it 54-50 with 1:11 remaining, and Byrd made it a one-point game when he nailed a 3 with 40 seconds left after Ubel missed a free throw. But in the end, Nebraska moved on. Next up for the Cornhuskers is Ohio State, a team they hung with before losing by seven at home in early February.
"We're not done with what we want to get done," Ubel said. "If we want to play the postseason like we want to, we have to come out tomorrow with the same intensity and try to keep winning."

----------------------------------------
                       1st   2nd   Total
Nebraska                30    27      57
Purdue                  28    27      55
----------------------------------------
Postgame Notes
• Nebraska picked up its first-ever Big Ten Tournament victory and avenged a loss to Purdue in the 2012 Big Ten Tournament.
• Nebraska snapped a five-game losing streak to Purdue dating back to 1978. Prior to tonight, Nebraska's last win over Purdue was a 96-85 win on Dec. 5, 1964.
• Tim Miles became the first Husker coach to win a tournament game in his first season at Nebraska.
• Nebraska is now 7-0 in games decided by five points or less this season.
• Shavon Shields had 19 points, matching his second-highest total of his career. Shields had a then-career high 18 points in the first meeting with Purdue in Lincoln on Jan. 16.
• Nebraska had just six turnovers in the win, the fifth time in the last six games the Huskers committed 10 turnovers or less. In two games with Purdue, Nebraska committed just eight turnovers.
• Brandon Ubel's 16 points is his highest total against a conference foe this season. Ubel had 15 points against Minnesota on March. 6
• Nebraska improves to 5-0 this sesaon in games televised by the ESPN family of networks.