Stryker: Martinez the difference maker in East Lansing
Someday, we'll look back with the benefit of years of hindsight — and we'll still wonder exactly how Taylor Martinez and the Cornhuskers pulled this season off.
In the 1980s and 1990s, Nebraska football teams methodically steamrolled their opponents using superior depth, talent and execution. Back in those days, Husker supporters sometimes complained about the games being boring.
But this is 2012, the year nothing feels steady when Nebraska takes the field – not the Huskers, not their opponents, not leads and certainly not the blood pressure of the average Husker fan.
Just two weeks after they came back from a 12-point fourth-quarter deficit against Northwestern at Evanston, and five weeks after they stormed back from a 17-point third quarter deficit against Wisconsin in Lincoln, they did it again. Somehow, the Huskers got up off the deck Saturday in East Lansing.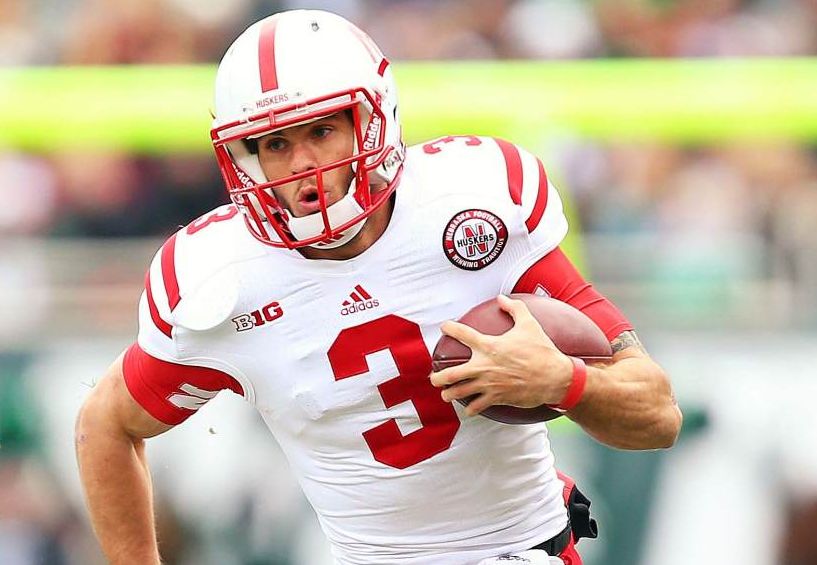 Taylor Martinez on a first-quarter run. | Mike Carter-USA TODAY Sports
Trailing 24-14 midway through the fourth quarter, reeling from the usual toxic mix of turnovers and penalties and facing the toughest defense in the Big Ten, apparently the Huskers (7-2, 4-1 Big Ten) had the Spartans right where they wanted them. If precision and execution seem to elude this team on a weekly basis, it least it has courage, guts and a never-say-die attitude going for it.
The Cornhuskers are holding together, and they're playing for each other. That's a hard combination to beat. Michigan State (5-5, 2-4) found that out Saturday.
On a day of intangibles, there were a few solid measurables, such as 313 rushing yards against a team that allowed just 19 to Wisconsin last week. Martinez had 205 yards rushing and Ameer Abdullah added 110.
It was one of those classic gut checks – a slugfest of a game where the winner emerges more sure of himself despite all the ups and downs he just experienced. And make no mistake, there were enough downs to send a normal team off the field a loser.
But this Nebraska team is not a normal one. Not a great one, and sometimes not even a good one. Just one that is getting the job done down the stretch run of a mediocre but highly interesting Big Ten season.
It was an epic Martinez performance, one that will forever be a microcosm of his career. He ran brilliantly. He took a sack that put his team in a vulnerable position. He misfired when receivers were open. He hit receivers in the numbers but watched as they dropped passes. He threw interceptions. He connected time and again in the fourth quarter, piling up 176 of his 365 total yards in that frame alone. He kept everyone – coaches, players and fans from both teams – on edge all day long.
The opponent dared Martinez to win the game with his arm, and once again, that's exactly what he did.
"I can't say enough about Taylor and how he played and how he finished that football game," said coach Bo Pelini afterward. "He made some mistakes – but you know, everybody does. But he put the team on his back at the end of that football game and made some plays."
Martinez accounted for all four of his team's touchdowns, rushed for 205 yards and completed 16 of 36 passes for 160 yards. He ripped off touchdown runs of 71 and 35 yards and another 70-yarder set up his first-quarter touchdown pass to Ameer Abdullah.
Of course, there were the three interceptions, a fumble which fortunately was recovered by a Husker teammate and there was an unsettled feeling as the Huskers seemed disorganized at times in the backfield. Nebraska was effectively minus-2 in turnovers, although on the final kickoff, the Spartans were credited with a lost fumble when a Husker player recovered the last in a series of laterals that finally ended on the natural grass turf.
There were nine Nebraska penalties. But Michigan State also was flagged nine times on a day when players kept pushing and shoving long after the whistle sounded and both teams got away with a few things they probably shouldn't have.
An inexplicable pass drop at the goal line by the normally sure-handed Kenny Bell in the second quarter was one of at least four by Nebraska receivers. It was a killer, especially because Brett Maher followed it up by sliding a 30-yard field goal wide right. Those missing points loomed large in the fourth quarter.
Until Martinez took the Huskers down the field twice when they needed it most. And in the end, after he connected with Jamal Turner for a 5-yard TD pass with six seconds left, and Eric Martin held him aloft as teammates celebrated around them, Martinez did exactly what needed to be done.
This is a good – but definitely not great – team, yet one that seems to have a sense of destiny. Nebraska has established itself in the Legends Division, having just beaten both Michigan teams on back-to-back weeks with its best player watching from the sideline. Rex Burkhead would have made a big difference Saturday at East Lansing, especially in the red zone and on third down.
The Associated Press game story and the first ESPN blog after the game posted by Brian Bennett both suggested that Nebraska benefited from questionable calls to win the game.
That is highly misleading. The defensive pass interference in the end zone in the final seconds did help the Huskers, but it was just one of several questionable DPI calls Saturday, and the rest went against Nebraska. In fact, two interference calls helped the Spartans to one of their touchdowns in the first half.
The breaks have a way of evening up, and they did once again late in the game at East Lansing as Michigan State was eliminated from the division race.

Formerly the sports editor at the North Platte Bulletin and a sportswriter/columnist for the North Platte Telegraph, Tad Stryker is a longtime Nebraska sports writer, having covered University of Nebraska and high school sports for more than 25 years. He started writing for this website in 2008. You can e-mail him at tad.stryker@gmail.com.
---