Lyell Bremser transcript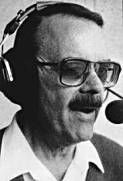 The 1983 Nebraska vs. Minnesota game was an 84-13 rout. The score is 63-13. It's very early in the 4th quarter. Nebraska is playinng deep into the bench...trying not to run up the score.
It's clear from the broadcast booth that Minnesota's blitzing strategy turns routine plays into big ones. The ball is at the Nebraska 49 yard-line. It's 2nd down, 10 to go....
"....So, Nebraska will come out of the huddle. Line it up in the 'I'. Tom Rathman is the fullback. Smith is the I-back.
Quarterback Craig Sundberg's back there to throw. Swings it out to Jeff Smith! (There's little crowd reaction, since the game is Minneapolis...Lyell just casually counts the yard markers)
Smith at the 40. The 35. The 30. (Lyell begins to chuckle) He's to the 25. To the 20! The 10! The 5! And he's in theerrree for a touchdown!!
HOLY TOLEDO! What are your gonna do!? A little swing pass, out the left side to Jeff Smith. He took in full stride! It was perfectly thrown by Sundberg, the quarterback!
And Smith, went DIPPSY-DOO-DUH-LIN' down the football field. He left that one poor guy just graspin' air, counting his change at the 25! He didn't know which way he went! And, he went all the way in there for the TOUCHDOWN! From the 49 of Nebraska, that's a 51-yarder! The try for the extra point. And there's the kick by Livingston.
Scott Schoettger, the little guy...split end, 5-7 and 155 for Nebraska made a heck of a block up ahead of the play for Jeff Smith! Boy, it's fun to watch that Jeff Smith run!!"