Jack Payne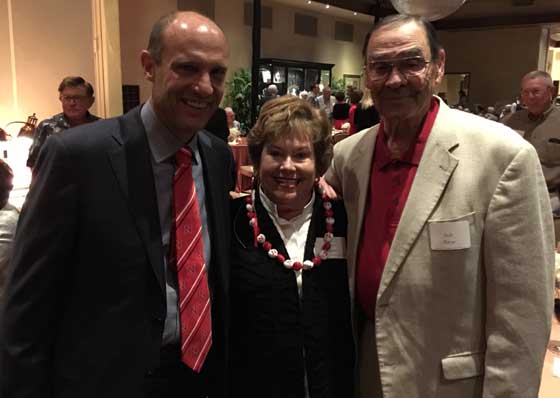 Jack Payne's broadcasting career began in 1946 in his home state of Oklahoma where he broadcast OU Football games in 1946 and '47. In 1948 he did the broadcasts for Oklahoma A&M. In 1949 he did home games for OU and in 1950 was on the OU Football Network.
Jack began his Nebraska broadcasting career in 1951 as sports director for WOW radio and the new WOWTV until 1967. He was the Nebraska Sportscaster of the Year in 1965 and 1967 while at WOW and again in 1972 while at KFAB. In 1968 and '69 he was the General Manager of the Omaha Mustangs of the Continental Football League.
Jack joined KFAB in 1970 and became part of the Nebraska Football Network broadcast team until 1992. Some of his broadcasting colleages were Lyell Bremser, Gary Saddlemyer, and Kent Pavelka. Additional duties included Nebraska basketball play by play,Creighton basketball, high school basketball tournaments, Drake Relays and state high school track and field broadcasts.
He was the public address announcer for the College World Series from 1963 to 2000.
This interview was done by David Max on April 13, 2015 at Jack's residence in Omaha where we discussed his many pictures and awards around his career that expands over six decades. The interview was done in video segments and narrated by Jack. The photograph above is Jack with Mike Riley and his daughter Karen taken in February of 2015.