H U S K E R D A N
December 2, 2010



LAST AND FIRST

It was an end of an era Friday in Lincoln. It was the Huskers' last regular season game, the last Husker home game of the season and, more importantly, it was the last Big 12 Conference game to be played at Memorial Stadium. Beginning next year, the Huskers will be members of the venerable Big 10 Conference. And the Buffaloes will also be jumping from the Big 12 Conference to the Pac 10 (12?) Conference.

NU and CU have played every year since 1948. In fact, the Husker-Buffalo series dates back to 1898 with the Huskers winning 23-10 in Boulder. But despite the long series history, few Husker fans (and maybe a few Buff fans as well) are not going to get too teary-eyed over the end. This "rivalry" was never embraced by Husker fans. In 1996, the Big 12 Conference switched to a divisional format, thus ending the annual NU-OU Thanksgiving weekend shoot-out. In its place, was a two year on and two year off format with the Sooners that left most Husker fans feeling betrayed. The conference's solution was to substitute Colorado for Oklahoma. Bad idea. As much as the Buffies tried to jump start the series to a rivalry status, most Huskers fans never embraced the idea.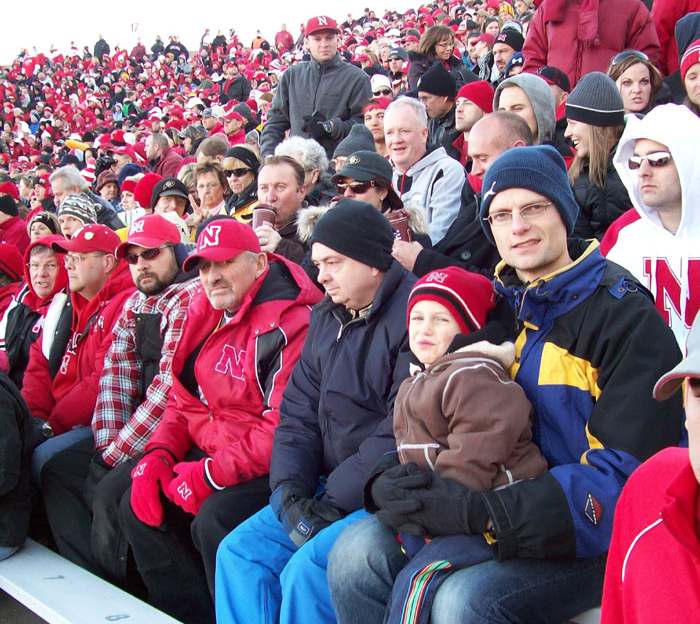 BUCKET LIST
High on my Bucket List was to someday take my grandson Will, who is four, to his first Husker football game at Memorial Stadium. And someday was last Friday. Will's dad, Mark, also joined us for his first Husker Game Day Experience.
Technically, this was Will's second HGDE (he was still in his momma's tummy while my daughter and I attended the Huskers' 23-20 OT win at home over Iowa State back in 2005). As I always say, it's never too early to begin teaching kids about Husker football.
BEAMING
Know this, even at the tender age of four, Will is a very passionate Husker fan. He yells, screams and high-fives at all the appropriate times. He knows the names and numbers of many of the Husker players. Friday, he sat on grandpa's lap most of the game, and needless to say, grandpa was beaming. I hope this is the first of many Husker games that Will, his dad and I can enjoy together.
A WIN, WIN, WIN, WIN SITUATION
And what a day it was for young Will. The Huskers won the game, were assured a 10 win season, clinched the Big 12 North title and will be meeting Oklahoma for the last Big 12 Conference championship this Saturday in Dallas. Will also got his picture taken with former Husker great and Outland Trophy winner Larry Jacobson and posed for pictures with the
Husker Elvises
(who consist of the Brew brothers Jerry, Ron and Larry).
Prior to that, David Fiala, who is a former Husker running back, a great Husker fan and a strong supporter of our military, was
inducted
into The Husker Elvises Society. (On a side note, later that afternoon, the Elvises sang with Larry The Cable Guy in his skybox.)
NEBRASKA BOOKSTORE DISCOUNT FOR VETERANS
Nebraska Bookstore manager Amanda Tangeman told me yesterday that the NB was offering a special 50% discount to all members of the military this weekend on all regularly priced items. See the
attachment
for details.
HUSKER DAN'S ARMY T-SHIRTS AND SALUTE COINS
To help raise money for "Husker Fans' Salute To The Troops" and Husker Dan's Army, we are selling the brand new Husker Dan's Army "Salute The Troops" T-shirts and Salute coins. Shown
modeling
the T-shirts are former Husker greats Joel Makovicka and Matt Hoskinson who, during the football season, co-host the "Husker Radio Hour" from 6-7 p.m. Thursday nights. Gerry Gray, owner of Great Plains Marketing (
http://www.greatplainsmktg.com/RadioShows.php
) produces HRH as well as "Husker Beat Radio Show" hosted each Friday from 6-7 p.m. by Mike'l Severe and Steve Sipple of the Lincoln Journal. Both shows can be heard on
1620 The Zone
in Omaha.
T-shirts are $15 ea. plus $5.00 shipping and handling. The Husker
coins
are $10.00 each plus $5.00 shipping and handling. Send your checks to:
Gary McGirr
3610 SW Woodvalley Terrace
Topeka, KS 66614
Be sure to specify L, XL or 2XL on the T-shirts.
All the money we raise goes directly to honoring our men and women of the US armed forces who continue to put their lives on the line for our country. They are the true American heroes. They don't ask for much. You can help say thanks this Christmas by donating (
www.huskersalute.org
) and/or buying the T-shirts and coins.
BIG RED FAN'S DEN
I was coming back to Omaha from a trip to western Nebraska in October and stopped at
Morgan's Cowpoke Haven Store
in the middle of the Sandhills in Ellsworth, Nebraska. The place was featured several years ago in an issue of Nebraska Life Magazine. The owner, Wade Morgan didn't know me from a load of oats, but he started talking about the Nebraska-Missouri game that was to going to be played the next day in Lincoln.
Morgan's Cowpoke Haven is a genuine western apparel store that also sells guns and ammo. Inside the store is Wade's
Big Red den
where he proudly features his collection of Husker memorabilia. Thanks for the tour, Wade!
NOTHING BETTER
As for the win Friday, it puts Nebraska where it has wanted to be since last year's heartbreaking loss to the Texas Longhorns. Throw in Oklahoma into the equation, and there is no better way to exit the conference than with a showdown with the Sooners.
Both teams come into the title game with identical 6-2 conference and 10-2 overall records. Both teams lost at Texas A&M while Nebraska beat Missouri at home and the Sooners lost to the Tigers in Columbia. But while the Sooners beat Texas by 8, Nebraska lost at home the Longhorns by 7 points.
I'm not sure what those comparative scores mean. Probably very little. OU is fresh off a 47-41 win last week at Oklahoma State and a 53-24 win at Baylor the week before. Meanwhile, the Huskers are coming off a 45-17 dismantling of a struggling Colorado Buffalo team last Friday and the week prior to that, the Huskers lost at A&M 9-6.
PASSING FANCY
OU makes its living throwing the ball. They also run a ton of plays with their hurry-up offense that sometimes can pose alignment problems for defenses. Sooner QB Landry Jones can throw the deep ball to his go-to receiver, Ryan Broyles. The Sooners also like to throw screen passes and use their passing offense much like a running game. There is some question about how healthy their star running back, DeMarco Murray, will be for the game.
BANGED UP
Nebraska comes into the game a bit gimpy at quarterback. Taylor Martinez has been nursing a sore ankle and a turf toe. If he can't go, Cody Green will likely get the start. He played well last Friday against Colorado, but the Sooners defense is much better than the Buffaloes'. Zac Lee is also dinged up but might be able to play if needed.
HURRY UP
It's going to be a match-up of the Sooners' hurry-up offense versus probably the best secondary in college football. Bo's defense was made for an offense like Oklahoma's. If the Husker can play close to error free football and play solid defense, the Huskers should prevail.
ON FIRE
Make no mistake, this is a huge game for the Husker football program. And I like Bo Pelini in big games. Look for the Huskers to play with their hair on fire. Look for a very focused Husker team. And look for a Husker win.
NEBRASKA 24
OU 17
---
Send your comments to
huskerdan@cox.net
. For past Husker Dan columns,
click here
.