H U S K E R D A N

HUSKER "T" PARTY DOWNS HILLTOPPERS, 49-10
What a difference a year makes. Going into the '09 season, the quarterback situation was tenuous at best. We had a junior, Zac Lee, who had never started a D-1 game. His back- up, Kody Spano, blew out a knee in fall camp and was gone for the season. Lee's next backup was a true freshman, Cody Green followed by Latravis Washington a high school quarterback turned linebacker turned back to quarterback.
And as we all learned, that lack of depth came back to haunt the Huskers during their run for a conference championship.
But as we saw Saturday night in Lincoln, there are now three quarterbacks who can play winning football for the Huskers. I know, the opponent wasn't Texas or Oklahoma, but all three can play.
It was a bit of a surprise that Taylor Martinez, the first Husker freshman to start the first game of the season, played with such poise. He's going to be a tough out, but again, we have to see how he performs against a tougher defense.

NAME GAME
The kid from California already has been given a couple of nicknames: T-Magic and T Mart. I'll add, "T-Riffic" to the list.
Okay, so when he runs the read option, the formation could be called the T-Bone. His theme song instead of "Tea For Two" should be "T For Six." Or when he plays, it could be called "T-Time" and when he moves the chains, call it "A Spot Of T". Sigh...

MORE GAME PICTURES
Fremont photographer, Dean Jacobs, sent me some game day photos he took Saturday night. Be sure to check out his web site for more information about the very talented Dean Jacobs.

LARRY THE CABLE SLY
Before the game, I saw Larry The Cable Guy making his way undetected through the crowd to the Stadium. His MO is very creative. I won't reveal how he did it, but it's simple, yet effective.

A BRAVE LITTLE HUSKER FAN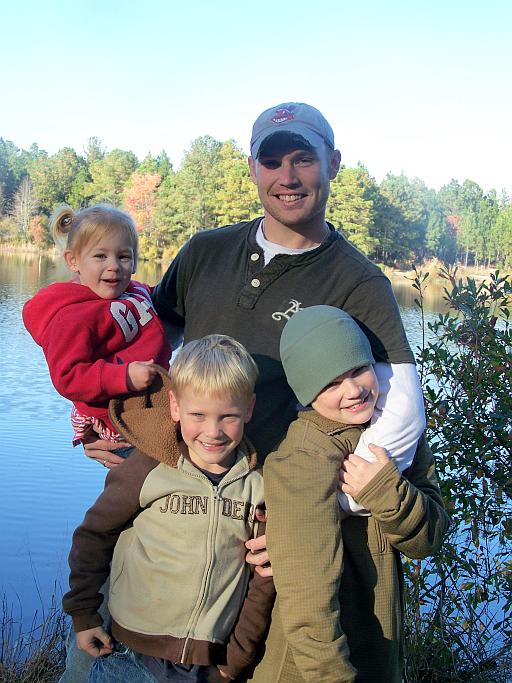 Kaleb and his kids
Readers: I want to tell you about a very brave little seven year old boy. His name is Christian Berkshire and lives with his family in Ft. Campbell, Kentucky where his father, Kaleb, serves as a member of the US Army Special Forces. About a year and a half ago, Christian was diagnosed with a rare and aggressive form of cancer that has affected his optic nerve, brain and spinal column. He recently finished the last of his chemo and radiation treatments at St. Jude Childrens Hospital in Nashville, Tennessee. Sadly, the cancer has left him legally blind.
With the help of Grant Wistrom and our "Salute To The Troops" organization, we are bringing Christian and his family to our "Salute" event the weekend of September 18th-19th at the Cornhusker Marriott Hotel. Although we haven't yet been able to fulfill his request to see a Husker home game, he will get to enjoy a very exciting Husker weekend.
I ask all of you to remember Christian in your prayers. Thanks.

PIZZA PALACE
On Friday night, September 17th at the Pizza Palace at 75th and Pacific Street in Omaha, there will be a very special appearance by "The Husker Elvises" (
http://huskerelvis.net/
) from 6-7 p.m. The Husker Elvises will be in full uniform and will be singing and posing for pictures with Husker fans.
They will be performing on the "Husker Beat Radio Show"
---
Send your comments to
huskerdan@cox.net
. For past Husker Dan columns,
click here
.