H U S K E R D A N

PRELUDE TO MISSOURI
MISSOURI AND THE SECOND SEASON
There are three seasons this year for the Nebraska Cornhuskers: The Sun Belt Conference, the Big 12 Conference and the Post Season. Now that the Sun Belt conference championship has been won by Nebraska (!), the real season begins Thursday when the Huskers face the Missouri Tigers in Columbia, Missouri, where they haven't won since Eric Crouch dazzled Heisman voters with his amazing touchdown run in 2001.

In fact since 2001, the Huskers have managed only two victories over the Tigers, winning 24-3 in '04 and 34-20 in '06, both in Lincoln. Missouri has home wins of 24-13 in '03, 41-24 in '05, 41-6 in '07, and have won in Lincoln the last two times they met, 34-20 in '06 and last year, 52-17.
A LITTLE SPAT
Last year's embarrassing loss seemed to put a punctuation mark on the series. In post game comments after last year's game, Tiger quarterback, Chase Daniel accused the Huskers of playing dirty, adding that one of the Husker players actually spat on him during the game. Daniel's accusations were proved false a few days later.

Do I think the Huskers will be motivated by revenge Thursday night? Maybe a little, but I doubt if that's going to be the Huskers' main focus. If the start of the Big 12 Conference schedule doesn't get you going, nothing will.

Thursday night is a chance for the Huskers to make a statement-not about getting back at Missouri, but by beating a ranked conference team on the road, something the Huskers haven't done since it pulled out a last minute win at Texas A&M in 2006.
2008 NOSE DIVE
After pummeling the Huskers last year, the Tigers went on to lose to Oklahoma State, 28-23, Texas, 56-31, Kansas, 40-37 and to Oklahoma, 62-21.

And this was supposed to have been the Tigers' best team ever. Huh? How could that be? This year the Tigers must try to win without stars like WR, Jeremy Maclin, TE Chase Coffman and QB Chase Daniel.
THE BLAINE GAME
Much has been written recently about first year Tiger quarterback, Blaine Gabbert who de-committed from the Huskers after Nebraska head coach Bill Callahan and most of his staff were fired at the end of the '07 season. So in '08, Blaine took his ball and headed west to Columbia where he'll be doing all he can Thursday night as a sophomore to continue Missouri's dominance over the Huskers.

I've seen him play in only one game, at Nevada. Blaine has a very good arm, can throw the kick outs and can toss it 70 yards down field. Gabbert, at 6'5", 240 pounds with his rocket arm, is what NFL scouts love to see. He also can be deadly when he's chased out of the pocket. He reminds me a bit of Kansas' Todd Reesing in his ability to improvise.
NO TYROD
But one thing Gabbert doesn't have is speed. He's a drop back passer, not a Tyrod Taylor. Gabbert does have some good receivers, led by 6'5" WR, Danario Alexander. If Gabbert has time to throw, it may be a long night for the Scarlet and Cream. But where the Tigers' fall short is with their running game.

One of the keys to a Nebraska victory is if the Huskers can make the Tigers one dimensional. They must get Gabbert out of his comfort zone. If he has to scramble all night, it could be a long night for the Tigers.

The Huskers must win the turnover battle and need to limit the number of costly penalties that have plagued them this fall. And when the Huskers get into the Red Zone, they need touchdowns, not field goals.

If the Huskers can run effectively, Nebraska should win the game.
SCHEDULE
You have to scratch your head wondering about this year's Tiger team. While the combined record of Husker foes is a modest 7-10, Tiger foes have a 6-12 record. This record is diminished when you look at one of their wins was over a 3-2 Furman team that lost last weekend, 19-12 to Elon...Elon? Are you kidding me?

So far, the Tigers' only "signature" win is over a 1-3 Illinois team whose only win is over Illinois State. The Tigers also struggled into the fourth quarter in their win at Nevada. Excuse me, Nevada? Furman?

I'll take the Huskers' 3-1 record that includes a last minute loss at Blacksburg. The Huskers also destroyed Arkansas State, 38-9. This is the same Arkansas State team that took Iowa to the wire Saturday before losing 24-21 at Iowa City.

The Tiger faithful will have all day to get "prepared" for the 8:05 kickoff in Columbia. This will be a very noisy, hostile environment, but one that shouldn't be any more intimidating than Blacksburg.

If they can learn from the loss to the Hokies, Nebraska should come out on top Thursday night.
HUSKER DAN'S ARMY
As many of you know, HDA has been sending Husker Care Packages to men and women serving in our armed forces in the Middle East for about four years. Right now thanks to your donations, we are close to being able to fill the backlog of requests.

If you are serving in the military in the Middle East or know someone who is, please email me with the person's APO and email addresses. We will get the trooper on our list and send boxes full of Husker goodies, like T-shirts, posters, coins, hats, sweatshirts etc. Each box costs $50, so the more you donate, the more troopers we can send packages to. Remember, our men and women who risk their lives defending this great country of ours don't ask for much in return. This is one way for all of us to say thanks.
Make your checks payable to:
Northeast Kansans For Nebraska
Attention: Husker Dan's Army
Send your donations to:
Gary McGirr
President,
Northeast Kansans For Nebraska
3610 SW Woodvalley Terrace
Topeka, KS 66614
All donations are tax deductible.
TICKETS FOR TROOPERS
We're also trying to launch a program that will allow Husker fans who can't make it to Husker games to donate their tickets so that a veteran or trooper can use them. We would also accept donations in order to buy tickets to give to our service men and women. If you have tickets to give, please email me at huskerdan@cox.net. To donate, use the above address. Be sure to specify "Tickets For Troopers" when you donate.
HAPPY ANNIVERSARY, HUSKERPEDIA!
David Max has a piece in Huskerpedia that tells about how HuskerPedia is celebrating its 10th Anniversary this year. Let's hear it for David Max and Joe Hudson! They have created a site that allows several hundred thousand Husker fans everyday to keep up with the world of Husker football. Without HuskerPedia, Husker Dan's Army and "Husker Fans' Salute To The Troops" could never have been possible.
CORRECTILE DYSFUNCTION
Several of you wrote to tell me that I erred when I said that it was "Shirley and the Band" was the name of the group that plays each week at the Sidetrack. Of course it's Joyce! Even Zasu Pitts knows that. Again, from time to time and without any warning, I INTENTIONALLY make mistakes in my column just to see if anyone is paying attention. Those of you who wrote, you may go to the head of the class.
BEST PLAYS IN "THE STEAK"
Many of you have sent me your list of the top plays that have happened during The Streak (300th consecutive sellouts). Unfortunately, I'm getting plays that were played at Oklahoma, the Fiesta Bowl etc. Make sure the list of plays you send happened at Memorial Stadium. That's where The Steak happened.
JACOBS' LADDER
I received this email last week from Dean Jacobs, who is an outstanding a photographer and world traveler. Catch his Husker game day pictures and his archives in his web site.
Dear Husker Dan:
I've only been to a hand full of (Husker) games over time, but have always enjoyed the experience. I was working in Rwanda when NU played in this last Gator Bowl, so I had a good friend set up a video Skype on her computer and face it towards the TV so I could watch it in the wee hours of the morning in Africa.
I don't consider myself a hard core fan, but I do take pride in my state and what I feel the game represents for us, a place where dignity is practiced, where things such as kindness and decency is honored and not trivialized. Where effort, hard work and passion are celebrated as a value and not cheaply created at someone's expense.
Both on and off the field.
I have traveled all over the world in my own way and my own time, met wonderful ordinary people of all makes and kinds in their homes and places of life. Game day at Nebraska's Memorial Stadium represents the best of humanity of our great state and that's something we all can take a little pride in. It gives us a chance to be associated with something good.
Dean Jacobs
Fremont, NE
Thanks, Dean. You are a class act!
HUSKER FANS' SALUTE TO THE TROOPS
Our second annual "Salute" event is over for the year, but I want to say thanks to several people who were kind enough interview me about the event:
1.) "Heartland Focus" hosted by Jeff Beals. Jeff is a very successful author and speaker and is a commercial real estate representative with Coldwell Banker Commercial Real Estate in Omaha, Nebraska. The program aired Saturday, September 5th.
2.) Stephanie Costanzo , Lincoln's Channel 8 (ABC). Her interview was filmed at Memorial Stadium, Saturday, September 19th and shown that same day.
3.) Erika Tallon, Lincoln's Channel 10/11. Erika is a native of Phoenix, Arizona and enjoys Lincoln and the Midwest. When she first got her job In Lincoln, she scheduled an interview with Tom Osborne. Of course not being from the state, she had no clue how important he was. Her associates were all envious. After her interview, she discovered who Osborne was and how much he means to the state of Nebraska. "Now, I'm one of his biggest fans," she admitted. Thanks to Erika and all those who helped us spread the word.
THE HUSKER ELVISES ON ABC-TV
The Husker Elvises were also on TV, this time at the 300th sellout game last Saturday. Larry Brew, aka, Lesley Presley sent me this film clip of ABC's "Good Morning America" show. Thank yew, thank yew verah much!!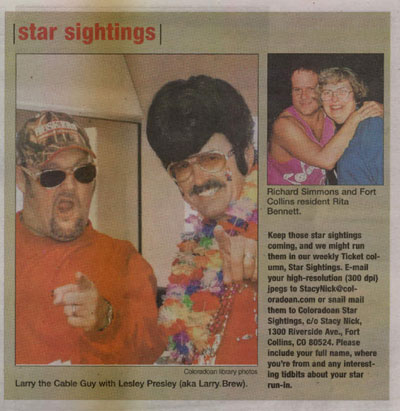 TURNER GILL
There is also a great TV interview with former Husker player and assistant coach, Turner Gill who is the head coach of the University of Buffalo. Turner is and always will be, a class act.
Send your comments to huskerdan@cox.net. For past Husker Dan columns, click here.