H U S K E R D A N
HUSKER DAN'S ARMY CARE PACKAGES UPDATE

Last week, Mrs. Husker Dan and I visited the Red Zone in Omaha to see the latest batch of Husker Care Packages being assembled for shipment to the troopers serving in the Middle East.
NEW?
If you are new to this column, Husker Dan's Army was established several years ago as a means of sending Husker Care Packages to any trooper who registers with us. The Packages are filled with Husker memorabilia, including caps, T-shirts, Bo Pelini coins, media guides, flags etc. Last week, Mrs. Husker Dan and I made sure there was a Husker Dan's Army T-shirt and a Bo Pelini Blackshirt T-shirt included in each box.

The Husker merchandise is paid for by Husker fans who donate to this very worthy cause. All donations are tax deductible (501 3-c) through the Northeast Kansans For Nebraska, a Husker alumni group located in Topeka, Kansas.

Sherry Clark, who is the mother of Steve (the owner of the Red Zone), showed us the Husker goodies she included in the boxes. By the way, the Red Zone pays for all shipping and handling of the Packages we send overseas.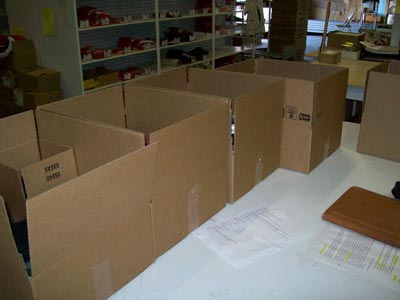 9/11
Sherry said the Zone began sending Husker merchandise to the troopers after the 9/11 attacks in 2001. She and Steve were able to get vendors to donate two pickup loads of Husker merchandise. The Zone paid for all shipping costs that ran about $1,100.

The Zone also donates to every Nebraska Alumni group in the country.
300TH SELLOUT
Sherry showed us pictures of the plaques they will be selling this summer that will commemorate the Huskers' 300th consecutive sellout at Memorial Stadium. That milestone will be reached September 26th during the Husker-Louisiana Lafayette football game.
TIMING IS EVERYTHING
The Red Zone opened just before the 1994 season, which was the year Husker head football coach Tom Osborne won his first national championship at Nebraska. Not a bad time to start a Husker shop!

So how's business this year after Bo Pelini's first season as head coach? "We had the best January and February ever!"

Be sure you keep the Red Zone in mind when you want to buy Husker mechandise. Remember, the Red Zone does a lot of Internet business. Tell 'em Husker Dan sent you!
HUSKER FANS' SALUTE TO THE TROOPS UPDATE
Things are rolling along in anticipation of this fall's "Salute" weekend scheduled for the weekend of September 19th-20th (at Virginia Tech). Last year, "Salute" attracted nearly 300 veterans and their families to the Cornhusker Marriott Hotel in Lincoln, Nebraska.
NON-STOP
Several young veterans of the Iraqi War drove 20 hours non-stop from Ft. Bragg, North Carolina to attend last year's celebration. All the attendees were taken by buses to Memorial Stadium where they were given a behind the scenes tour of Memorial Stadium and the new Husker athletic facilities. They also got to enjoy a special Tunnel Walk ceremony at the Stadium. That night, we had a Husker Football Watch Party (the Oklahoma-Nebraska game-sorry!). There was also an auction and some fantastic door prizes.
ERIC CROUCH
In addition to the above events, this year's celebration will include a Sunday brunch and color guard ceremony at the Cornhusker Marriott. The featured speaker at the brunch will be former Husker great and Heisman trophy winner, Eric Crouch.


REGISTER NOW!
Veterans from any war and from any branch of service and their families are invited to attend the weekend celebration. All expenses are paid, with the exception of a $20.00 registration fee. We will pay up to 100 rooms, so if you are planning to attend, you need to register as quickly as possible. To register and to donate, go to huskersalute.org
TAX DEDUCTIBLE
Keep in mind, all donations to the "Salute" weekend are tax deductible. While donations have been steady, we are still in need of additional donors to help finance the celebration. Remember, our brave men and women who have served and continue to serve this great country of ours don't ask for much. By donating to "Salute", we can send a message to these great people that we do care.

Husker Dan's Army and the "Salute" event are provided by an all volunteer organization. All money we recieve goes directly to supporting our troops.
THE LETTER
Finally, here is a letter sent to me last fall by one of last year's "Salute" attendees.
Dear Husker Dan and all the people that made this past weekend happen:
I just wanted to say a heartfelt THANK YOU to all of you that made this past weekend happen. This past weekend and the watch party that you held for the soldiers and family members was something very special. It's not often that we military families get treated in the way we were this past weekend, in-fact in the 18 years that I have been a Military wife I have never been treated to a free weekend such as this past weekend! The generosity of total strangers blew me away, I cant believe the kindness my husband was shown while deployed, when he called me and told me that he received this huge box full of everything Nebraska, and I heard how much it meant to him in the tone of his voice, I knew then that Husker Fans were truly special folks! When these guys are deployed anything from home means a tremendous amount, and to receive a box full of Husker things was a real moral booster to say the least! I know for my husband, who will be a Husker fan until he dies, this was a mind blowing, outstanding event for him! He is a Nebraskan and in all his 43 years on this planet he has never seen Memorial stadium the way he saw it this weekend, and for him its a true memory that he nor I will ever forget!
Rose
Send your comments to huskerdan@cox.net. For past Husker Dan columns, click here.