H U S K E R D A N
2008 HUSKER DAN "DANNO AWARDS" FOR EXCELLENCE

Once again Husker fans, it's time to announce the winners (drum roll, please) of the 2008 "Danno Awards."

This is the second year of what has become an annual award presentation. The first award this year goes to the entity or person who has had the greatest positive impact on the Cornhusker football program.
2008 THE CORNHUSKER OF THE YEAR AWARD
THE AMERICAN TROOPERS AND VETERANS
Last year's winner was Tom Osborne, who almost by himself rescued the Nebraska football program. Osborne was an easy choice. And last month, it was a thrill for me to present the plaque to him (a year late) at the Northeast Kansans For Nebraksa Founders Day Banquet in Topeka, Kansas.

Choosing this year's winner was also very easy.

It hit me at our first annual "Husker Fans' Salute To The Troops" weekend celebration in Lincoln last fall. At our Sunday morning brunch we asked veterans from all wars and from all branches of service to stand up to be recognized. When they did, the audience of about 200 greeted them with a huge round of applause. Afterward, a couple of Viet Nam veterans came up to me and said that this was the first time anybody had thanked them for their service.

How tragic.

We can't think of anyone more deserving of the Cornhusker of the Year Award than the men and women of the armed services who are currently serving their country and to all those veterans who have made untold sacrifices by serving their country for over 200 years. Many of them have made the ultimate sacrifice.

All to often, we take for granted the many blessings we enjoy in this country. Thanks to them, we have the unbelievable freedoms of life, liberty and the pursuit of happiness. And for most Husker fans, one of the things that makes us the happiest is seeing our beloved Cornhuskers play football each fall.

NOTE: The second annual "Husker Fans' Salute To The Troops" weekend is scheduled for the weekend of September 19-20th. Once again, we will have a Football Watch Party (@Virginia Tech) at the Cornhusker Marriott Hotel in Lincoln, Nebraska. There will also be a tour of the new Athletic facilities and Memorial Stadium that day, complete with a special "Tunnel Walk" ceremony. Veterans of all wars, from any branch of service and their family members are invited to attend the weekend activities. We have set aside 100 rooms (at no charge) for the "Salute" weekend. Food and drink at the Watch Party and the Sunday morning brunch are being provided at no cost to the attendees. We will also have buses to take people to and from Memorial Stadium.
ERIC CROUCH


Heisman Trophy winner, Eric Crouch, will be the speaker at our Sunday morning brunch, also at the Cornhusker Marriott. Reservations are limited, so you must act quickly. We also plan to have a number of ex-Husker football players attend the weekend events. There will be a raffle at the Watch Party and door prizes will be given during the halftime of the Husker football game.

To enroll and/or to donate to this great cause, go to www.huskersalute.org. Our brave men and women who have served and continue to serve this great country of ours don't ask for much. By donating, you can send a message that Nebraska fans do care.
2008 THE BETTY WALKER AWARD
Bill Moran
Pottsville, PA
This award recognizes the most outstanding Husker fan. Last year's winner, Betty "Big Red Betty" Walker, for whom the award is named, set the standard for the award. Unfortunately, Betty lost her long battle with cancer earlier this year. But as I promised Betty and her family, the award will from here on will carry her name.

This year's winner is Bill Moran. It still baffles me how people who have never set foot in the state of Nebraska can become rabid Husker fans. Bill Moran is one of those people. His love for the Huskers began when he saw Nebraska beat the Oklahoma Sooners in the "Game of the Century" in 1971.

I met Bill when he flew from Pennsylvania to Lincoln to attend his very first Husker home football game in 2004. That day, he got his picture taken with Johnny "The Jet" Rodgers, star of the "Game of the Century". He couldn't believe the atmosphere of game day at Memorial Stadium. Since then, Bill comes back each fall for Husker home games and attends many Husker away games. January 1st, Bill was at the Gator Bowl in Jacksonville, Florida cheering on his Huskers.

And last summer, Bill teamed with ex-Husker Matt Davison to put together a football camp in Pennsylvania that was designed to teach young (7th-12th grade) football players about leadership skills and how to treat women.

Bill is a retired elementary school principal and currently teaches part time at Alvernia College in Reading, Pennsylvania. Bill stands alone in the heart of Nittany Lion country, wearing his Husker apparel at every opportunity.

I can think of no one better qualified for this award. Congratulations, Bill!
2008 UNL ALUMNI GROUP OF THE YEAR AWARD
Northeast Kansans For Nebraska
Gary McGirr, President
This year's winner goes to the great people at the Northeast Kansans For Nebraska in Topeka Kansas. Without the dedication of Gary and the rest of the group, Husker Dan's Army would not have been possible. And the work that Gary and the NEK4NE performed made it possible for us to launch our first annual "Husker Fans' Salute To The Troops" weekend last fall in Lincoln. I take my hat off to all those associated with the Northeast Kansans For Nebraska for a job well done.
2008 BEST SPORTS SHOW AWARD (RADIO FORMAT)
"Unsportsmanlike Conduct" (1620 The Zone-Omaha)
Kevin Kugler and Mike'l Severe
"Conduct" won the award last year and is just as deserving this year. "UC" provides its listeners with an opportunity for open and honest discussions in the arena of sports. If you're looking for a no nonsense view of the Husker football program, co-hosts Kevin Kugler and Mike'l Severe are just what the doctor ordered.

And if you want laughs, "UC" is also the place to be. Although my favorite bit, "Bill From Lincoln" moved farther east to "Bill From New York", it continues to provide listeners with many knee-slapping laughs. There is a lot to like from this duo on "UC". They can be heard on the radio or the Internet, 5 days a week from 2-6 p.m. (Central). Congratulations gentlemen and keep up the great work!
2008 BEST SPORTS SHOW AWARD (TV FORMAT)
Big Red Wrap Up
(Hosts Kevin Kugler and Adrian Fiala-Nebraska Public TV)
This is another repeat for "BRWU" and the show's co-hosts Kevin and Adrian. If you are a Husker football fan and you don't watch this show, well, you're really not a Husker football fan. If you want to know the latest about the Husker football program, coaches, recruits etc., "BTWU" is the place to be on Tuesday nights during the football season. Fans living outside the state of Nebraska can catch the show via podcast.
2008 BEST SPORTS JOURNALIST (INTERNET FORMAT) AWARD
Sam McKewon
Nebraska StatePaper.com
If you haven't read any of Sam's stuff, you should. Sam combines his passion for Husker football with his experience of having been a football player for the Millard North Mustang football team here in Omaha. Sam brings a writing style that is seen usually only in the top levels of sports writing. To read him is to know that he didn't just fall off the turnip truck. What is surprising is that he doesn't write full time. One of his goals is to one day be a high school English teacher. I'm sure he'd be a good one, but I think his talent would be better served in the field of sports journalism. Keep up the great work, Sam!
2008 BEST HUSKER BOOK AWARD
"Heroes of the Underground"
By Jason Peter
"Heroes" is not a book for the entire family. It's not about his days playing for Nebraska or his even his brief career with the Carolina Panthers of the NFL. Rather, it's about the slow, but highly seductive world of illegal drugs. And I don't mean steroids. We're talking cocaine and heroine. We're talking freebasing. We're talking about trying to kill himself by consuming more drugs than his system could handle.

That Jason lived long enough to write this book is amazing. Absolutely amazing. But "Heroes" is also about the triumph over incredible odds. I couldn't put the book down. But beware of a lot of four letter words. This is a story that can't and shouldn't be said with "by gollies", and "oh shucks". It took a great deal of courage to write this book. Thanks, Jason for telling it all.
2008 BEST SPORTS JOURNALIST AWARD (NEWSPAPER FORMAT)
Mike Babcock
Huskers Illustrated
For 17 years, Mike Babcock was the Husker football beat writer for the Lincoln Journal Star in Lincoln, Nebraska. And for many years, he has served as the unofficial Husker football historian. Mike has written many books on the subject of Nebraska football, not the least of which is his latest endeavor, "Nebraska Football Vault"-a masterpiece about the history of Nebraska football from Frothingham to Pelini.

His works also appear in Huskers Illustrated magazine. Thanks for a job well done, Mike!
2008 BEST HUSKER PLAY-BY-PLAY ANNOUNCER AWARD
Kent Pavelka
KFAB
Kent will be forever known as the guy who took over for Lyell Bremser in 1984 after Bremser had spent 44 seasons broadcasting Husker football games. Kent was the football PBP guy from 1984 until 1996 and called Husker basketball from 1974-1996. After a ten year hiatus from Husker athletics, Kent returned in 2006 as the PBP man for Husker basketball. We like the passion and love he brought to Husker football broadcasts.
Thanks for the memories, Kent!
2008 BEST HUSKER RADIO COLORMAN AWARD
Gary Sadlemeyer
KFAB
Gary was Kent's color man from the 1985 season until both were replaced after the 1996 Husker football season. Gary brought a high standard of excellence to his work. He also does a spot-on impression of Barry Switzer! Thanks, Gary!
2008 BEST MOVIE "JOCKUMENTARY" AWARD
"The Express"
This year's winner is "The Express", a movie based on a true story about Ernie Davis, the first black to win the Heisman Trophy. Ernie was an amazing running back at the University of Syracuse from 1958 to 1961. Tragically, Ernie died in 1963 at the age of 23 of leukemia. He didn't live long enough to realize his dream of playing in the NFL for the Cleveland Browns. Although his life was cut short, he always played the game with class and dignity. Check this one out. And for some (and you know who you are), bring the Kleenex.
2008 BEST MUSICAL GROUP OF THE YEAR AWARD
The Cornhusker Marching Band's Drumline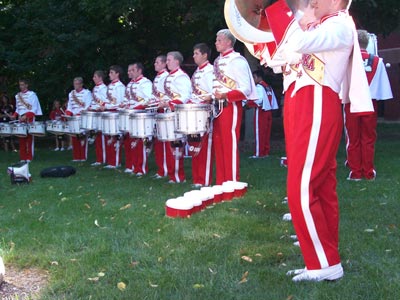 The Cornhusker Marching Band won this award last year. This year, we want to recognize the group that provides the heartbeat (literally) of the entire marching band. Yes, we know, it takes many musicians to make up a band of this size, but we want to single out this group for its outstanding level of performance.

The group is led by Nate Campbell, UNL Marching Percussion Instructor at Nebraska. The rank leader for the 2008 season, snare drummer Cory Watermeier, from Fremont, Nebraska oversaw nine snare drummers. The four tenor drums were led by Nick Winter, from Eagle, Nebraska. The five bass drummers, were headed by Marcus Brown of St. Joseph, Missouri while the nine cymbal players were led by Eric Price from Hickman, Nebraska. The Pit section (marimba etc.) was headed by Marcus Sheer, from Cook, Nebraska. They practice untold hours each football season perfecting their drum routines.

Fans can see them perform before every Husker home game just north of the architecture hall south of the Stadium about an hour before kickoff.
2008 HUSKER SPIRIT AWARD
These awards are given each year to those who have done great things for the state of Nebraska and/or for the Husker football program.
Shannon Lantz, Omaha, Nebraska
Shannon put together an organization that buys, assembles and sends Care Packages to troopers who are stationed in the Middle East. Shannon and all those who have helped her deserve our respect and admiration.
The Husker Elvises
They are the greatest goodwill ambassadors the Husker football program could ever have. If you've not seen them perform before a Husker home game, you don't know what you are missing. Best of luck guys, and may brother Steve rest in peace.
Mari Sandoz
"Love Song To The Plains"
This Nebraska world-renowned author is known for her great books about the history and people of the High Plains. "Love Song" is about her love for our great state of Nebraska.
Michael Fosberg
Lincoln, Nebraska Photographer
That Michael can find beauty in the simplest of things demonstrates his genius. He's also a very gifted writer whose words often accompany his beautiful photographs. His studio is in the Haymarket district of Lincoln, Nebraska.
The following Special awards go to those who made our "Salute" weekend possible:
David Fiala, president of FuturesOne (Lincoln)
Mike Anderson and Tony Holechek with Anderson Auto Group (Lincoln)
Joe Pasant with Kincaid Motor Coaches (Lincoln)
Major Jonathan Harvey and his beautiful bride, Lain (Ft. Bragg, NC)
Double Eagle Beverage (Lincoln)
Gary McGirr, president of the Northeast Kansans For Nebraska (Topeka, KS)
Pepsico (Lincoln)

Congratulations to all the winners!
Send your comments to huskerdan@cox.net. For past Husker Dan columns, click here.