H U S K E R D A N

'HORNS "ICE" THE HUSKERS IN THE LAST MINUTE, 22-20

BIG WED WAP-UP
NEW RECORD

The Husker crowd Saturday who braved the snow and bone chilling temperatures, have broken the all time decibel record (in my view) for a Husker home football game that was set in 1994 when the Colorado Buffaloes came to Lincoln.
Before Saturday's game, and just after the National Anthem was played, two F-16 jet fighters (okay, so I don't know an F-16 from a Ford F-150) flew over the Stadium. The noise was deafening. But had those jets flown over the Stadium just as Nate Swift caught Marlon Lucky's pass late in the game, the jets would never have been heard.
It was that loud. I'm not even kidding. My ears were still ringing at 10 o'clock that night.
MAN OF STEEL
I went to the game Saturday with a good friend of mine, Jerry and his two sons, Allan and Jason. Jason lives in Houston and was making his first Husker home game of the year. As we were making our way out of the Stadium, the Cornhusker Marching Band was playing the theme from "Superman". As everyone knows, kryptonite was the one thing that plagued "The Man of Steel." While kryptonite isn't a problem for the Cornhuskers, late game turnovers are-especially against teams from the state of Texas.
Cases in point:
1.) Texas @Nebraska 2006
Husker fans are still reeling from Terrence Nunn's fumble late in Saturday's game that led to a Longhorn field goal with 23 seconds to go that won it for Texas, 22-20.
2.) Texas Tech @Nebraska 2005
LeKevin Smith's interception against Texas Tech in Lincoln last year that, had he just fallen on the ball, would have given the Huskers a dramatic come-from-behind win. Instead, Smith tried to do his Mike Rozier impression and fumbled it back to the Red Raiders who subsequently scored with seconds remaining to down the Huskers 34-31. (What do you want to bet that LeKevin called Terrence this weekend?)
3.) Texas @Nebraska 2002
DeJuan Groce's punt return late in the game gave the Huskers, who trailed by 3, excellent field position. Rather than kicking a "sure" field goal, Frank Solich opted to have quarterback Jammal Lord roll out to his right in attempt to take a shot at the end zone. But instead of just throwing the ball out of bounds when his receiver was covered, Lord forced a bad pass that was intercepted, securing the 'Horns a 27-24 win.
4.) Nebraska @Texas 1999
Corell Buckhalter was going in for an apparent game-clinching touchdown when he fumbled into the end zone. Texas took over and sent the Huskers packing with a 24-17 loss.
5.) Texas @Nebraska 1998
Eric Crouch in his redshirt freshman year, was going in for another game-clinching touchdown, but he fumbled into the end zone. The Longhorns got the ball back and stung the Huskers with a 20-16 home loss.
A LOSS IS A LOSS IS A LOSS IS A LOSS
I'm not one who finds much comfort in moral victories, no matter how well the Huskers may have played or how close the game was or how the Huskers "had the game won". I'm sorry, I'm upset-not at the effort of the out-manned Huskers-Big Red fans should be proud of the way they continued to battle all day. The sad thing is we beat ourselves.

In order for this year's team to take the next big step, it's going to have to prove that they can put an opponent away late in a game. Zac Taylor is a great player who plays with more resolve and heart than most any quarterback I can recall. Knock him down, and he'll get back up. If he throws 6 bad passes in a row, he may complete the next 10. He never quits and never seems to flinch or blink. We may not see a player like Zac for a long, long time.
But if the Huskers are going to take the next big step this season, Zac is going to have to bring his "A" game every week. Zac is a 5th year senior, but Saturday, he was outplayed by a redshirt freshman, Colt McCoy. There were many critical plays Saturday, but none more so than the following plays: On the first play, Zac Taylor was about to be thrown for a loss and instead of just throwing the ball away, he tossed one to a Texas defender. On the very next play, when Texas QB Colt McCoy went back to pass. Adam Carriker was about to behead Colt, but instead of throwing an interception, he tossed a perfect strike to Limas Sweed for a TD. If you didn't know better, you'd say the kid who threw the interception was the rookie and the veteran was the one who threw the TD pass.
To be fair to Zac, this is the 3rd offense he's had to learn in 4 years. This team will go as far as Zac will take them. This is not to say Zac lost the game Saturday-he didn't-but his leadership will be needed if the Huskers are to achieve their goals this year.
LITTLE BIG MAN
Courtney Grixby may have played his finest game as a Husker cornerback. He went toe-to-toe with Limas Sweed and didn't back down and inch (not that he has any inches to spare). We also saw the "real" Steve Octavien Saturday. There were so many players who stepped up Saturday, it's hard to list them all. And on Brandon Jackson's shovel pass TD, there were great blocks by Greg Austin, Terrance Nunn and of course the block of the game was thrown by Husker fullback Dane Todd. He took out two Longhorn defenders and enabled Jackson to run untouched into the end zone.

Much has been said about what went wrong in the game Saturday-the inability of T. Nunn to field a couple of punts that resulted in the Huskers getting very poor field position-the opening kickoff that was returned 78 yards by the Longhorns that led to their first score of the game-the kickoff problems that have hurt the Huskers all year-Husker receivers who dropped sure passes and ran the wrong routes-Zac Taylor's 4 sacks, a fumble and an interception-and the Huskers inability to run the ball (38 yards for the entire game).

With all that, the fact that the Huskers were in a position to win late in the game shows just how far this program has come.
A SOLDIER'S LETTER
Readers: I received the following letter from Sgt. Josh Howard just days before the Huskers hosted the Texas Longhorns. I forwarded it to Linda Leupold, who is Bill Callahan's assistant. I also had the opportunity to read Josh's letter on the air when I was interviewed by Kent Pavelka last Friday on radio station KFAB in Omaha.
From: "Joshua Howard" <jrobhowie24@hotmail.com>
To: <huskerdan@cox.net>
Sent: Thursday, October 19, 2006 6:57 PM
Dear Husker Dan:
My name is Sgt. Joshua R. Howard. I have written to you before about supporting my company this season by possibly providing my company (the 308th Transportation Company) with some DVDs of Husker football games. Not only have we received DVD's of this year's season but we have watched them with pride. We have received letters from numerous people from all over the country. For this I would like to extend to you my gratitude and thanks. We are more than half way through our deployment here in Iraq. This year would have been so much harder without this feeling of home that has been provided by you and the great state of Nebraska.

It is with this that I would like to ask you for one more favor. All I ask is this: please let our boys in Scarlet and Cream know that we are behind them this weekend, as they have been behind us in our time of trial. I know it seems weird comparing the two tests. One test being a football game, and the other surviving a war. In my heart I truly believe that they (the Husker football team) are an example of pride in which one carries with him. The Nebraska Cornhuskers are not just a football team. They are an example of tradition and pride that our state holds close to our heart-just as we, as soldiers, are an example of pride for our country. If it is at all possible, please let our boys know back home, that there are men and women supporting them from afar and that we are rooting for them and hope for a triumph over the Texas Longhorns. We stand united with them; much like the state of Nebraska has stood by us in this difficult time in our lives. There is no place like Nebraska. It is times like these that prove that statement to be true. Thank you for your time.
Sincerely
Sgt. Joshua R Howard
GO SKERS!
Husker Dan:
Thank you! I'll make sure Shot Kleen receives a copy of this. I'll also be sure to get a copy to Coach Callahan to share with the team. Thanks again! We truly appreciate all you do to help our soldiers stay connected.
GO BIG RED!!!
Linda Leupold
Assistant to Bill Callahan
University of Nebraska Football
One Memorial Stadium
PO Box 880125
Lincoln, NE 68588-0125
(402) 472-5995
(402) 472-8000 fax
lleupold@huskers.com
huskers.com
THE HUSKER ELVISES AND LARRY THE CABLE GUY "GET 'R DONE!"
After Saturday's game with the Longhorns, the Husker Elvises held a swearing in ceremony for Larry the Cable Guy in Larry's skybox at Memorial Stadium. Larry Brew with THE sent the following picture of the event.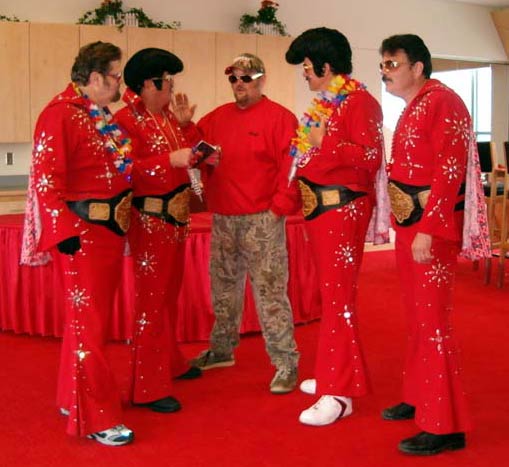 HUSKER CITY
A reader sent the following picture taken during one of the Husker night games this season. Awesome, no?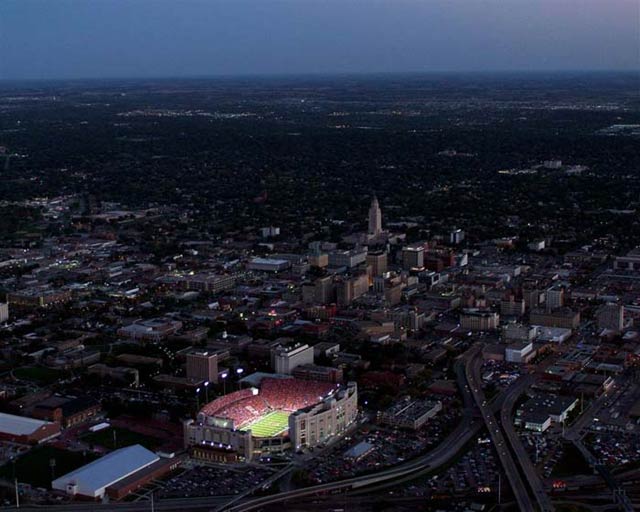 HUSKER DAN SEZ
If you want to know what the Husker offensive game plan is for this Saturday's game at Stillwater, all you have to do is read the box scores of the Husker wins at Iowa State and K-State. Bill Callahan's road offense isn't the West Coast Offense-it's called the TOP offense-as in Time of Possession. Bill wants to run the ball and run the clock so that Oklahoma State's potent offense doesn't have time to be on the field. Usually, if you don't have the ball, it's pretty hard to score. I have to believe that if the Huskers were able to score 20 points on the 'Horns, they should be able to score at least a couple more TDs this Saturday. And if the Huskers held Texas to 22 points, they ought to be able to hold the Cowboys to fewer points.

HUSKERS 35
'POKES 17
If you'd like to give Husker Dan a piece of your mind you may email Husker Dan at
huskerdan@cox.net
. For past Husker Dan columns,
click here
.