H U S K E R D A N
TROJANS BURST HUSKERS' BUBBLE, 28-10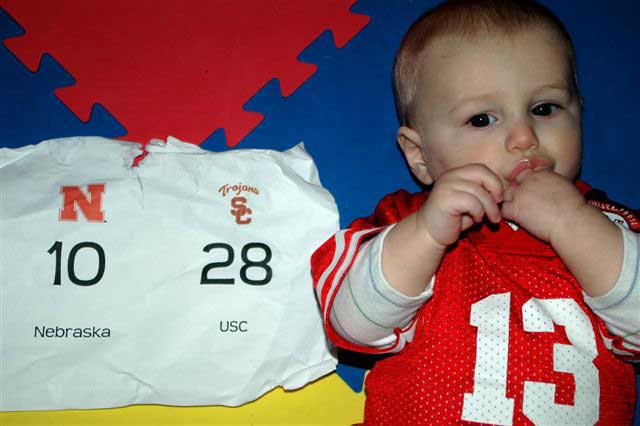 BIG WED WAP-UP
Okay, so I not only drank the Kool-Aid, but I made the entire pitcher and filled it with ice. Big deal.
GO BIG RED, ORANGE, PURPLE AND GREEN
People watching the Husker-Trojan game here in Omaha Saturday on KETV had a rough go of it because during part of the game, the Omaha area was under a tornado warning. In order to avoid insurrection by Husker fans, KETV decided to use a split screen format that enabled die hard Husker fans (emphasis on die) to keep watching the game (minus audio) even though the roofs of their houses might be blowing away. The other half of the screen had the "Storm Guy" doing the play by play of the weather.
"The wall cloud is at 180th & Q; cuts back to 185th, it's out to 190th, down to 195th Street-it could go all the way!"
Okay, so Lyle Bremser, he ain't.
It was hard to keep track of parts of the game. KFAB had cut in with all the weather information, so there was just no way to get a PBP account of the game. The right side looked like a Rorschach Test-just a bunch of red, orange, purple and green splotches splattered on the TV screen.
HISSY-FIT
Losing the game Saturday night was just the beginning. Sunday was the start of the big hissy-fit made by Husker fans who were upset about what they believe was a poor game plan by NU head football coach Bill Callahan.
What may have helped foment the situation were comments made by ABC's Brent Musburger Saturday night during the broadcast. He said that he was amazed at how far (in his opinion) the Huskers have fallen since the glory days of the 90s. He thought the Husker coaching staff had stooped to a new low because he felt they were more concerned with the margin of loss, rather than trying to find a way to win the game. In other words, in Musburger's view, Callahan wasn't coaching to win-he just wanted to get the hell out of Dodge (Dodger?) City and not be too embarrassed.
COACH MUSBURGER
Which leads me to wonder, just what was Steve Pederson thinking about back in 2004 when he didn't hire Brent Musburger to replace Frank Solich? Boy, if only we could have plucked ol' Brent, we'd already have won two national championships by now, by golly. Sigh.
I'll stick with Bill Callahan, thank you very much.
What is important to remember is that Bill Callahan knows his players-their strengths, weaknesses. He knows what they are capable of what they're not. He knows when they've been sleeping, he knows when they're awake, he knows if they've been bad or good, so be good for goodness sake! (Okay, so I just couldn't pass up a cheap joke.) Now, where was I?
JEOPARDY, ANYONE?
Callahan knew going into Saturday night's game with SoCal that his offensive line, while much improved over last year, was using a center who was making only his second career start. Callahan knew the offensive line was going to have a rough night with the Trojan Front Seven. He knew they would be out to make Husker quarterback Zac Taylor's life miserable. If Callahan allowed Zac to lose confidence, or get him injured, the rest of the season could be in jeopardy.
Remember, this is still a very young team. Callahan knew that his only hope of winning on the road in a hostile territory, going up against perhaps the premiere football program in the country, was to play ball control. Run the ball, use short passes to the running backs, and try to make it a close game in the fourth quarter.
It almost worked.
Most Husker fans, if asked prior to the game if they would be satisfied to be down by just 11 points in the 4th quarter, would have been pretty happy. Husker fans remember all too well that we were down by 11 against Michigan in the 4th quarter and came back to win the game. I know, the Wolverines aren't the Trojans, but you get my drift.
OUT OF GAS
But it was not to be Saturday night. People can criticize Callahan all they want, but the man had a good plan, we just didn't execute it. We had opportunities for interceptions. Lucky's fumble was the turning point. The Trojans had only 39 yards of total offense in the 3rd quarter, but giving them a short field put them in front 21-3. Still, the Huskers battled back, but ran out of gas in the 4th quarter.
Zac didn't seem to be comfortable all night. He sensed pressure even when there wasn't any. His passes were off target. He was not having a great night. So what's a coach to do, pull a Beau Davis and hang him out to dry?
GOALS
And the criticism didn't end with Callahan's play calling. "Fans" also took the coach to task for Callahan's saying that the goal of this year's team is to win the BTN and win the Big Twelve title. They think that proves Callahan didn't really care about winning the game Saturday night. Huh?
DEJA VIEW
In my view, this team is going to get better each week. As was the case in 1969, this year's Husker team may be one, that by the end of the year, few teams will want to play. Hang in there Husker fans. Billy C. knows this is going to be a long season.
Clearly, USC was the much better team. They reminded me of the Miami teams of the late 80s and early 90s. They have incredible team speed. They run, pursue and they knock the fillings out of your teeth. This Trojan team is also going to get better as the season moves along. As long as Dwayne Jarrett and John David "You Bet Your" Booty remain healthy, they are going to be a tough team to beat.
In my view, the Huskers played a good game Saturday, but playing a very good opponent like SoCal on the road, good ain't enough.
HUSKER DAN SEZ:
The Huskers rebound against a very tough Trojan team.
HUSKERS 31
MEN OF TROY 14