H U S K E R D A N
THIS & THAT:
HE WAS JUST JOSHIN' US
Okay, so Josh Freeman has wriggled out of his verbal "commitment" to join the Huskers class of '06.
Fine.
It appears that the chance to play his freshman year at K-State was the overriding factor in his decision to pick the 'Cats over the Big Red. Hmmm. Sounds as though Josh may have a problem with the competition at Nebraska.
Interesting.

OKIE-DOKIE
Go back a year when the Husker coaches called Harrison Beck to see if it was okay with him if the Huskers recruited Zac Taylor, who at the time, was a junior college quarterback at Butler Community College in Kansas. The coaches asked for Beck's permission because they had earlier promised Beck that he would be their only QB recruit of the '05 class. Beck said, "Sure. The more competition, the better. It will make me an even better player." Contrast that with Freeman's high-tailing it to K-State. Perhaps it shows that Josh didn't have the confidence or ability to compete at Nebraska. Hmmm.

EVRIDGE IN RED?
You wonder what affect Freeman's decision to play for the Wildcats will have on K-State starting redshirt freshman quarterback and Papillion, Nebraska native Allan Evridge? If you'll recall, he de-committed from Nebraska after Frank Solich was fired and he (Evridge) opted to join Bill Snyder and the K-State Wildcats.

Would Allan consider transferring to Nebraska? With K-State's new coaching staff's commitment to the passing game and Josh Freeman's commitment to come to Manhattan, it seems that Evridge's days as a QB at Kansas State might be numbered. Would he consider transferring to Nebraska? I know, he'd lose a year of eligibility so it probably won't happen, but who knows?

TOUGH "BREAK" FOR BO
When you've already lost two of your top linebackers to injury earlier in the year (Steve Octavien in the Maine game and Stewart Bradley in the T-Tech game), the news of Bo Ruud's season ending injury is a blow to the Husker defense. To be sure, there are capable backups (Lance Brandenburgh and Phillip Dillard) but how do you replace Bo's team leading tackle performance this year? Tough break, (no pun intended) Bo.

QUOTE OF THE MONTH
Husker Offensive Coordinator and QB coach Jay Norvell said at the Shrine Bowl football dinner last week when someone asked him why he thought the Husker offense played so well against the Buffaloes but struggled through much of the year.

"Earlier this season, it was our (the coaches') offense; now it's theirs (the players')." He went on to say that the players have taken ownership of the offense and are able to make corrections and adjustments by themselves.
HUSKER ELVISES CHRISTMAS CARD
Larry Brew, one of the famous "Husker Elvises" brothers, sent me the attached Christmas card. Thanyewvarrymuch!!!!!!!!!!!!!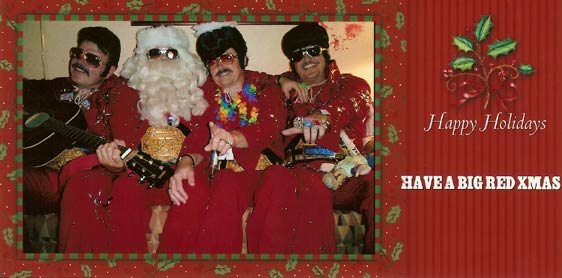 THE PIE ALAMO BOWL
A Husker victory in the Alamo Bowl would be the icing on the cake on what has been an up and down Nebraska season. The difference-maker in next week's showdown with Michigan, might be the fact that the Huskers need this game more than the Wolverines.
DEMAND
The Huskers have bought about 12,000 tickets for the game, while Michigan has sold only about 5,500 tickets. Michigan fans would rather be playing in Florida January 2nd, instead of meeting the Huskers in San Antonio December 28th. If the Michigan players and coaches aren't fired up for this game, perhaps the 11 1/2 point underdog Huskers can steal a win.

The loss of Bo Ruud at this late stage is not good, but the Wolverines have to replace two starting offensive linemen who were injured in a loss to Ohio State in the Wolverines' final game of the season.

HANGING CHAD?
Chad Henne is a very good quarterback who has a good arm and some very good receivers. But he is not mobile-he's the kind of quarterback our front four and linebackers have been able to contain.
SAM, I AM
Look for this game to go down to the wire. Jordan Congdon could be the difference. It will be absolutely imperative that the Huskers win the kicking game. The Wolverines are great at returning punts and kickoffs. Sam "Darling, You Send Me" Koch will have to keep Michigan penned up deep in its own territory. Our kick coverage will have to be at its best. If not, the Huskers will get burned for some easy touchdowns.
FINAL EXAM
Make no mistake, Michigan will be the Huskers biggest test of the year. Have the Huskers turned the corner on this season? If the Huskers play up to their capabilities, the Big Red can and will come out with a win.
DE JA VU?
This could be Bill Callahan's breakout game-one that sets the tone for his career at Nebraska. In 1962, Bob Devaney took his first Husker team into Ann Arbor, Michigan and beat the Wolverines 25-13. The win became the defining moment of Devaney's young career at Nebraska. Will Callahan fare as well? Let's hope so.
HUSKERS 28
WOLVERINES 25

You may tell Husker Dan a thing or two, or invited him to speak at your Husker event by emailing him here. For past Husker Dan columns click here.