H U S K E R D A N
HUSKER HEADLINES:
SOONER SACK ATTACK CORRALS HUSKER COMEBACK 31-24
BIG WED WAP-UP
If someone would have told you prior to the start of Saturday's game with the Sooners, that the Huskers would still be in the game with less than 2 minutes to go in regulation, and you'd also know that:
1.) The Huskers would go 3 and out on their first 5 possessions to start the game,
2.) The most outstanding Husker player in the first quarter would be the punter,
3.) The Huskers wouldn't get a first down until 1/3 of the way through the 2nd quarter,
4.) Zac Taylor would get sacked NINE times,
5.) Zac would toss two interceptions and one of them would be returned for a TD,
6.) The Huskers would rush for just 34 yards the entire game,
7.) Sooner running back Adrian Peterson would run for 146 yards and 2 touchdowns,
8.) The Sooners wouldn't get tagged for a single offensive holding penalty,
9.) The Huskers would fall behind 21-3 in the first half, you would have said there would be no way for the Huskers to still be in the game. In fact, with all the above futility, any self respecting Husker fan would have said the Huskers would probably lose the game by 30 points or more.
HUSKER DREAMS
But there the Huskers were, down by 7 with less than 2 minutes to go, with the ball and looking to tie the game. Only a wind blown pass that sailed just over the head of a wide open Nate Swift, prevented the Huskers, unbelievably, from doing so. With a possible overtime, the Huskers may have been able to have escaped with a win. With a 6-2 record the Huskers would have become bowl eligible and would have been playing the rest of the way to improve their bowl options and for a possible BTN title as well. Ahh, yes-we can all dream, can't we?
2005 AD
To be sure, the Sooners were the better team and had a difference maker on their side, last year's Heisman runner-up, Adrian Peterson. Even at 90% capacity, AD is still one of the most dangerous runners in all of college football. He didn't play two weeks ago against Baylor, but he just happened to heal in time for the Husker game. The Huskers have absolutely no answer for Peterson.

This year, the Huskers are suffering from youth, inexperience, a lack of depth, and at times, some questionable coaching. And to date, no one has emerged for the Huskers as a "go-to" type player.
CHEWING GUM
The Husker O-line is being held together with bandages, chewing gum and paper clips. Greg Austin, the Huskers' starting left guard should be in a M*A*S*H unit. There are two Husker offensive linemen who are D-line transfers. And to show how desperate things are at the left tackle spot, Wags opted to play, Lydon Murtha, a redshirt freshman, who made his first career start Saturday. Think about it-a redshirt freshman making his first career start in an NU-OU battle on television with an O-line that is still trying to grasp the nuances of the West Coast Offense. Amazing. Make no mistake, Murtha is going to be a great player for the Huskers, but I don't think throwing a freshman into the mix is something Wags relishes.
COMEBACK ATTACK
To keep coming back in the face of so much adversity (some if it self imposed), speaks volumes about the mettle, character and determination of this year's Husker team. They may not end up with the number of wins commensurate with their effort, but this is a scrappy bunch of players.
BAD TRADEMARK
This was, unfortunately, another winnable game the Huskers let slip away. In what has become a Husker trademark this season, Nebraska once again fell behind early in the game and had to spend the rest of the game digging out of that hole. The Huskers' knack of falling behind early has been a recipe for disaster for the Huskers. Credit the coaches for being able to adjust to get back into the games, but wouldn't it be great if just once, teams had to adjust to US after we built a big early lead? Man, woman and child, that would be something!
GRIGGS' TAKEDOWN
A funny thing happened to Sooner tailback, Adrian Peterson on his way to a "sure" 2nd quarter touchdown. Courtney Grixby, like a blur, came out of nowhere to cut down A.D. at the knees during Peterson's 58 yard run. The tackle was a thing of beauty. Had Griggs tried to tackle him above the waist, AD probably would have dragged him into the end zone. What made Griggs' play so important, was that the Sooners didn't score on that drive. Griggs is going to be a great player.
BROADCAST GAFFS
I know ABC didn't send its "A" team to broadcast Saturday's game (thank goodness Brent Musburger wasn't there), but even a reserve team should know how to pronounce the names of the kids playing the game. I can't speak for the Sooners, but Husker players seemed to get hit pretty hard. First, it was "Linden" Murtha, then it was punter, Sam "Koe"; it was Bo "Rudd" instead of "Rude", it was "Mario" Lucky and the topper was Ola "Degrundo". Look, I know Ola's last name is a bit of a challenge, but this was ABC for goodness sakes!
HUSKER DAN'S ARMY
LETTERS FROM HUSKER SOLDIERS
From: "Chris Anderson"
Sent: Saturday, October 29, 2005 11:09 PM
Subject: Husker In Iraq
Dear Husker Dan--
Greeting from the sandbox! I must say I really do enjoy your web site and what you guys do with it. It really is the best source to try and stay updated on the Huskers from over here.. even if that is staying updated with both of these recent losses. I have seen the letters from other soldiers and was wondering if there was any way I could get on the list to possibly get copies of the Nebraska games on Dvd as well. I really couldn't think of anything better than to get to see some games. I'm a Husker Alum who lived in Lincoln for a while.. but have been recently living in Wasilla, Alaska until I joined the Army.. and then was stationed at Ft Lewis, Washington.. before being deployed over here. my email is
andersoc72@hotmail.com, and my mailing address is:
PV2 Anderson, Chris
21st Cargo Transfer Company
LTF 548
APO AE 09391
Thanks and I appreciate all of you back in the states supporting us. Go
Big Red
Chris Anderson
Sandboxians for Nebraska!!
Attention Husker fans and Alumni groups: Here's another soldier in need. Now, get going!
FROM THE EMAIL BAG:
Dear Doofus:
You really blew it by saying that the Oakland Raiders fans are known as the "Battery Chuckers". The last time I checked, it was the San Francisco Giants who have that name, not the Raiders. Get your facts right.
Al Jeabrah
Forrest Hills, New Jersey
Dear Al:
Thanks for your letter. You must be a new to my column because seasoned readers know that from time to time Husker Dan intentionally inserts errors into his columns just to see if anyone is paying attention. You never know when HD will "plant" another one. Thanks for being so observant...
A MONTH OF DRUMS
This month is International Drum Month and Husker Dan is asking you to put your hand over your heart and salute all the drummers of the world. (Husker Dan is getting a little verklempt just thinking about it.)
As some of you readers know, Husker Dan has been a drummer since he was about thirteen. Soon after graduating from college, he packed all his belongings (which didn't amount to much) into his chick magnet '62 Chevy and headed for Los Angeles to seek his fame and fortune (ha!) in the music "bidness". He was fortunate to fulfill his childhood dreams of doing concerts, TV shows and touring with recording artists, most of whom, unfortunately, are probably in rest homes by now.

Why do I mention drums in a column about Husker football? Because the UNL Marching Band has a great drumline. And you have one more chance to catch them warming up before the Huskers' last home game, November 12th with K-State. The drumline warms up before each game outside the Architecture Building south of the Stadium. (See the attached picture). As a "cymbal" (groan) of your appreciation, be sure to applaud them. After all, we drummers have to "stick" together.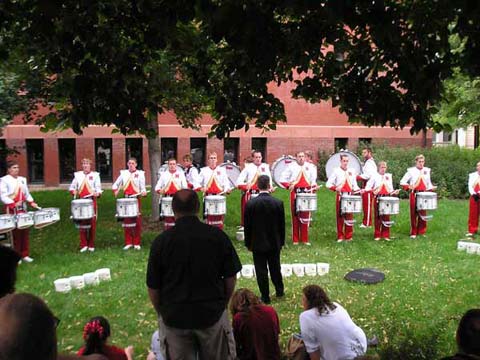 SONNY AND JOHNNY
BTW, there is a connection between music and athletics. Case in point: The most exciting football player I've ever seen was Johnny "The Jet" Rodgers and the most exciting (not the best) drummer I've ever seen was the late, great, incredible Sonny Payne who performed with such superstars as Count Basie and Frank Sinatra. When God assembled Sonny and Johnny, he put many of the same ingredients in both of them. Like "The Jet", Sonny Payne did things that were mind boggling.

Sonny could play a drum solo while bouncing his drum sticks off his drum heads, catch them in mid air and amazingly, keep his solo going. I saw him play in Omaha with Basie a number of years ago. He put on an amazing display that night throwing his drumsticks off the wall behind him, catching them in mid air and never missing a beat in his incredible solo. And for those of you who don't know much about Basie, his orchestra (it still tours worldwide) is to big band jazz music what the '95 Husker team was to college football. Yup, THAT good.
HUSKER DAN SEZ
HUSKERS GO BOWLING IN LAWRENCE?
This is a BIG game for the Huskers Saturday in Lawrence. Win and the Huskers are bowl eligible. Lose and the Huskers will be struggling and may be headed for another losing season. K-State is improving, Colorado will be tough to beat in Boulder, so the Jayhawk game will could make or break the Huskers' season.
COLUMBIA 500
The Jayhawk defense held Missouri to three total points. This is the same Tiger team that shredded the Blackshirts for over 500 yards and 41 points just a couple of weeks ago. To put this week's game in Lawrence in perspective, the Huskers, under Bill Callahan, have won, in about a year and a half, a total of one conference road game.
FOOT WORK
Do the Huskers have enough offense to win in Lawrence? They do, but they need to put it together. Let the game come to them. Zac doesn't need to force passes into double coverage. The line needs to block. Our backs need to run to the open lanes, not into a pile of defensive players. Special teams need to come up with some great plays. The Huskers' fate this week may rest on the foot of NU place kicker, Jordan Congdon.
HISTORY LESSON
If history is on the Huskers' side this week, Nebraska will continue its string of consecutive wins over the Jayhawks that goes back to the Johnson administration. But over the past four years, Husker fans know how quickly some of these streaks can come to an end. (See Missouri, Iowa Sate, Kansas State.)

This week will be another toss up. It could be a low scoring game. If the Huskers take care of the ball, run clock, have zero turnovers, can mix it up with run and pass and the defense can play the entire game the way they did in the third quarter against the Sooners Saturday, the Huskers could come away with a win. In other words, the Huskers will have to do something they haven't done all year... The Huskers will relish being bowl eligible after a close one in Lawrence.

HUSKERS 19
JAYBIRDS 14

If you'd like to give Husker Dan a piece of your mind or if you would like him speak at your next Husker event (Husker Dan lives in the Omaha area), you may email him here. For past Husker Dan columns click here.