H U S K E R D A N
(CAUTION: YOU ARE ABOUT TO ENTER A SPIN ZONE THAT FEATURES BRIEF GLIMPSES OF FULL FRONTAL SATIRE AND PARODY, WITH OCCASIONAL LAME ATTEMPTS AT HUMOR. ENTER AT YOUR OWN RISK.)
FROM THE EMAIL BAG
TRIVIA TEST PART II
You readers are the best!! Several of you were quick to point out the following errors in my trivia test:
1.) It was Mike McCloskey, not Gregg Garrity who caught the out-of-bounds pass in the 1982 Husker-Penn State game in Happy Valley, PA.
2.) I. M. Hipp haled from Chapin, South Carolina, not North Carolina.

Dear Husker Dan:
In question #2 are you referring to the "Black 41 Flash Reverse PASS", or just the Black 41 Flash Reverse? Also, in question #11 (Tom Novak's jersey number) I was wondering which year you were questioning, because he wore several different #'s.
Rich C.

Dear Rich: These two sites show conflicting versions of the name of the play. 1 , 2
As far as Novak's number, the question referred to his number (60) which was retired. Thanks for writing and for being a very sharp Husker fan!!

CHIP CHUCKLEY SHOW
Dear Husker Dan:
Man, the first part of your column was the dumbest thing I've ever read. That was very lame.
Jerry L.
Overland Park, KS

Dear Jerry:
At first, I didn't know what you meant because most of what I write falls into that category. Then it dawned on me that you might be referring to the first "call" from "Edna" on "the Chip Chuckley Show". "Edna" is a character in the current computer animated box office hit, "The Incredibles". The movie character is a tiny woman, with huge glasses and is rather funny. She says things like "hawbah" for horrible "dahling" for darling etc. For those who haven't seen the movie, Edna's dialogue would probably seem pretty bizarre. Sorry for the confusion.

CHEERLEADERS
Dear Husker Dan:
Hi there, I was thinking maybe you could help me. I took the attached photo (Husker Cheerleaders) at the Spring Game and would love to get copies of it to the girls, do you know of a school website that I could send this to? I don't want anything for it, I just think they would like to have it. Thanks in advance.
Lonnie D. Tague
Multimedia Management Section
US Department of Justice

Dear Lonnie: It's posted. Hopefully, this picture will find its way. Thanks for sending it to me.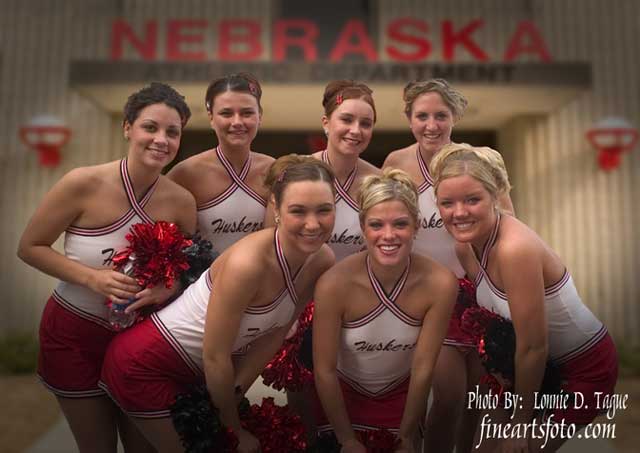 Dear Husker Dan:
I need help. My CU buddy keeps e-mailing me Nebraska jokes. I can't seem to find any Colorado jokes. Can you help a Brother out? Stuck behind enemy lines in Walsenburg Colorado. The main HUSKER FAN in Walsenburg.
Greg U.
Walsenburg, CO

Greg: Go to this site.

Dear Husker Dan:
Nebraska AD Steve Pederson has recently announced that the University of Nebraska will be changing its tunnel walk music for their upcoming home game against Colorado on November 26. The new song will be "I'll Be Home for Christmas".
Gary A.
Papillion, NE
HUSKER STORIES

I'll preface my memory with the fact that I am a recently new addition to Husker Nation, but I will put my new-found love for Big Red up against the most loyal of fans. I married into Nebraska hysteria, and although growing up in Denver I never had a connection to CU. Prior to attending my first Memorial Stadium experience last year against Oklahoma State, I was excited to be a part of the game day fun. I had heard from many how I should arrive early, tailgate, take in the atmosphere outside the stadium and above all don't miss the tunnel walk.

Well, nothing about that glorious Saturday afternoon was overhyped. When they finally started playing "Sirius" and the players emerged I felt like I could suit up with the Blackshirts and start "laying some hat" myself. After a Husker victory I stood and applauded the Cowboys with the other Big Red faithful and realized I was amidst a special following of fans. There's a reason people think of the Husker Nation as the best fans in college athletics, because above all else they're loyal.

While our 2004 version of Big Red has had more ups and downs than a grain elevator, we stand behind the school, the players and the coaches. Everyone takes his lumps every now and then and this is a trying time. While I may be a bit wet behind the corn ears as far as tenure as a fan is concerned, it doesn't take 50 years of Husker knowledge to understand this program is too proud to lie down. This may not be your Granddaddy's Huskers, but its also not the way I knew Big Red faithful prior to marrying into Husker heaven.

I've lived and died Nebraska football for a relatively short period of time. However, since my first personal glimpse at Husker Nation last year I'm all "N". For those few fickle fans who have lost faith, I suggest taking a (tunnel) walk of their own....away from Lincoln.

Keep up the good work Dan,
Dave B.
Denver, CO.
Readers: All of you have a Husker memory or story you need to share with Husker Pride Worldwide. Your story might be about the first Husker game you ever saw; it could be about the last Husker game you shared with a loved one, or maybe it's a story of what you had to do in order to get Husker tickets. It could be a funny story or just a memorable one. Whatever memory you have, send them to huskerdan@cox.net and Husker Dan will post the best ones in his column.
HUSKER DAN SEZ
LET THE BUFFALO CHIPS FALL WHERE THEY MAY
As editorialist Darrell R. Turbeaux of Lynch, Nebraska would say, "You'd have to have manure for brains" not to know what's at stake in this Friday's game in Lincoln with the Colorado Buffaloes.

A Husker loss to those *&^%! Buffaloes Saturday would mean:
1.) An end to the 35 year record of consecutive bowl game appearances that began in 1969, the year Husker Dan traded in his cool Nash Rambler for a brand new "hot" Gremlin.
2.) An end to the record of non-losing seasons that began in 1962.
3.) You'll have extra money during the Holidays because you won't be spending it on a bowl game package or hosting some hokey TV party to watch the Huskers play in the Reynolds Wrap Aluminum Foil Bowl in Fargo.
4.) The "Bring Back Frank" and the "I Told Ya So" contingencies would come out in full force.

A Husker win over those &^%$! Buffaloes Saturday would mean:
1.) The Husker seniors could go out with a bowl appearance and a chance for a winning season.
2.) Bill Callahan would have a winning season his first year at NU.
3.) There would be fewer lay-offs in the local travel agencies.
4.) Readers would get an additional stupid Husker Dan column...
5.) Steve Pederson wouldn't have to enter into the Witness Protection Program.
STRINGS ATTACHED
To put all the consecutive bowl appearances and non-losing season seasons strings in perspective, in 1962 John Kennedy was president. Man hadn't yet landed on the moon.

In 1969, Cher hadn't had her first facelift. Regis Philbin still had his own teeth. Pamela Anderson was flat-chested. Madonna was still a virgin. And many of you "whippersnappers" were nothing more than a gleam in your parents' eyes.

The Strings are remarkable, amazing, actually-but could (perish the thought) come to a SCREECHING halt this Friday if the Huskers stumble against the Buffs.
COTTON PICKIN' 'CLONES
Most of you know by now, with the 'Clones' road upset at Manhattan over the weekend, the Huskers' bid for a BTN title fell faster than a ringside fan at a Pistons game. Okay, for some Husker fans, not having to play the Sooners twice in less than 3 weeks ranks right up there with not having to make an extra trip to your friendly latexed-gloved proctologist.
IT'S A MAD, MAD, MAD, MAD WORLD
Barney Cotton might be laughing all the way to Kansas City. To be sure, Iowa State (!) could be playing the Sooners for the BT championship, December 4th. Yeah, and the next thing your gonna tell me is that Utah and Boise State are Top Ten teams and that Texas at El-Incomplete-o-Paso and Bowling Green (!) are ranked and the Huskers aren't. Is there no sanity in the universe? Have the football gods gone mad this year? Sigh.

This is one wacky year. K-State, who was the top of the heap in the BT last year, throttling the mighty Sooners in the Big Twelve championship game, not only won't be playing in this year's championship game; they won't be going to any bowl game and have (are you ready for this?) a losing (4-7) record.

This is the same year the Huskers suffered their worst loss in school history, and the very next game, Husker QB Joe Dailey broke the all time Husker record for passing yardage in a game. Go figure. "This is wild stuff", as Johnny Carson would say.
WHITE BALL
The Huskers' last outing was an inspirational, emotional, gutty 27 point loss (30-3) to the 30 point favorite Sooners in Norman November 13th. Cory Ross played one of the most courageous games any Husker running back has ever played. Once again, the Huskers had no pass rush or any passing game of its own. The Blackshirts forced the Sooners to be one dimensional, limiting the Big Red of the South to under 100 yards rushing, but the one dimension the Sooners did have, was the passing of Heisman trophy winner Jason White who threw for over 400 yards and to 11 different receivers.

So what about the Buffs coming in to Lincoln with a 6-4, bowl eligible team fresh off a last second, home victory over the K-State Wildcats?
EVEN-STEVEN
Statistically, the two teams are pretty evenly matched. Both are pitiful in Turnover Margin, usually one good indicator of a team's strength, or lack thereof. And both teams are pitiful defending the pass, with the Huskers ranking 113th and the Buffs coming in at a cool 99th in the national standings.

The Buffs have a slight advantage passing, while the Huskers have been able to run the ball more effectively, even against the likes of the Sooners. The Huskers are much better in total defense, giving up 366 yards per game, while the Buffs surrender almost 425 yards per game.
HOME SWEET HOME
Here's what it boils down to: The Huskers (are you ready for this?) will run the ball, passing only when necessary, like when it's 3rd and 2 inside the Buffs 5 yard line... But seriously, the Buffs will pass and the Huskers will run. But the Huskers have one huge trump card: The game is in Lincoln in front of 80,000 red clad, screaming Husker fans who are not about to let their beloved Huskers down in their hour of need.
DEVINE DAVANEY
To be sure, the crowd will make a difference-THE difference, in my humble opinion. The ghost of Bob Devaney will be there, tipping a pass to the Huskers or making sure Bobby Purify falls down on his way to the end zone. Caution: Look out for the Buffs' field goal kicker who can nail 'em from 60 yards. Scary. Really scary.

This game will likely go down to the wire, perhaps the Huskers first OT game of the season. It could be 28-28 after 4, with the Huskers winning it on a Cory Ross dash into the end zone to win it for the Huskers.

Hey, it could happen!!!! Give a guy a break!!!

HUSKERS 35
PRAIRIE COWS 28
Send your comments to: huskerdan@cox.net For past Husker Dan articles, click here