H U S K E R D A N
HUSKER HEADLINES:
BO'S BOYS BASH BLUE BOYS, 24-3
MEN OF KORN SOCK ROCK CHALK JAYHAWKS, 24-3
KORN BOYS CORRAL KANSAS CORPS, 24-3
BULLOCKS BOYS BAG BARMANN, 24-3
PORK CHOP SPINS, BULLOCKS TWINS GRIN, HUSKERS WIN 24-3
DER FLANGEN HAWKSKA YORDEN, FENSTER LAGEN YIPPER SNEEGAN, 24-3
(From the Swedish newspaper Da Yorgie Swenloper)
BIG WED WAP-UP
Husker fans looking for a statement that the Huskers have bounced back from their dismal performance last week in Austin, may have to wait awhile. It's true the Huskers won the game at Lawrence; the defense didn't allow a touchdown and if it hadn't been for an untimely offsides penalty, they would have pitched shutout.
The Huskers grabbed 27 first downs (a number that startled me), but amazingly, the Huskers also lost the time of possession by about 3 or 4 minutes.
What is unsettling is the Husker offense ran for a modest 290 yards against the nation's 92nd rushing defense, while the Huskers' 3rd ranked defense gave up 292 yards on 63 offensive plays by Kansas.
Kansas, led by their freshman quarterback Adam Barmann, seemed to move the ball at will for much of the game. Pelini confused the freshman with some nicely disguised blitz packages that resulted in a couple of timely Bullocks brothers interceptions.
LOOK, UP IN THE SKY, IT'S A BIRD, IT'S A PLANE, IT'S BARMANN!!!!
You never sensed that Kansas was ever going to seize control of the game, but in the 3rd quarter, the Jayhawks had a good chance to tie the game at 10. Yes, Kansas is a better team than they were last year, but our defense was facing a freshman quarterback, making his first start at home. Most of the time Barmann was able to read (or guess at) our blitzes, find secondary receivers and know when to run. It makes you wonder why our 5th year senior qb can't seem to do that.
What is more shocking, is that last year at this time, Adam Barmann was playing 8-man football in rural Kansas!!!! The kid is going to be a great one as he gets more experience and sees more playing time.
PORK CHOP HILL
Husker reserve I-back, Cory "Pork Chop" Ross rushed for 108 second half yards and looked good in doing so. What an odd year, one week Josh Davis leads the team in rushing, the next, it's Lord, then Fluellen and now Cory Ross. That's either a strength or a weakness, I haven't figured out which just yet.
HOLY COW!!! AWARD
The Holy Cow of the Week Award goes to Isaiah Fluellen who made a miraculous 39 yard catch of a badly under thrown pass (imagine that!) from Jammal Lord. Isaiah had no business catching it, but he did. Just think if we had a quarterback who could throw consistently...Sigh....
LETTERS
LORD GORED
Jeff W. (West Coast Nebraska) writes:
I don't get it. After starting 23 games, Nebraska's quarterback says, "I just got to get better." What?? Now there is a statement stating the obvious! Doesn't the coaching staff (at Nebraska) know that opposing defensive coordinators ALL KNOW our QB has only 1-3 good passes in him for an ENTIRE game! A Pop Warner coach could devise a successful scheme against Nebraska right now.
SWEATER LETTER
Richard H. (Plano, TX)
In response to the Husker fan (Roy Miller) who wanted to know about the sweater his mom bought years ago, I think Herbie came out around '73 or '74. He probably started appearing on clothes the following year. The sweater almost looks like it could be custom made.
DAN-O PICTURE
Larry from California writes:
Greetings from a Husker fan in California and a Husker Dan fan, as well. While we get a face to identify the Loon and the Colonel, we have no such connection with you. How 'bout making yourself known to your many fans across the country who would really appreciate seeing just who's behind these fine articles???
Comment:
Thanks for your very flattering letter. As far as the Loon goes, the only picture I've seen of him, is one showing just the upper part of his head, his dark rimmed glasses and his forehead. As for posting a picture of yours truly, I would like to do so, but there are local obscenity laws that would likely be broken if my picture were to appear. My looks fall somewhere between those of Brad Pitt and Zazu Pitts. Thanks for writing.
CARNAC
Giff R. (Franklin, MI)
I pity those too young to not have enjoyed Johnny Carson at his best. I still can hear his opening music and clearly see him fighting the curtains to get out on stage. He was, and is, the best of the talkshow hosts.
Steve G. (no name or town)
Great stuff, Husker Dan!!!! I could just imagine Johnny Carson and Ed with the bit we've seen so much in the past. I laughed out loud at your version!! Now I hold in my hands, the FINAL envelope....
What do The Colonel, the Wildcats and Husker Dan have in common?
Ans: They will all see a BIG RED victory sign about 5:15 on the 15th.
Comment:
Thanks for your kind words!! I hope you are right about the K-State this Saturday.
$5O MILLION QUESTION
Richard S. (no town or state)
Amazingly, a recent World Herald poll showed that at a rate of almost 4-1, people will not support Steve Pederson's call for the Husker Nation to contribute to the University's fund raising drive to expand the Husker athletic department. Don't these fans know that football is what holds Nebraska together? We will see what happens when the seats quit selling out, when TV revenue drops and merchandise sales plummet. When our program is in the dumpster, Husker fans will complain just like they did about the casinos, Aksarben and the Omaha Lancers. I hope they all enjoy 5-6 seasons.
Comment:
You make some valid points. The timing of the announcement came after the Huskers were embarrassed by the Longhorns. I wouldn't be too concerned about Husker fans not supporting a cause that will help ensure Husker Pride Worldwide's return to the college football elite. Division I college football is big business. In order to remain competitive, the Huskers will need to keep a level of excellence in the Nebraska football program.
FORSBERG
Cody Pendant (Palmyra, NE)
Earlier this year, you talked about a photographer who took great pictures of the plains of Nebraska. What was his name and how can I get reach him?
Comment:
You are referring to the very talented Michael Forsberg who lives in Lincoln, NE. I am including another of his great photos. You can reach Mike at:
http://www.michaelforsberg.com
Remember, Christmas is next month!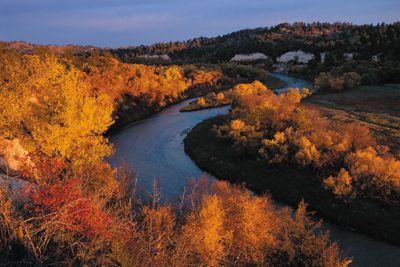 THE NUKE 'EM NOMINEES
Nominees for the 3rd annual Nuke 'Em Award will be accepted up until Monday, November 24th. The Final Five will be posted Tuesday, November 25th with voting to end by Monday, December 1st.
This year's award will be presented Saturday, December 6th at Lenny's Stumble Inn Sports Bar & Grill at 16th & P in Lincoln, NE. The luncheon will be at 11:30 am. Don't miss this one. All of those appearing on Husker Dan's column will be there. Chip Chuckley will be the master of ceremonies. Col. Biff Barney ("Barnstorming with Biff Barney") will be there. Also, if she's feeling up to it, Aunt Rosie might make an appearance. You won't want to miss this one. Reservations are required.
THE FRANZ JOSEPH LIST
Here is the list (not in any particular order) of YOUR nominations that have been received to date:
1.) The Colorado football fans-any year.
2.) The Southern Mississippi student section.
3.) The Kansas fans who slashed the tires on more than 30 cars the night before the Huskers played Kansas.
4.) Eric Crouch.
5.) Frank Solich.
6.) Bill Byrne
7.) Steve Pederson
8.) Scott Shanle
9. Jammal Lord
10.) Warren Swain
11.) Terry Bowden
12. Brent Mussberger
HUSKER DAN SEZ
This Saturday, the Stadium will be loud, it will rock, it will be THE place to be for any true Husker fan. Make no mistake about it, this is a huge game for both teams. Both teams need this one to keep their Big 12 North chances alive.
WHAT'S IT ALL ABOUT?
When the stakes are high, when the crowd is deafening-college football is defined by these moments. This is why players devote so much time to conditioning and endure two-a-days in the broiling hot summer sun. This is why coaches coach, players play and fans scream. Do not miss this game either in person or on television. You'll regret it if you do.
WHY THE HUSKERS WILL WIN:
It's a home game. If this game were in Manhattan, the edge would go to the Wildcats. These teams are evenly matched on offense and defense and special teams. Both teams have struggled at times this year, but there is nothing like home cookin' when the Huskers play in Lincoln.
BRING IT ON
Jammal Lord is going to have to bring no less than his B- game and must make no costly, stupid errors. The O line can not have drive-killing motion penalties or personal fouls. The special teams can't fumble or have punts or field goals blocked. Our return team and defense need to keep giving the offense good field position. We need to win the turnover battle and the crowd needs to never let up. This one will be an awesome game to watch.
COLD DAY
The future Mrs. Husker Dan and I were in the south end zone at Memorial Stadium the last time K-State walked out of Lincoln with a win in 1968. It was a miserable, cold day-it was snowing and the Huskers scored zero points in a 12-0 loss.
THEY KNOW WE KNOW THEY KNOW THEY CAN
The Huskers will not have a let up this week. They know they can beat the Wildcats. They know they can do it.
Strap your helmets on, people, this is gonna be a knock-out game. Bill Snyder has a good team, but the Huskers at home are better. Our offense is held together by chewing gum, staples and paper clips, but they will get the job done Saturday.
HOMEY
This has been a home series the past few years, and even with Heisman winner Eric Crouch, the Huskers never won at K-State. But the home streak will continue for the Huskers this week at Memorial Stadium. Sadly, this is the last home game. The time went by all too quickly. There are still 3 or 4 more games to play, so yell for the Huskers. Display your Husker flags, bring out the fight songs, wear all the red you have and keep yelling for the Scarlet & Cream. Dorothy Gale knew that there was no place like home and all you Husker fans know it, too.
HUSKERS 27
WILDCATS 17
You can write
Husker Dan
at
huskerdan@cox.net
. To see past
Husker Dan
columns, go to the HuskerMax.com home page; scroll down toward the bottom to "Extras" and scroll to the right and click on
"Husker Dan"
and you will see all the past columns.