Highlights: Nebraska vs. Oregon volleyball, 2018 regional final
Below are highlights and post-match reaction from the 2018 NCAA women's volleyball regional final between Nebraska and Oregon. Nebraska swept the Ducks to advance to the Final Four, where the Huskers will attempt to repeat as national champions.
The Huskers will face Illinois in a semifinal match Thursday. The winner will advance to the title match Saturday against the Stanford-BYU winner.
• HuskerMax volleyball page
• ESPN: Match point & more
Full recap
🎥 (7) @Huskervball is heading back to the national semifinals for the fourth year in a row after sweeping (15) Oregon.#NCAAVB pic.twitter.com/v6pFnT9aOH

— NCAA Volleyball (@NCAAVolleyball) December 9, 2018
Complete match
Post-Match
‼️ FINAL FOUR, BABY ‼️ pic.twitter.com/bC5xRC9gMh

— Husker Volleyball (@Huskervball) December 9, 2018
SET 3
.@Huskervball punch their ticket to Minneapolis!#NCAAVB pic.twitter.com/fty2WnM7eB

— NCAA Volleyball (@NCAAVolleyball) December 9, 2018
How about that defensive effort from Brooke Nuneviller?!#NCAAVB pic.twitter.com/ZkKu9dQV3e

— NCAA Volleyball (@NCAAVolleyball) December 9, 2018
🔴ROOF🔴ROOF🔴ROOF🔴#NCAAVB pic.twitter.com/mvoQPPJAFR

— NCAA Volleyball (@NCAAVolleyball) December 9, 2018
An absolute laser from @Huskervball's Lexi Sun!#NCAAVB pic.twitter.com/9p8rO3Npt0

— NCAA Volleyball (@NCAAVolleyball) December 9, 2018
SET 2
Two sets down, one to go for @Huskervball!#NCAAVB pic.twitter.com/YiqDeP0dRa

— NCAA Volleyball (@NCAAVolleyball) December 9, 2018
BIG RED 🔴
BIG BLOCK 🙌🏻#NCAAVB pic.twitter.com/yFRPmppn5m

— NCAA Volleyball (@NCAAVolleyball) December 9, 2018
Fooled ya!#NCAAVB pic.twitter.com/oAXQQSMPek

— NCAA Volleyball (@NCAAVolleyball) December 8, 2018
SET 1
.@Huskervball comes out on top in set 1!#NCAAVB pic.twitter.com/nbVDZjpcNm

— NCAA Volleyball (@NCAAVolleyball) December 8, 2018
The big 🔨 out of the back row, Lindsey Vander Weide, 🔨s it home!#NCAAVB pic.twitter.com/FwQG6QYCMG

— NCAA Volleyball (@NCAAVolleyball) December 8, 2018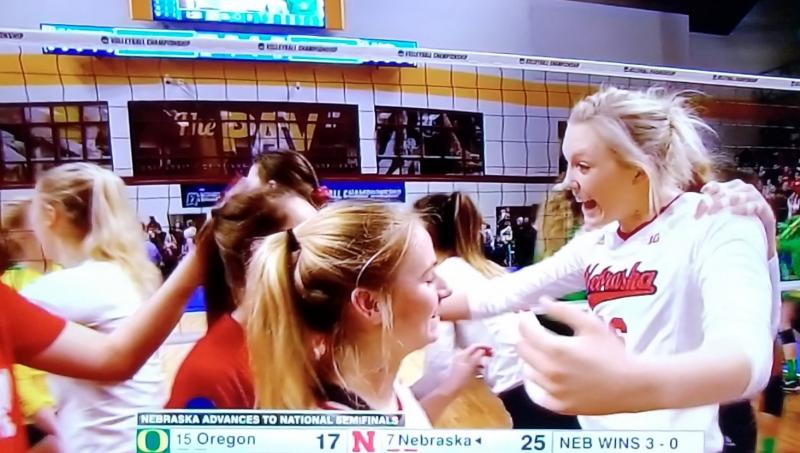 ---