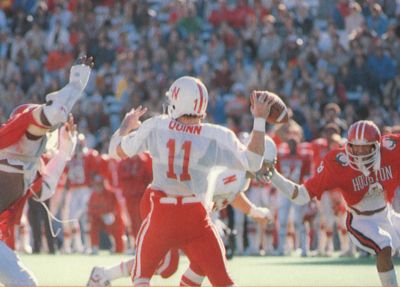 HOUSTON REPEATS 4th QUARTER MAGIC;
17-14 IS WRONG NUMBER AGAIN FOR NU
HOUSTON REPEATS 4th QUARTER MAGIC; 17-14 IS WRONG NUMBER AGAIN FOR NU
By Tom Ash, World-Hearld Staff Writer
Dallas — It was over, and it took a few moments for the dreadful reality to set in. Nebraska defensive backs Ric Lindquist, Russell Gary and Mark LeRoy just stood there in the Cotton Bowl's south end zone, looking at each other.
Scant seconds earlier, they had been waving their hands in circles over their heads, exhorting their 14,000 followers to crank up the volume and help hold off a furious, last-minute Houston drive.
Fourth down. Six yards out. Cougar quarterback Terry Elston's ball came winging over middle. Flanker Eric Herring was cutting in from the left, with Lindquist blanketing him.
Suddenly, the ball was sidetracked slightly by Lindquist's shoulder pad or arm—he couldn't really tell—and into the arms of Herring, who juggled it momentarily, then snugged it in tight.
The clock read :12. The scoreboard said Houston 17, Nebraska 14.
It was over, and the Huskers had used up all their tricks that were going to work on this New Year's Day. A lateral pass on the following kickoff went awry, and the Houston side in the Cotton Bowl came apart while the Huskers wondered how their emotions could turn from fire to ice so quickly.
Nebraska had cooked up a dandy comeback of its own in the last four minutes and had taken the lead at 14-10 on a Jeff Quinn pass to tight end Jeff Finn. But Elston-Herring turned all those sparkling leads about Swinging Gates and throwback passes the boys in the press box and been dredging up into merely interesting footnotes.
"It's a funny feeling to go from such a high to such a low so fast," Quinn said. But he wasn't laughing.
Nebraska, therefore, completed a 10-2 season with consecutive losses to Oklahoma and Houston, both by 17-14. "We were just 6 points away from being national champs," Finn lamented.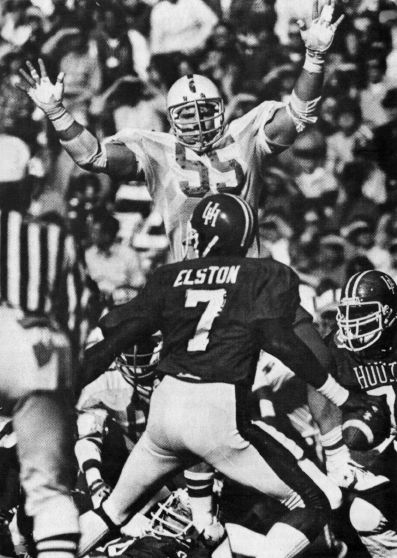 Houston, meanwhile, was celebrating the euphoric conclusion to an 11-1 season, and the Cougars were claiming, heck yes, they expected to put together their winning 66-yard touchdown drive that included five pass completions in seven attempts by Elston, a junior who has never started but makes it a habit of saving games. His final toss was his first touchdown pass of the season. After all, the Cougars had come from behind in the fourth quarter to win six other times during the season, and Elston, who is called Joe Sambito (Houston Astros' ace reliever), was directly responsible four times.

Houston Coach Bill Yeoman was so unnerved by the winning play that he didn't see it, "but I knew it was something good when everybody around me started jumping up and down," he said. Yeoman was busy thinking about what play to call next, not realizing it was fourth down.

Later, Yeoman was to call his team "the greatest outfit in my 18 years here."

The 44th Cotton Bowl was played before more than 8,000 empty seats, although its 72,032 seats were sold out. The no-shows likely were applauding their wisdom through a 7-7 ho-hummer into the last 8½ minutes.

In the remaining time, the game turned into a Cotton Bowl classic, moving from pure boredom to sheer electricity after Coog Kenny Hatfield shook things loose with a 41-yard field goal.

Hatfield's tie-breaker was so close to failure that an extra ounce of air to inflate the ball or an extra coat of paint on the south crossbar would have prevented the 3 points.

Thereafter, Nebraska went to the trick, and Houston went to the pass with dramatic results.
Houston had been fumbling a bunch but had been managing to retrieve. At the half, Nebraska Athletic Director Bob Devaney told his coaches in the press box: "You'd better find a way to recover some of those fumbles. It looks like you'll get some more chances."
With six minutes left, the Huskers took advantage of a fresh opportunity. They had been fighting horrid field position, much of it their own doing because of ill-advised kickoff and punt return decisions, through the middle periods until the ball was lost by Cougar John Newhouse and found by Husker Bill Barnett on the Houston 31.
Nebraska promptly drove to the 6, getting the last 10 yards on a pass to passer Quinn from I-back Jarvis Redwine.
On third down from the 6, the Huskers suddenly broke from the huddle and enhanced Osborne's reputation for connivance by lining up for an ancient ploy called the Swinging Gate. All but Quinn lined up left of the ball. Quinn underhanded a lateral to Redwine, who followed his escorts to the end zone.
Alas, the officials ruled illegal procedure, claiming Quinn picked up the ball instead of throwing from the ground in a continuous motion.
When the confusion was unraveled, the down was replayed because Houston was offside.
Undaunted, the Huskers came back on the next play with the touchdown pass to Finn. Quinn first looked to the other tight end, Junior Miller, then split end Tim Smith before he finally noticed that Finn, who was sent across the middle as a decoy, was by himself out to the left.
With Nebraska back on top at 14-10, the Coogs set out from their 34 with 3:49 remaining. The major gainers were passes of 10, 11 and 15 yards to Herring and a 10-yard run by Newhouse.
"I thought there was no way they could possibly score," Husker defensive tackle Bill Barnett said. "Everyone was so psyched up after we scored. But they completed a lot of passes and hung in there … "
The same came down to one final play. Win or lose. Eleven and 1, the third best record in Husker history and best of the Tom Osborne regime, or just another good 10-2.
"When I saw him (Herring) pivot, I knew what route he was on," cornerback Lindqust said. "I ran into Russell (Gary) or the ref or somebody, and then I felt the ball hit me. I thought it was deflected away. I heard the roar, and I looked up and couldn't believe it."
Herring said, nah, the ball never hit anybody but Herring, and Herring said, "He couldn't have thrown a better pass if he'd put a string on it. Somebody upstairs was taking care of me and the Houston team all this season."
Ironically, Herring, a junior, was heavily recruited by Nebraska. Yeoman said he discouraged Herring from going to Lincoln because "you'll get frozen digits up there."
Herring's fingers were warm enough Tuesday to hang onto five passes for 51 yards. Elston, who was named on 29 of 30 press box ballots as the outstanding offensive player, was the game's leading rusher with 22 carries for 87 yards and leading passer with 9 of 16 for 119 yards.
"Elston made all the difference in the world," tackle Barnett said. "He's quick and fast. He's the fastest quarterback I've ever played against. We only sacked him once."
Nebraska dominated the first quarter by 7-0 on the scoreboard, via an 85-yard, 14-play touchdown march, and on the statistics sheet, 102 yards to 28.
Quinn completed four passes on the drive, and Redwine took a pitch-left 9 yards for the touchdown.
But that was before Elston made his appearance in relief of Delrick Brown. The lanky junior from Oxford, Ala., promptly gained 9 yards on his first play to open the second quarter. Then he completed his first pass for 27 yards to Lonell Phea.
Elston didn't stop until he made it 7-7 on an 8-yard keeper early in the second quarter, and the Cougars went on to build a yardage superiority of 325-227.
With the game settling into a defensive tussle, Osborne decided that perhaps a quarterback change would jazz up his offense, too, so he started Tim Hager in the second half. When the Huskers failed to make third-and-short twice on runs, and a third failed on a wild Hager pass, Quinn was summoned again.
"I changed quarterbacks, not because Quinn wasn't doing well, but because Hager deserved a chance," Osborne said. "He did well, but I put Quinn back in because he's strong and faster." And taller. When defensive linemen are tall, 6-5 and 6-7. they're hard to throw over," Osborne said.
"I figured it would be a defensive struggle, but we didn't move the ball as well as I thought we could," he said. Which is why he put in plays that had Redwine and tight end Junior Miller throwing the ball.
"Penalties hurt us all day, but I'm sure they were there. You know, no player ever thinks he held," Osborne said.
The Huskers were flagged for 90 yards in penalties to Houston's 22. Especially troublesome was a holding call against guard John Havekost when Wingback Slick Steels broke a counter trap for 27 yards to the Houston 15 in the last seven minutes, and the Huskers failed to sustain the drive.
Then there was a clipping call against Sammy Sims on a 30-yard punt runback into Cougar territory late in the third quarter by Dave Liegl, who early had hiked one back 40 yards.
"I had my head in front of him," Sims insisted. "I didn't get chewed out, so evidently it was a good block."
Another close one that went against the Huskers was a 23-yard field goal attempt by Dean Sukup that was ruled wide after Newhouse lost the ball on his first carry. "I thought I made it. The official thought I didn't," Sukup said.
Hatfield evened it up by falling short on a 50-yard field goal attempt in the second quarter.
"It was a real good football game, just like both of us (Osborne and Yeoman) thought it would be," Osborne said. "I thought we played as hard as we could, and so did Houston. I thought it was a good game for college football."
Elston said, "We had confidence on that last drive because we'd done it so many times before. You have to have confidence if you expect to do well."
Nebraska was familiar with the tense situation, too, Quinn said, since the Huskers had come down to a similar one-play scenario and ended up winning at Missouri.
"We got that one. We were used to things like that. We came a long way. We wanted it real bad," Quinn said, "but it just wasn't for us today."

TEXT AND PHOTOS FROM 1980 NU MEDIA GUIDE