ARKANSAS RALLY NIPS
GALLANT CORNHUSKER UPSET BID, 10-7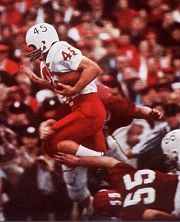 Frank Solich on the run


Dallas, Tex. (Jan. 1, 1965) — Nebraska's bid for a third straight postseason victory fell just minutes short in the 1965 Cotton Bowl contest, as the great Arkansas Razorbacks staged a fourth quarter comeback to edge the Cornhuskers 10-7.

It was a game of sensational play, fierce defense and spine-tingling suspense—in keeping with Nebraska's recent tradition (36-34 over Miami in the Gotham Bowl and 13-7 over Auburn in the Orange Bowl). Unbeaten Arkansas was a heavy favorite over the Cornhuskers, who had their unbeaten prospects jarred by Oklahoma, 17-7, in the final game of the season after gaining the Cotton Bowl bid. And the Razorbacks came through with a brilliant comeback to cement their claim as the No. 1 team in the nation. Following the game, the Football Writers Association of America awarded the Grantland Rice Trophy to Coach Broyles and his fine team.

But the Cornhuskers gave the Razorbacks a rugged assignment, to be sure, and both teams left the field with great respect for each other. Nebraska dropped back, 3-0, early in the first quarter when Tom McKnelly booted a 31-yard field goal with 9:47 left in the period. But the Cornhuskers regrouped after forcing a Razorback punt in the second quarter.

Soph quarterback star Bobby Churchich launched a passing attack that carried to the Arkansas 18 — the big gainer was a 36-yard strike to halfback Harry Wilson—and three plays later Wilson blasted in to cap the 69-yard drive. Duncan Drum's kick made it 7-3, which was to stand until only 4:41 remained in the game.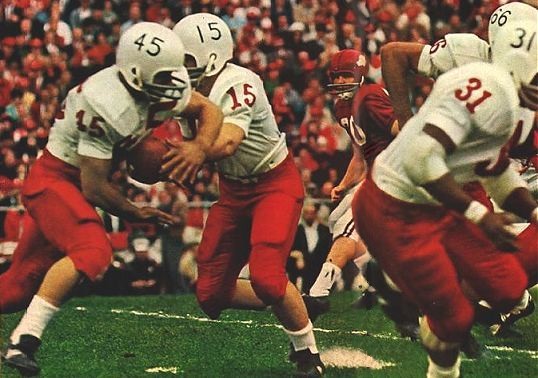 Bob Churchich hands off to Frank Solich

Arkansas' great quarterback Bobby Marshall engineered the Husker back-breaker — a nine-play, 80-yard march. Marshall tossed passes of 11, 10 and 28 yards and ran for another 10 to set up the game-winning TD. Bobby Burnett ran wide to the right for the touchdown and McKnelly kicked to supply the final margin.
"Light Horse" Harry Wilson stole rushing honors, gaining 84 yards in 12 carries — midway in the fourth quarter he sprinted 45 yards to the Arkansas 35, but the Razorbacks fought off the NU threat — while Churchich acquitted himself well by completing 8 of 15 passes for 68 yards.
Razorback Marshall hit 11 of 19 for 131 to take aerial honors. Defensively, Arkansas All America Ronnie Caveness was sensational, making 15 tackles. The Cornhuskers got tremendous defense from John Strohmyer, Walt Barnes and Larry Wachholtz. A great football game between two fine teams amid outstanding hospitality in Dallas, Texas — that was the 1965 Cotton Bowl.