Ohio State 28
Nebraska 20
Sept. 24,
1955
- Columbus, OH
Nebraska        6   7   7   0   -  20
Ohio State      7   7  14   0   -  28

First quarter
OSU: Howard Cassady 14 run (Fred Kriss kick)
NEB: Don Erway 9 run (kick failed)
Second quarter
NEB: John Edwards 91 return of intercepted pitchout (Erway kick)
OSU: Cassady 10 run (Kriss kick)
Third quarter
NEB: Jon McWilliams 11 pass from Erway (Erway kick)
OSU: Cassady 1 run (Kriss kick)
OSU: Frank Ellwood 2 run (Kriss kick)
 
                         NEB      OSU     
First downs ............. 16       17
Rushing yards ....... 36-138   61-321
Passing yards .......... 189       17
  Comp-Att-Int ..... 11-26-1    1-3-1
Total offense ....... 62-327   64-338
Punts-Average ......... 1-29     4-34
Fumbles lost ............. 3        1
Yards penalized ......... 35       43

Attendance: 80,171

Individual statistics here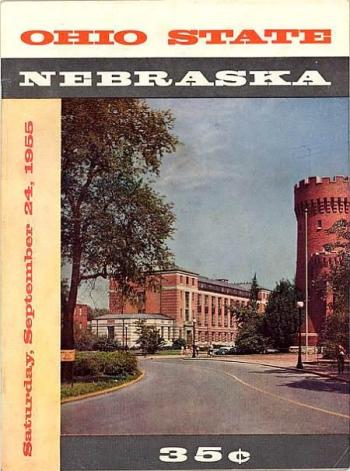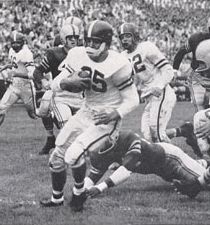 Erway scores in the first quarter
Recap: Upset bid
comes up short
One week after a dreary 6-0 season-opening home loss to Hawaii, the Huskers took to the road and forced the defending AP national champion Ohio State Buckeyes to twice come from behind before the Buckeyes pulled out a 28-20 victory.
Howard "Hopalong" Cassady, who would go on to win the 1955 Heisman Trophy, rushed for 170 yards and three touchdowns to lead the Buckeyes' ground-based attack.
After the Buckeyes drove 57 yards for the game's opening score, the Huskers scored twice to take a 13-7 lead. First came a 62-yard drive capped by quarterback Don Erway's 9-yard TD run. And then came the game's most sensational play: With the Buckeyes driving at the Nebraska 9, fullback John Edwards picked off an OSU option pitchout and raced untouched into the Ohio State end zone.
Ohio State answered with a 51-yard TD drive, and the Buckeyes led 14-13 at halftime.
The Huskers regained the lead in the third quarter on a 69-yard drive. Erway passed 11 yards to Jon Williams for the touchdown, making it Nebraska 20, Ohio State 14.
But the Buckeyes answered with a 63-yard drive, and Fred Kriss' extra point put OSU back in the lead for good. Then Cassady set up one more Ohio State touchdown with a 43-yard dash to the Nebraska 2.
A late Nebraska bid to tie the game was thwarted when OSU halfback Jim Roseboro intercepted an Erway pass at the Buckeyes' 10-yard line in the final minutes.
Earlier in the game, the Huskers squandered an opportunity when a 64-yard march died inside the OSU 1-yard line. Nebraska punted only once but turned the ball over four times.
Ohio State tried only three passes all game long and held a commanding 321-138 advantage in rushing yardage. But Nebraska's passing game allowed the Huskers to pull nearly even with the Buckeyes in total yardage, 338-327.
OMAHA WORLD-HERALD
LINCOLN JOURNAL & STAR: 1, 2, 3
INTERNATIONAL NEWS SERVICE
COLUMBUS DISPATCH: 1, 2
ELEVEN WARRIORS: 1, 2, 3
ASSOCIATED PRESS
 
NU ROSTER
SERIES HISTORY