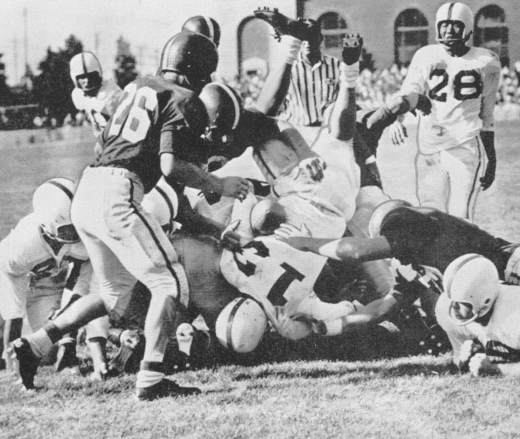 Hawaii's Hartwell Freitas goes over for the winning touchdown.
Huskers stunned
by Hawaii in opener

For Hawaii, it was an upset for the ages. For Nebraska, it was a monumentally embarrassing way to start a season.
Less than 10 months after getting blown out in Honolulu by the Huskers, 50-0, the Rainbows brought 28 players to Lincoln and outplayed Nebraska from the get-go on a sweltering day, winning 6-0 on a fourth-quarter touchdown plunge by Hartwell Feritas.
Hawaii's No. 1 quarterback sat out the game due to injury, and understudy Fred Nagata left the game with an injured back. That left Ed Kawawaki, a halfback, to direct the winning 62-yard drive. Bill Taylor's 37-yard run moved the Rainbows to the Nebraska 7, and Freitas scored on a short plunge two plays later.
Nebraska's best scoring chance came on the opening possession of the second half. The Huskers drove impressively to the Hawaii 14 but came up empty when Skippy Dyer stopped Willie Greenlaw for no gain on fourth and three at the 7.
After Hawaii's fourth-quarter score, a Rex Fischer punt return set up Nebraska inside the Rainbows' 40 with about five minutes left, but the Huskers again turned the ball over on downs.

Sept. 17, 1955 — Memorial Stadium, Lincoln
Hawaii ........... 0  0  0  6  -  6
Nebraska ......... 0  0  0  0  -  0

Fourth quarter
HAW - Hartwell Freitas 1 run
     (kick failed) 9:20

                      HAW      NEB
First downs            12       10
Rushing yards         264      157
Passing yards          54       62
 Att-Comp-Int       6-3-2   15-6-0
Total offense         318      219
Punts-average        4-32     8-34
Fumbles lost            2        0
Yards penalized        50       66

RUSHING
HAW: Kawawaki 14-67; Dyer 9-63;
 Taylor 4-48; Ching 1-18; Freitas 6-16;
 Nagata 5-13; Sothers 2-1 
NEB: Greenlaw 8-55; Fischer 11-53;
 Edwards 7-29; Cifra 4-9; Harris 1-7;
 Johnson 1-4; Brown 2-1; Erway 8-(-1)

PASSING
HAW: Nagata   3-6 54 yds
NEB: Erway    3-6 28 yds
     Johnson  1-1 16 yds
     Greenlaw 1-2 11 yds
     Harshman 1-5  7 yds
     Harris   0-1  0 yds

RECEIVING
HAW: Ueoka 2-46; Chock 1-8
NEB: Fischer 3-31 McWilliams 2-24;
 Harris 1-7