Nebraska 28, Oregon 13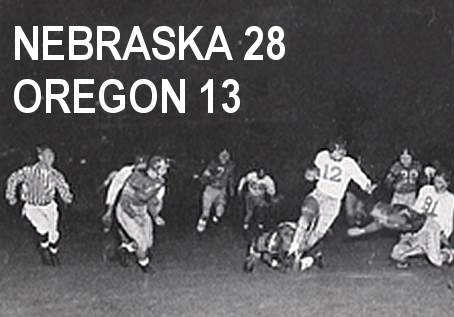 Sept. 27,
1952
Portland, OR
Nebraska       7   0   7  14  -  28
Oregon         6   0   0   7  -  13

1st quarter
NU: Bobby Reynolds 17 run (Reynolds kick) 14:36
UO: Don Sloan 1 run (kick blocked) 0:17
3rd quarter
NU: John Bordogna 1 run (Reynolds kick)
4th quarter
NU: Reynolds 9 run (Reynolds kick) 9:15
UO: Wayne Johnson 1 pass from Hal Dunham
   (Emerson Harvey kick)
NU: Bordogna 66 run (Reynolds kick) 1:29

                         NEB       ORE
First downs ............. 22        12
  By rushing ............ 18         6
  By passing ............. 3         4
  By penalty ............. 1         2
Rushes-Net yards .... 68-280     33-75
  Yds gained ........... 331       113
  Yds lost .............. 51        38  
Passing yards ........... 32       134
  Comp-Att-Int ....... 5-8-1   10-21-5
Total offense ....... 76-312    54-209
Punts-Average ....... 2-45.5    5-27.4
Penalties-Yards ....... 4-43      3-30
Fumbles-Lost ........... 3-3       2-2

RUSHING
NEB: Bordogna 23-96; Reynolds 18-82; Cifra 10-53; Novak 10-38; Korinek 3-8; Cederdahl 2-5; Rolston 2-(-2).

ORE: Novikoff 15-68; Sloan 5-14; Albright 1-9; Anderson 1-(-1); Elliott 1-(-1); Shaw 2-(-2); Dunham 5-(-3); Holland 3-(-9).

PASSING
NEB: Bordogna 4/7  26 yards, 1 INT
     Reynolds 1/1   6 yards, 0 INT
ORE: Dunham   7/15 95 yards, 3 INT
     Holland  2/7  31 yards, 2 INT
     Shaw     1/1   8 yards, 0 INT

RECEIVING
NEB: Mink 2-18, Connor 1-10, Cifra 1-6, Novak 1-(-2).

ORE: Shaw 2-59, Brethauer 2-18, Johnson 2-9, Lyman 1-25, Albright 1-15, Elliott 1-8, Novikoff 1-4.

Attendance: 24,061



Huskers grind out victory over Ducks
Relying on a strong running game and a stout defense, Nebraska shocked Oregon with a score in the opening moments and went on to win by two touchdowns under the lights at Portland's Multnomah Stadium.
The game was marked by 11 turnovers – including five pass thefts by the Huskers – and was the first-ever gridiron clash between the two schools. It was also Nebraska's first victory in a night game.
On Oregon's first play from scrimmage, fullback Tom Novikoff fumbled and Nebraska tackle Jerry Minnick recovered on the Ducks' 19-yard line. Two plays later, NU halfback Bobby Reynolds ran to the right, cut back and found the end zone from 17 yards out, and the Cornhuskers had a lead they would never relinquish.
A Reynolds fumble later in the quarter gave Oregon the ball at the Nebraska 29. It took nine plays, including a fourth-and-eight conversion, but Oregon finally scored on Don Sloan's 1-yard run. The conversion kick was blocked, and the Ducks trailed, 7-6.
In the scoreless second quarter, the Huskers twice drove inside the Oregon 20 but could not capitalize – once getting pushed back from the Oregon 3 all the way to the 40. Near the end of the half, Oregon had the ball in NU territory, but Nebraska's Max Kennedy intercepted a Barney Holland pass at the NU 13 to end the threat.
Nebraska opened the second half with a drive to the Oregon 14 but was stopped again by the Ducks' defense. Oregon soon had to punt, however, and Reynolds returned the kick 24 yards to the Oregon 34. This time, the Huskers were able to punch it in, with John Bordogna scoring from 1 yard off left guard to make it a 14-6 game.
The Huskers opened the fourth quarter on the Ducks' 40 after another Oregon punt. Strong running by George Cifra, Ray Novak and Bordogna moved the ball inside the Oregon 10, and Reynolds finished the drive with a 9-yard TD run up the middle. NU led by 21-6.
Oregon drove 73 yards for its second TD, a 1-yard pass from Hal Dunham to Wayne Johnson. The Ducks' march was aided by a roughing penalty that turned what would have been a 4th and 13 at the Nebraska 37 into a first and 10 at the 21. Nebraska's lead was now just 21-13.
Two plays after the ensuing kickoff, Nebraska faced a third and eight at its own 34. But any hopes for an Oregon victory vanished in a flash as Bordogna faked a handoff and broke free over right tackle. Sixty-six yards later, he had a touchdown and Nebraska owned a 15-point lead with a minute and a half to play.
Oregon's Dunham and George Shaw connected on a 51-yard pass play to the Nebraska 20, but the Ducks could get no closer.

OMAHA WORLD-HERALD
EUGENE REGISTER-GUARD
LINCOLN JOURNAL & STAR1
ASSOCIATED PRESS
DRIVE CHART
 
SERIES HISTORY
NU ROSTER