Nebraska 40
Missouri 34
Nov. 4,
1950
Lincoln, NE
Missouri      7   7  13   7   -  34
Nebraska      0  13  13  14   -  40

First quarter
MU: Ed Stephens 7 run (John Glorioso kick)
Second quarter
MU: John Glorioso 3 run (Glorioso kick)
NU: Bobby Reynolds 14 run (kick failed) 
NU: Reynolds 35 pass from Fran Nagle (Reynolds kick) 
Third quarter
NU: Frank Simon 37 pass from Nagle (kick failed)
MU: Stephens 2 run (kick failed)
NU: Ron Clark 10 run (Reynolds kick)
MU: Stephens 1 run (Glorioso kick)
Fourth quarter
NU: Dick Regier 15 pass from Nagle (Reynolds kick)
NU: Reynolds 33 run (Reynolds kick) 
MU: Phil Klein 1 run (Glorioso kick)
 
                          MU       NU
First downs ............. 22       24
 By rushing ............. 14       19
 By passing .............  7        5
 By penalty .............  1        0 
Rushing yards ....... 49-340   56-432
Passing yards .......... 162      120 
  Comp-Att-Int ..... 13-17-1   6-12-1
Total offense ....... 66-502   68-552
Punts-Average ......... 2-31     2-33  
Fumbles-Lost ............5-3      1-1
Ball lost on downs ....... 2        2
Yards penalized ....... 5-35    10-50

Attendance: 38,000

Reynolds' totals: 25 rushes, 175 yards;
  22 points (3 TDs, 4 PATs)

More individual stats here





"
It was as fren­zied a football contest as had ever been played on Nebraska soil. … Sensa­tion­al plays were piled one upon the other."
If those words from the AP game story seem hyper­bolic, consider this: Until 1950, never had the Corn­huskers played a game in which the two teams each scored more than 20 points.
Wild victory,
incredible run
in Lincoln
It was a shootout unlike any other in the 60-year history of Nebraska football: Five lead changes in the second half. Each team with at least five touch­downs and 500 yards of total offense. And an unforgettable fourth-quarter run by sophomore sensation Bobby Reynolds to help seal a 40-34 Husker win over visiting Missouri.

REYNOLDS

NAGLE
Clinging to a 33-27 lead and facing fourth-and-one at the Mizzou 33 midway through the fourth quarter, the Huskers sent Reynolds on a right sweep. Nebraska's blocking quickly broke down, and Reynolds was forced to retreat. Stiff-arming, spinning and weaving, he was chased nearly 25 yards behind the line of scrimmage before finally turning back upfield.
Now he was headed in the right direction, but disaster was far from averted. Missouri defenders remained in hot pursuit, but a few nifty moves, a couple of broken tackles and some timely blocks left Tigers grasping air or tasting turf as Reynolds made his way down the right sideline. Past the first-down marker he went, and then all the way into the end zone, much to the delight and amazement of the Homecoming crowd.
That wasn't the only TD that had the Nebraska partisans buzzing. In the waning seconds of the first half, Fran Nagle eluded a tackler a dozen yards behind the line of scrimmage and heaved a pass nearly 50 yards into the end zone, where Reynolds out­fought two well-positioned defenders to make an improbable catch.
Early in the fourth quarter, a Nagle pass to Dick Regier in the end zone was too hot to handle, but the Husker end was able to bat the ball into the air, turn and make the catch for the touchdown.
OMAHA WORLD-HERALD
ASSOCIATED PRESS
UNITED PRESS
LINCOLN JOURNAL & STAR: 1, 2, 3, 4
LJS PHOTO PAGE
LJS BOOK: 1, 2
1951 YEARBOOK
2012 RETROSPECTIVE
"RAMBLIN' ROBERT REYNOLDS"
 
SERIES HISTORY
NU ROSTER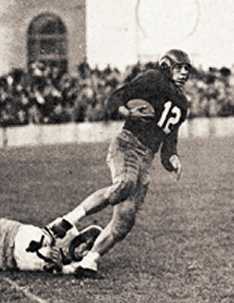 Reynolds eludes a defender at the Missouri 35 during his famous fourth-quarter run.