Nebraska 28
Chicago 7
Sept. 28,
1935
-- Memorial Stadium, Lincoln

Chicago          0  7  0  0  -  7
Nebraska         7  7  7  7  - 28

First quarter
NEB - Cardwell 7 run (LaNoue kick); 55-yard drive
Second quarter
CHI - Berwanger 18 run (Berwanger kick); 22-yard drive
NEB - Cardwell 86 kickoff return (LaNoue kick)
Third quarter
NEB - Cardwell 9 pass from Bauer (Francis kick); 66-yard drive
Fourth quarter
NEB - Francis 2 run (Francis kick); 38-yard drive

                        CHI       NEB
First downs ............ 12        14
Rushing yards ......... 208       228
Passing yards .......... 31        26
 Comp-Att-Int ...... 2-13-3    3-12-1
Total offense ......... 239       254
Punts-Avg ........... 11-41     11-41
Fumbles-Lost........... 5-3       7-3
Penalties-Yards ....... 0-0      4-50
Time of possession .. 26:40     33:20

Referee, Krank Birch, Earlham; umpire,
Ira Carrithers, Illinois; head lines-
man, Sec Taylor, Ottawa; field judge,
Pat Mason.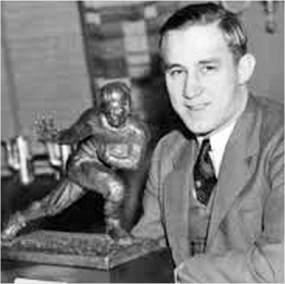 Berwanger with the 1935 Heisman
Cardwell outshines Chicago's Berwanger
Nebraska's Lloyd Cardwell outshone Chicago star Jay Berwanger as the Cornhuskers opened the 1935 season with a 28-7 win over the Maroons.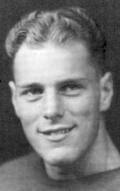 CARDWELL
Cardwell scored three touchdowns, including an 86-yard kickoff return in the second quarter. That play came immediately after Chicago had tied the game on an 18-yard run by Berwanger.
Chicago's lone score came on a 22-yard drive set up by a Larry LaNoue fumble. Nebraska had scoring drives of 55 yards in the first quarter and 66 yards in the third. The Huskers' final TD was set up by a Sam Francis interception at the Chicago 38.
Despite the lopsided score, Chicago had the statistical edge at halftime and wasn't far behind in total yardage at game's end.
Two promising Chicago possessions came up empty. The Maroons had the ball at the Nebraska 27 in the first quarter, but a wide-open receiver dropped a pass at the NU 8 and the drive fizzled. Chicago advanced to Nebraska 10 in the fourth quarter, but a fourth-down interception by John Richardson snuffed that threat.
Links to coverage:
 
• Omaha World-Herald
• Lincoln Journal & Star:
   1, 2, 3, 4, 5, 6
• Associated Press
• Photos
---
•
Series history
•
1935 roster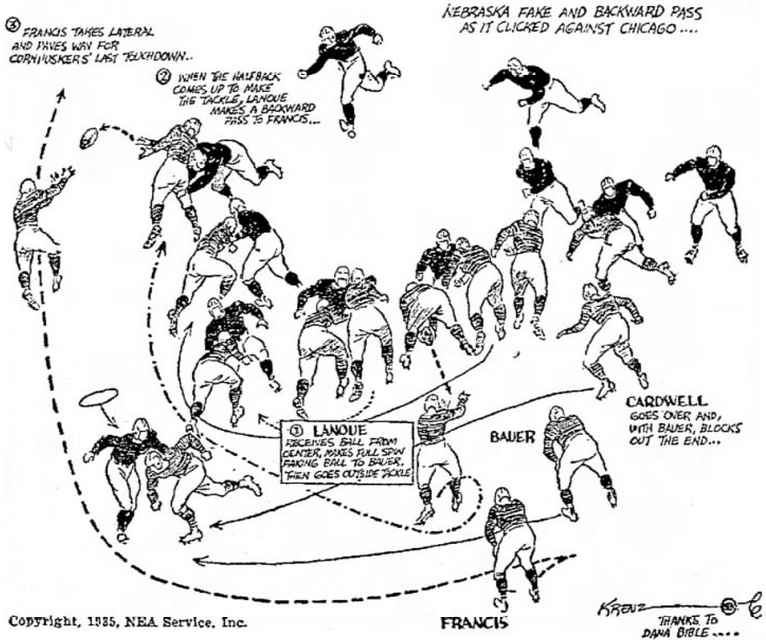 The 1935 Cornhuskers would become known for lateraling anywhere on the field. This play from the Chicago game was diagrammed later by a nationally syndicated artist.
 
---