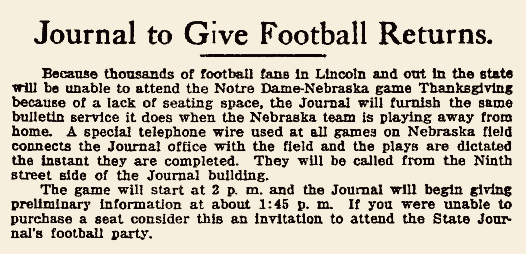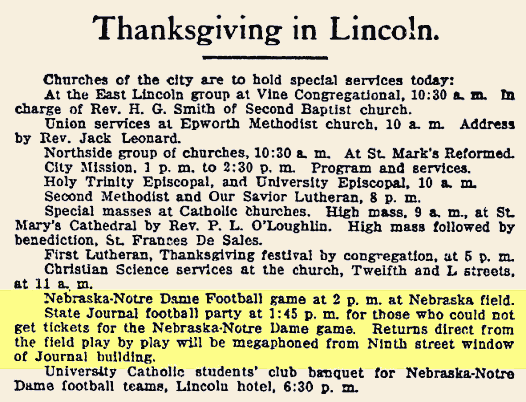 CLICK ITEMS TO VIEW LARGER VERSIONS

Play-by-play
in the days
before radio
We live in an age when we can easily follow any Nebraska game as it happens. But even back when radio, TV and internet weren't available, determined fans could follow the game in something resembling real time.
When unbeaten Notre Dame came to Lincoln in 1922 for a sold-out Thanksgiving Day showdown with the Huskers, what was a ticketless fan to do? Radio was not yet an option, as commercial AM broadcasting in the state was in its very infancy. But there was a way, even if it meant actually getting off the sofa and venturing out of the house.
As the two items at right describe it, a system was in place that involved a phone line, a megaphone, and one or more presumably leather-lunged newspaper employees. During the game, the outcome of each play was relayed by phone from Nebraska Field to the offices of the Lincoln State Journal. The play description then was barked out to the crowd gathered outside the newspaper's Ninth Street window.
Perhaps to protect ticket sales, this service was ordinarily used only for road games. In those cases, the play descriptions came to the newspaper via teletype or telegraph instead of telephone, but the crowd outside got the same megaphone delivery. Even if there was no "Man, woman and child!" or "Whoah, Nellie!", it was exciting, it was a party, and everyone was invited.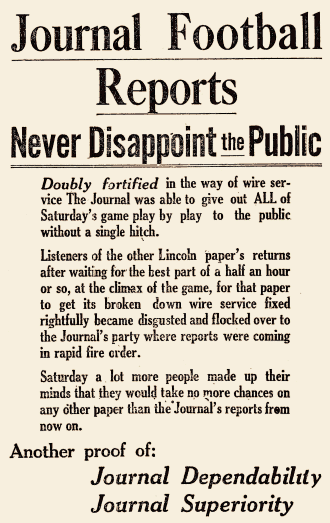 Nebraska fans weren't the only ones to follow games this way. In Ann Arbor, for example, a similar but more elaborate Grid-graph system let Michigan partisans listen to road games in the comfort of an auditorium. As the plays were shouted out, a lighted board tracked the movement of the ball -- a little like today's online "live stats" graphics. (The Omaha World-Herald used a similar system into the 1930s.) In Lincoln, the Grid-graph was used at the Armory for 1923 road games. Admission: 25 cents.

Meanwhile, outside the Lincoln newspaper offices, the play-by-play service was free to anyone within earshot of the megaphone. The Journal and Star were separate newspapers waging a pitched battle, and the Star threw play-by-play parties of its own. If one paper suffered a technical glitch, the other was quick to rub it in, as the Journal ad at left illustrates. (It appeared the day after the 1922 game at Syracuse.)

The play-by-play information was also put to use for the paying reader in the next day's paper. The game coverage would include a lengthy narrative mentioning every play, and there might also be a drive chart, like the one at right, which also accounted for the ball's every movement.

— J. Hudson, March 15, 2010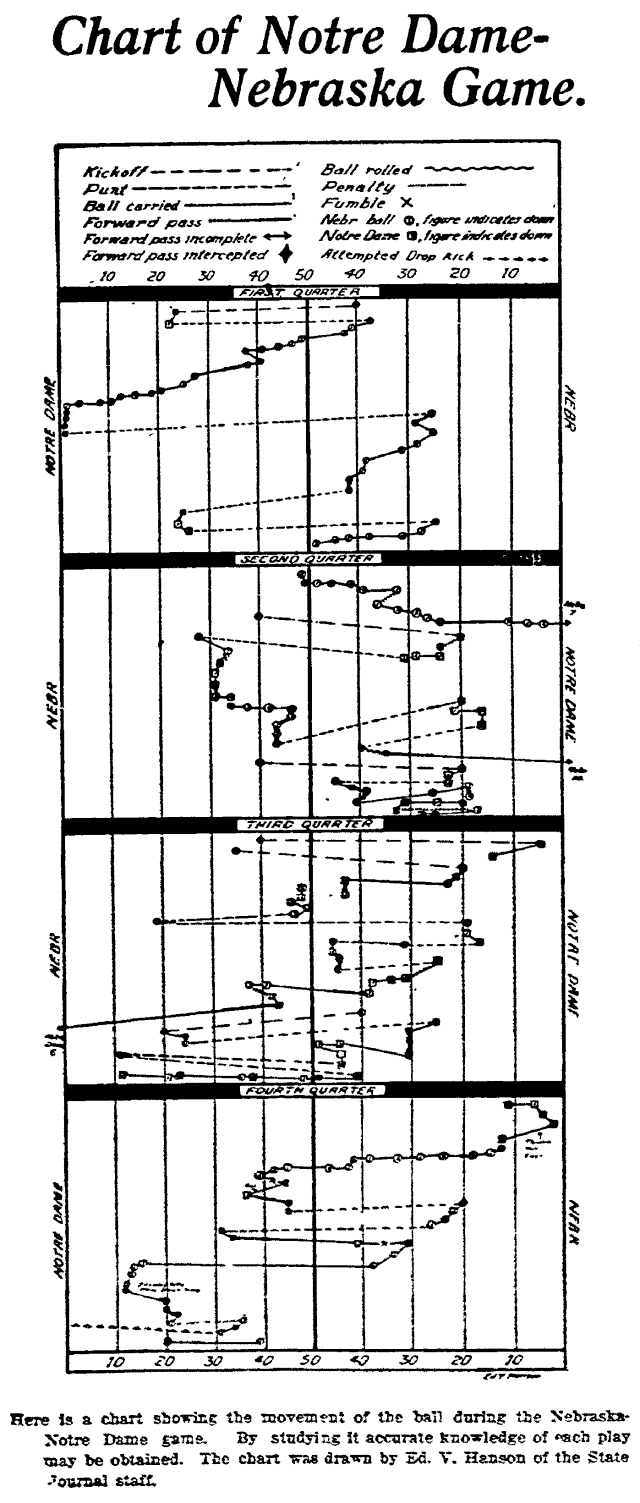 ---