Nebraska 6
Minnesota 6
Oct. 11, 1919
A 30-yard touchdown run by substitute back Elmer Schellenberg was part of a strong second half for Nebraska as the underdog Cornhuskers battled Minnesota to a surprising 6-6 tie in Minneapolis.
Another Nebraska possession in the second half ended when the visitors were held on downs at the Minnesota eight yard line.
Minnesota led 6-0 at halftime, thanks to a nine-yard touchdown run by halfback Walter Haertel.
Coverage: Omaha World-Herald | Cornhusker yeabook | Wire story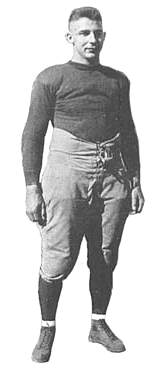 Elmer
Schellenberg
The game with Nebraska on October 11th proved a hard fight for so early in the year Nebraska had its usual husky material and pointed for an early season victory over Minnesota. Each side succeeded in scoring a touchdown but neither team succeeded in kicking its goal. Nebraska carried the ball once during the first half to the Minnesota one yard line where she was held for downs.
A little later in the game by a series of steady plays Minnesota carried the ball up the field and scored a touchdown. Then a short time later with another charge up the field we carried the ball almost to the Nebraska goal line but were unable to produce a score. The first half ended 6 to 0.
In the third period Nebraska forced the fight and once advanced the ball to the 3 yard line but a fine defensive brace took it away on downs. A little later Nebraska secured the ball and succeeded in carrying it thru the Minnesota team with a brilliant 30 yard run made by Schellenberg who had been sent to the backfield as a substitute and scored a touchdown just at the end of the third quarter. The attempted goal was missed and the score tied.
Each team fought hard thru the final period to produce a score but without result. During the last quarter Nebraska was almost continually the aggressor but the strong Minnesota defense held the game safe.
The Minnesota lineup was as follows
Hanke, Left End
Gerow, Left Tackle
Rods, Left Guard
Williams, Center
Kleinschmidt, Right Guard
Johnsen, Right Tackle
Recnier, Right End
Lampi (Capt), Quarterback
Haertel, Left Halfback
Phillips, Right Halfback
Ruben, Fullback

Substitutes: Arntson, Hawkinson, Enke
---