1915 Walter Camp error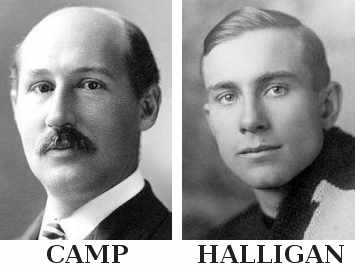 As was his custom, Walter Camp unveiled his 1915 All-America team in the mid-December issue of Collier's Weekly. On the third string was a curious choice, Nebraska tackle Vic Halligan.
Every Nebraska fan knew something that the esteemed Camp did not: Halligan had played his last down in 1914 and was now a coach. The error opened Camp up to ridicule, and the incident wasn't soon forgotten: Fifteen years later, it was still fodder for Ripley's Believe It or Not.
Camp blamed his mistake on deadline pressure from Collier's editors. In a corrected version distributed to newspapers, Halligan was replaced by Army's Alex "Babe" Weyand.
Halligan, by the way, was indeed an All-American – Nebraska's first, in 1914.