Nebraska 33
Kansas 0
Nov. 13,
1915
-- Lawrence, KS

Nebraska ......... 0  14  13   6  -  33
Kansas ........... 0   0   0   0  -   0

Second quarter
NU: Tim Corey 45 pass from Loren Caley (Corey kick)
NU: Guy Chamberlin 3 run (Corey kick)
Third quarter
NU: Chamberlin 45 run (kick failed)
NU: Jimmy Gardiner 2 run (Corey kick)
Fourth quarter
NU: Dick Rutherford 1 run (PAT failed)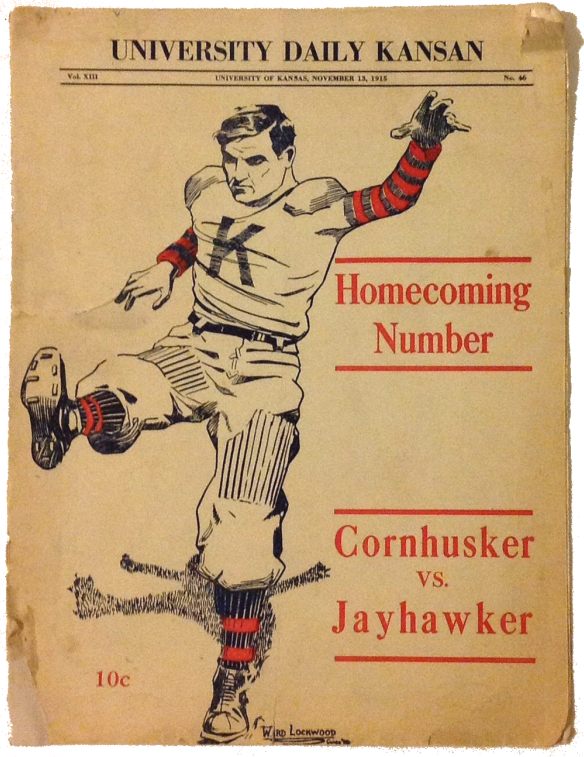 Battle for valley crown is no contest
A much-anticipated showdown for the Missouri Valley Conference championship turned out to be all Nebraska as the Cornhuskers outyarded host Kansas by a staggering 532 to 78* and cruised to a 33-0 victory.
As the Omaha World-Herald put it, Nebraska "pounced upon the ambitious Jayhawkers and did things to them that ought to be deleted by the censor."
Nebraska scored on the first play of the second quarter -- a 45-yard touchdown pass from Loren Caley to Tim Corey -- and never looked back. Guy Chamberlin scored from the same distance on a third-quarter run.
The Lincoln Star's Cy Sherman called Chamberlin's performance "the most spectacular of his career." The Cornhusker yearbook said Chamberlin "was, as usual, the chief ground-gainer, but his work at carrying the ball was scarcely more spectacular than the interference of Captain [Dick] Rutherford."
*As usual in this era, yardage totals varied by source.
Links to coverage:
 
• Omaha Bee: Intro | Complete
• Omaha World-Herald
• Lincoln Star: 1, 2, 3
• Topeka State Journal: Intro | Complete
• Leavenworth Times: 1, 2
• Wichita Eagle: 1, 2
• Topeka Daily Capital: 1, 2
• University Missourian: Intro | Complete

---
•
Series history
•
1915 roster