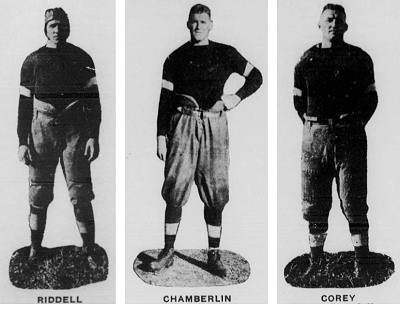 These three did the scoring for Nebraska.
Nebraska 20
Notre Dame 19
Oct 23,
1915
-- Nebraska Field, Lincoln


Notre Dame ....... 6   7   0   6  -  19
Nebraska ......... 0   7   6   7  -  20

First quarter
ND: Dutch Bergman 10 run (Leo Stephan kick failed)
Second quarter
NU: Guy Chamberlin 20 run (Harold Corey kick)
ND: Stan Coffal 3 run (Stephan kick)
Third quarter
NU: Chamberlin 24 pass from Loren Caley* (Corey kick failed)
Fourth quarter
NU: Ted Riddell 30 pass from Caley (Corey kick) 
ND: Bergman 10 run (John Miller kick failed)

Note: Sources disagree on details of the game, including the distances of the scoring plays. Nebraska's last touchdown, for example, may have covered anywhere from 12 to 36 yards.

*Some stories describe this play as a run

                            ND      NU
First downs ............... 11      11
Yds gained from snapback.. 214     243
Yards lost ................ 80      65
Passing yards ............. 37     105
 Comp-Att ................ 2-6     5-8
Kick/punt return yds ..... 100      35
Kickoff/punt yards ....... 275     260

Referee: Birch, Earlham college. Umpire:
Eckersall, Chicago university. Field
judge: Ver Wiebe, Harvard university.
Head linesman: Caldwell, Marquette uni-
versity.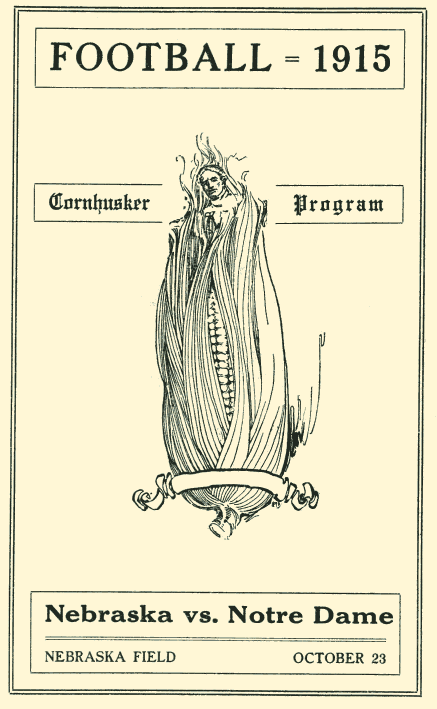 Cover of game program
Missed extra point gives Huskers a win
In the first game of the storied series between Nebraska and Notre Dame, Guy Chamberlin led the Huskers to a 20-19 victory that came down to a missed extra point in the final moments.
Notre Dame struck first, scoring in the first seven minutes on a drive highlighted by "Dutch" Bergman's 40-yard run.
After the ensuing kickoff, Chamberlin connected with Ted Riddell on a 37-yard pass play, and Chamberlin then ran the remaining 20 yards for a TD. Tim Corey's point after gave Nebraska a 7-6 lead, as Notre Dame had missed its PAT.
Notre Dame retook the lead, 13-7, before halftime on a touchdown set up by a blocked punt.
In the third quarter, the Cornhuskers went to the airways and tied the score on Chamberlin's 24-yard reception from Loren Caley.* Chamberlin was roughed up after the play by Notre Dame's Stan Cofall, but no penalty was called. Corey's kick was no good.
Nebraska pulled ahead in the fourth quarter on a fourth-down pass from Caley to Ted Riddell. Corey kicked the PAT that would prove to be the difference.
Trailing 20-13 and needing to score, Notre Dame unleashed a passing game of its own, with Jim Phelan connecting with Cofall for 38 yards and then Bergman providing the touchdown on a 10-yard run. What happened next would be widely second-guessed: Notre Dame coach Jesse Harper sent in a well-rested substitute, John Miller, to attempt the game-tying PAT in place of Corey. Miller's kick sailed wide, and all that was left was the ensuing kickoff, which Nebraska fielded to seal its 20-19 victory.
H'MAX NOTES: This game is No. 3 in a ranking by The Athletic of college football's best games of the 1910s. ...
The Omaha World-Herald said the Cornhuskers could have won handily if only they had relied less heavily on their running game. The Omaha Bee, on the other hand, said that "only the tender glances of Dame Fortune made it possible for Coach Stiehm's men to register the victory." ...
Each team used just two substitutes. ... Notre Dame assistant Knute Rockne had scouted the Huskers and told his players that Guy Chamberlin always wet his fingertips when he was going to pass. Chamberlin crossed them up by wetting his fingertips on running plays, too. ...
Attendance was estimated at 8,000, a big crowd in that era. After NU took the lead in the second quarter, "hats were thrown into the air and on the field, and the game had to be delayed a few minutes until order was restored and the field cleared," wrote referee Walter Eckersall. ... It was Notre Dame's only loss of the season. ...
From Notre Dame's archives: "As was to become the tradition, the visitors arrived early on the day before the game and stayed at the Hotel Lincoln. The tariff was $2.50 per room for two men, two beds and a private bath. [Coach Jesse] Harper requested fish and eggs for both lunch and dinner for his team on Friday, noting 'I hope you will be able to get us some nice fresh fish.' "
* Some stories describe this play as a run
Links to coverage:
 
• Lincoln Star: 1, 2, 3, 4, 5, 6
• Omaha World-Herald
• United Press
• Walter Eckersall commentary
• John Tobin commentary
• Daily Nebraskan: 1, 2
• Omaha Bee (damaged): 1, 2
• Husker Press Box
• Tim Corey's memories (1932)
• Photos: Action | Crowd
---
•
Series history
•
1915 roster