Nebraska 16
Haskell 0
Oct. 17, 1903
The Cornhuskers' 135-pound halfback, Earl Eager, scored twice and Nebraska held Haskell to 50 yards of offense in a 16-0 Nebraska win in Lincoln.
More coverage:
Omaha World Herald
MINNEAPOLIS JOURNAL, OCT. 18, 1903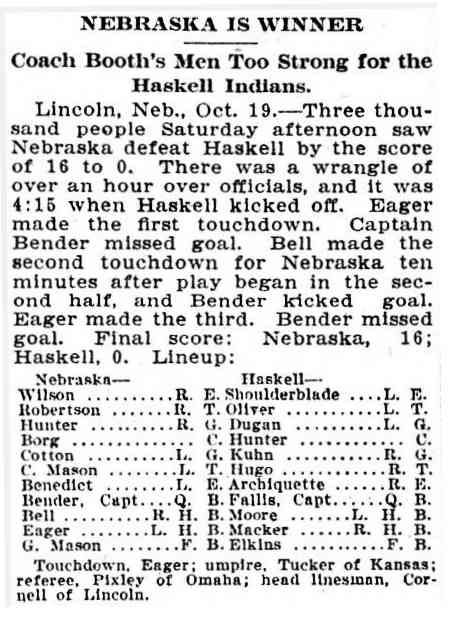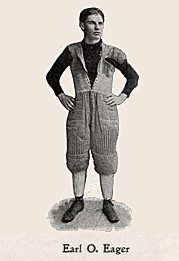 Learn more about Nebraska's 135-pound halfback
here
.
OMAHA BEE | SUNDAY, OCT. 18, 1903

NEBRASKA I S WINNER oach Booth's Men Too Strong for the Haskell Indians. Lincoln, Neb., Oc t. 19.Three thou sand people Saturday afternoon saw Nebraska defeat Haskell by the score of 16 to 0. There was a wrangle of over an hour over officials, and it was 4:15 when Haskell kicked off. Eager made the first touchdown. Captain Bender missed goal. Bell made the second touchdown f or Nebraska ten minutes after play began in the sec ond half, and Bender kicked goal. Eager made the third. Bender missed goal. Final score: Nebraska, 16 Haskell, 0. Lineup: Nebraska Haskell Wilson R E Shoulderblade L. E. Robertson R. T. Oliver L. T. Hunter R. G Dugan L. Q, Borg O. Hunter c. Cotton L. G. Kuhn R. G. C. Mason L. T Hugo R. T. Benedict L. E. Arebiquette R. B. Bender, Capt Q. B Fallls, Capt Q. B. Bell H. H. B Moore L. H. B. Eager L. H. B Macker R. H. B. O. Mason K. B Elklns F. B. Touchdown. Eager, umpire. Tucker of Kansas referee, Plxley of Omaha, head linesman, Cor nell of Lincoln.NEBRASKA IS BETTER FORM Show Up Much Batter Agaimt Indians Than in Nnrtr Oama, HAS KILL IS THOROUGHLY OUTCLASSED ladlaas at ! Time Rearer Ik Mf. rank Goal Tkaa tke Thirty. Flve-Var Mae aa Gala On 1 7 Flftr Vara. ' wss a unit In offensive play, irettlnn be hind the ball and forcing It at wilt thrmish the entire Arnhorst team. There wai emi eldorsble fumMlng, due to the rain. In the eoond half Columbia lot Amherst dr all the work, and no further scoring was done. PRINCETON WINS IN RAIN (From a Btalt Correspondent.) UNCO I J. Oct. 17. (Bpeclal Telegram.) Booth's Cornhuskers today mounted one mora rung; In their climb toward the foot ball premiership of the Missouri valley. Ta. redoubtable and unbeaten Haskell In diana were Nebraska's opponents and Booth's men achieved a declsivs triumph, the Comhuakers scoring threa touchdowns for a total of .sixteen points. Meanwhile the Redmen were balked in their efforts to cross Nebraska's goal and suffered a complete shutout, not one getting nearer to a touchdown thrcn the' Jthli"-'nve-ys,Td line. The summary of the' distances gained by the two teams, which shows that the Cornhuskers advanced the ball 295 yards and tfce Indians only fifty, tells briefly but effectually the tale of Haskell's defeat. Booth's men displayed a brilliant Im provement la form over their play of a week ago against Denver university.' Ths Una held up firmly against the rushes of the Indian backs and only twice were ths braves able to gain the coveted five yards In three down. 'On the other hand, Ne braska's offense moved with the crushing force of an oiled machine, the backs plow ing around or through the Haskell line In Irresistible fashion. The performance of Eager, Booth's Lilliputian left half, who weighs only 136 pounds, was of exceptional brilliance, his teammates forming a solid wall of Interference or pushing and pulling him forward for gains averaging from five to fifteen yards on almost every effort to carry the ball. Right Halfback Bell and Fullback Mason closely vied with Eager In the honors for the Cornhuskers' back field and although outmatched as to weight, they formed a trio against which the aborigines labored in vain to check, Nebraska Varies OSeaae. Nebraska varied its offense by using the tackles and ends to carry tha ball, and two of Nebraska's longest gains were 4y- Wilson .. and Benedict, ach of whom sprinted Ova yards before being an Indian tackier. Captain Bender was seriously handicapped by his injured leg, (k, laniinm nf whu-h were severely strained in practice two weeks ago, and while tha Cornhuskers sadly missed, his usual long tuns In returning punts, ho stuck to his post at Quarter and ran the plays with splendid judgment. Once, however, he broke away for a thirty-yard run in returning a klckoff, and started, a Series of rushes which did not end until the Cornhuskers had plur.ged across the Indian goal for the .third touchdown. . Kn Is slightly outpiinted Benedict, but gtonder and Benedict were more successful In running bor k with, tha ball, so that the exchange was generally In ' Nebraska's favor. The Indian ends however, ran a close race with their opponents oh the Ne braska eleven, and some brilliant' tackling was witnessed. ,Cs la aaay. r The game was marked by sharp, snappy foot ball on both sides, and the victory went to the palefaces only as a result of their superior tactics. Inside the twenty-five-yard Una .th. ; Cornhuskers called; their favorite mass on tackles into play and the Indiana seemed powerless to solve It. The beginning of the play was delayed for an hour by a dispute over the selection of offi cials, . Keoth finally acceding - to Haskell's demands. Three thousand persons wit nessed the struggle,' at the close of which the Nebraska rooters" crowded onto the gridiron and bore Booth's men away in triumph. The lineup:Touchdowns: Eae-er (2. O. Mason. Ooal Bender. RefTe: ' Flxlev of Omaha. Um pire: Tucker cf Kansas university. Time oi naivea: jwemy-nv. mmuies.
---