Feit: Five Questions for the 2020 Season
With the 2020 season kicking off tomorrow, there are many lingering questions that will shape the course of the season.  Here are five that I am very curious about:

1. How long is Martinez's leash?

For the purposes of this question, we are going to assume that the QB competition in camp was as competitive as advertised and Luke McCaffrey truly made Adrian Martinez the starting role.  Since nobody outside of the program saw any of the practices, I will take Scott Frost and staff at their word.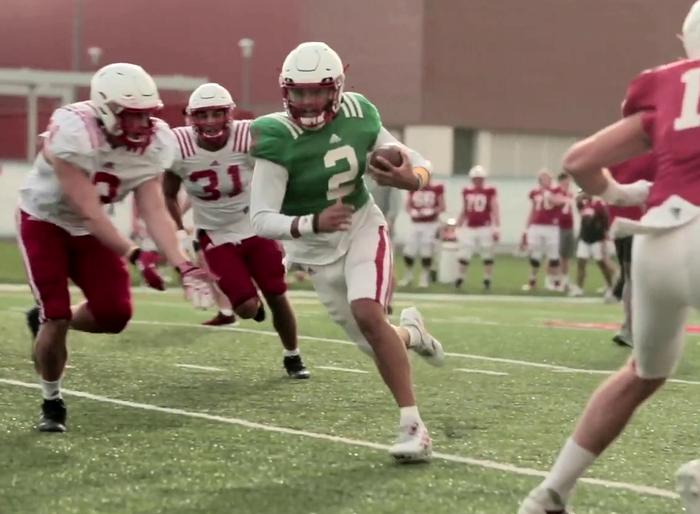 So if Frost feels he has "two first-string quarterbacks", when would he consider making a change from QB1a to QB1b?  After an ineffective and turnover plagued half?  A loss where the offense is flat?  Multiple games?
Given that the backup quarterback is always the most popular guy on the team, and Martinez's injury-riddled sophomore slump, I expect the fans to call for a change very early* and often – especially if NU struggles out of the gate.
*I have facetiously said that I will be calling for McCaffrey to play after Martinez throws his first incomplete pass.
My guess is that Frost the former quarterback will try to avoid quarterback controversies.  For those of us who remember the 1996 season, Frost lived it.  He had some bad outings, was booed at home, and heard the calls from fans who wanted Frankie London to replace him.  Look for Frost to stick with Martinez for at least three games before making a change.
I have confidence in both QBs – especially if Martinez is fully healed from the injuries that hindered him in 2019.  McCaffrey has shown great promise in his limited snaps, but it is worth remembering that many of those were specifically designed for him – and not part of the main offensive package.  No matter who starts, take comfort in knowing Nebraska's quarterback situation is as strong as it has been in over 10 years.
2. How will Frost manage playing time in this crazy year?
Nebraska has 154 players on their roster.  With the modified rules in place for 2020, all 154 could play in every game without burning a year of eligibility.
On one hand, this is perfect for a program like Nebraska that is trying to reestablish itself.  You can give playing time to your promising freshmen without worrying about maintaining redshirts.  You can experiment and try guys in different roles for a snap or two each game.  And with the lingering thread of COVID-19, you have depth to cover an outbreak.
On paper (or your screen) that sounds great, but the reality is much different.  This is Nebraska.  Even though most fans acknowledge where the program has fallen to since their last division title, fans still expect the team to win as many games as possible each and every year.  In other words, even though Frost has the full support of Bill Moos, treating the 2020 season like a collection of Spring Games would be unfathomable and unforgivable.
Heck, even in the relative normalcy of 2019, Nebraska occasionally struggled with managing the then-new four game redshirt rule.  Some guys spent one of their four games on a single special teams rep.  Others never saw the field.
Personally, I think this will be one of Frost's biggest challenges.  In a limited schedule, where every game has conference implications, how do you appropriately manage game reps (and the practice reps that need to happen before), egos, and expectations of all 154 players?  Especially in the age of the Transfer Portal, where the grass is always greener somewhere else?  I do not envy that task.
3. Where will the biggest improvement be?
There are several places where Nebraska could – and should – be improved over 2019.   Kicker, tight end, quarterback, and safety come to mind.
But I think the biggest gains should be seen along the offensive line.  For years, the once-proud Pipeline legacy has been hindered by recruiting busts, poor development, and guys playing out of position.  A recurring storyline over the last decade has been a key lineman playing through multiple injuries because even at 70% of his potential he's still better than his backup.
This year it seems that Coach Greg Austin has more bodies, more size, more experience, and more flexibility than any point in the Frost era.
Yes, the 2020 line will be relatively young, but they have a lot of experience – even if some of those returning parts are rearranged.  I am hopeful that this line will gel and improve as the season progresses, leading to strong offensive productivity.
4. Is NU serious about using their tight ends?
In 2019, tight ends Jack Stoll and Austin Allen combined for 32 catches for 317 yards and one touchdown.  Stoll had the third most receptions (25) on the team, and the fourth most yards (234).  Both return for another year at Nebraska, as does 6'7″ junior Kurt Rafdal.  Joining them are Rutgers transfer Travis Vokolek and Arizona State transfer (and Lincoln native) Jared Bubak.  And while it won't help for 2020, Nebraska has verbal commitments from three local tight end prospects, including top 100 recruit Thomas Fidone.
Is new offensive coordinator Matt Lubick going to make his fleet of tall, athletic tight ends a legitimate threat for opposing defenses to consider?  Or is Nebraska heading for another season where they fail to fully utilize the mismatches they have at tight end (see also: Carter, Cethan, and Reed, Kyler)?
This is another example where it makes perfect sense on paper (or on screen).  Aside from Wan'Dale Robinson and Kade Warner, Nebraska's wide receivers are young, and unproven.  Therefore, using the tight ends to stretch the field and create mismatches with linebackers would be a very smart move.  Running double tight end formations may not necessarily be in Frost's long-term vision for the offense, but it would be a good way to help a young offense find a rhythm.
Regardless, it is crazy to look at who Nebraska has on campus – and pledged to sign – and think about how it was only six years ago that (then) offensive coordinator Tim Beck said that tight ends were "absolutely" obsolete.
5. Will NU wear a social justice patch or helmet decal?
Back in late July, the NCAA announced that student-athletes could wear uniform patches for "commemorative and memorial purposes as well as to support social justice issues".  Given the unrest stemming from the deaths of George Floyd, Breonna Taylor, and others, many student-athletes across the country have been vocal about social justice issues that impact them and their communities.
This season numerous teams have worn some patches or helmet decals of some kind.  Within the Big Ten, I am currently aware* of seven schools who have announced a patch or decal (Illinois, Indiana, Maryland, Michigan, Ohio State, Penn State, and Wisconsin) as well as rumors that Purdue will have one too.
*This has been a rapidly expanding list. Four of these schools announced their designs in the last 48 hours.
Will Nebraska join them?
On one hand, several NU players have been vocal about social justice issues.  Student-athletes from across Husker athletics have created a Minority Student-Athlete Collective, which held a rally outside Memorial Stadium in September.  Nebraska has a "Diversity and Inclusion Director" in the athletic department (DaWon Baker) who is working within NU and the Big Ten on inclusion, education, community engagement, and other efforts.  Approximately one-third of the Nebraska football roster is black.
On the other hand….  Well….honestly I'm not sure Nebraska fans (and donors) are ready for it.  I really, really want to be wrong, but I do not get the impression a Nebraska version of Penn State's patch (a black hand holding a white hand over the outline of the state) would be well received – let alone the "Black Lives Matter" sticker some Clemson players wear.  I'm not saying that I feel my fellow Nebraskans are racist.  Instead, I see a strong "stick to sports" mentality and rejection of any perceived "virtue signaling" from athletes.
Allow me to back up my opinion with two examples:
The aforementioned Minority Student-Athlete Collective rally at Memorial Stadium received zero coverage from the Lincoln and Omaha papers, and most of the larger sites with full time reporters.  Despite speakers such as Ben Stille and women's basketball coach Amy Williams, the only coverage was from the Daily Nebraskan.
The replies to this tweet where an NU player (Cam Taylor-Britt) encouraged people to vote.  Note:  he did not endorse (or bash) any candidate.  Obviously Twitter trolls are not representative of the entire fan base, but there was a shocking amount of "shut up and dribble"-esque takes
Personally, I hope Nebraska comes out wearing some type of social justice patch or decal.  Aside from acknowledging and drawing attention to the challenges that men and women of color face in our country, it would be an embodiment of the values the NU Athletic Department lives by.  Or…if you want a more cynical and jaded reason, understand that recruits of color – and their families – are aware of which schools (and fan bases) are going to be welcoming and which will be more hostile.
I hope Nebraska does the right thing.
Dave Feit lives in Lincoln, and has been writing for HuskerMax since 2011.  Additional thoughts on the Huskers (and everything else) can be found on his site: www.feitcanwrite.com
Follow him on Twitter (@FeitCanWrite) or Facebook (www.facebook.com/feitcanwrite).
---