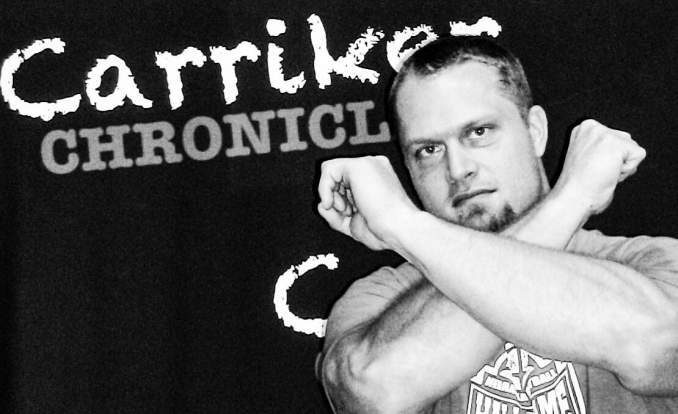 RETURN TO VIDEO 

Jan. 8, 2017
 
Recruiting, Bo & 'Bama-Clemson
Welcome, Husker Nation, to the Carriker Chronicles. Today I have a loaded show for you folks at home, so I'm going to get right into it. I'm just going to give you a heads up right off the top, I got a whole lotta notes here cuz I want to make sure I get everything I'm talking about accurate cuz there's a lot of stuff here, like I said, so I might be looking down a little bit more than normal but that's just how it will be for today.
So let's get right into it. My reaction to the Army All-American game on Saturday. This is where the top recruits from all over the country come together. They play a high school All-American game versus each other. Throughout this game there were several commitments. Nebraska had an opportunity at four of these commitments throughout the football game. Now I'm going to talk about these four individuals really quickly. I'm going to start off with Jamire Calvin, a 4 star wide receiver out of LA. He's 5'9", 175 pounds. He had scholarship offers from Notre Dame, Alabama, Oregon, Oregon State, and Texas. He had 86 catches, 1300 yards and 17 touchdowns his senior season. He was motivated to prove people wrong about his height. And he did a very good job of that. Um, this was a surprise. Most people coming into this thought he was going to pick Nebraska. Everybody thought he was going to pick Nebraska. Now according to him, something happened late. Something changed in the last couple days leading up to that game and he changed his mind. Ended up committing to Oregon State which is a bit of a surprise. Of the four guys who didn't commit, this one probably bothers me the most because if you don't get a guy to commit early on or in the middle -- but if a guy is leaning to you and then changes his mind last minute, those are the guys that hurt the most. Those are the guys -- you need to bring it home. You need to put that nail in the coffin -- so to speak -- maybe a poor choice of words with a high school athlete. But you get what I'm saying recruiting-wise. You need to bring these guys on home. So this is the one that probably bothers me the most, letting Jamire Calvin get away. Next up is Chuck Filiaga, offensive tackle out of Texas. This dude is huge -- 6'6", 335 pounds. He's the number 13 overall offensive tackle. I think 106th overall recruit in the entire country and he ended up committing to Michigan. Too bad we let him get away. Next up is Darnay Holmes. The #1 cornerback in the country, the #18 overall recruit in the country. He's out of California. 5'10", 190 pounds. He's also a dynamic returner and a very good receiver. A lot of people compare him to Jabril Peppers. Now he ended up going to UCLA and committing there and I think he has a connection to the cornerbacks coach there -- I think he's somehow related to him and his family, because that's what he kept referring to was family. So, unfortunate but I wish him the best of luck out there at UCLA. Next up was the #1 recruit in the entire country, the #1 offensive lineman in the entire country. At 6'6" 315 pound Foster Sarell of Graham, Washington. Now, he won the Anthony Munoz lineman of the year award this year and he ended up committing to Stanford. Now anybody who is smart enough to go to Stanford and can play at Stanford and can take on all those challenges, more power to ya. Would have loved for you to help build the pipeline in Lincoln, but ... On the telecast he said he wrote down in 7th grade that his dream school was Stanford, so if you've been dreaming of Stanford since 7th grade and you can go there, more power to ya. Kinda like Adam Carriker, I came out (of) the womb wanting to go to Nebraska. So I can understand and I relate. It hurts, but I wish him the best. So those are the four guys we had a chance at we did not get. There was seven commitments throughout the game, we had a chance at four like I mentioned before. Now, of these seven commitments, five of these guys went to the Pac-12 which I thought was interesting. Two of them committed to the Big Ten Conference and the SEC got none! Woo Woo! But anyways, as far as the amount of commitments from each school that played in the game, Ohio State had 10 commitments of players in the game. Number two recruiting class in the country who is Georgia had nine, Michigan had six, Oklahoma had five. Alabama only had a couple ... it wouldn't surprise me if Nick Saban was like "You're not playing in the game." I don't know if that's how he talks, he just doesn't seem all that nice. But anyways, and maybe he doesn't like his players to play in the game, cuz Alabama has the #1 class in the country, but not a lot of players in that game that I saw. Stanford has four players that played in that game, but what I found interesting about them is they have the #1 tackle and the #2 tackle in the country. They going to be pushing people around for a very long time in the Pac-12 conference. Now what about Nebraska? The school we all care about the most. Coming into this, depending on which recruiting service you were looking at, we're ranked somewhere in the 30s with our recruiting class so far. Had we gotten all four commitments, we were projected to move up to around the 16th ranked recruiting class in the country. Now, going four for four or even three for four would have been phenomenal but it's a bit of a stretch. There are other schools out there. So coming into this game I was hoping to get two out of four. I thought that would have been a really good day for Mike Riley and the Huskers. One out of four I thought was very plausible, especially when you look at Jamire Calvin -- I thought he was going to be coming here and so did everyone else. Going oh for four -- what is my reaction to that? My reaction to that is it's not good. It's a little bit disheartening. Now how big of a deal is it? Is it a gigantic deal? No it is not. Is it a small deal? No it is not. There is a lot of time between now and National Signing Day. There's a lot that could happen on National Signing Day. I mean, we're targeting a five-star wide receiver right now that's going to commit somewhere on National Signing Day. So much more can still happen. I would call it a minor big deal because going oh for four is a big deal but there's still a lot that can happen. So it's a minor big deal in my opinion. Now, the next thing I want to talk about is the FCS Championship Game and Bo Pelini. My former coach, so I have an interest in this. Now, Youngstown State ended up losing the game to a very good James Madison team. If you watched the FCS Playoffs at all, they're very good. So no shame in that. Congrats to Bo, congrats to Youngstown State on a good season. But what excited me about this ... this scenario, this game, Bo and Youngstown State was it shows what can happen when a school and a coach just have a good fit. Now clearly Bo didn't fit here and I'm not trying to cast stones on anybody -- Bo, or Nebraska or otherwise -- that's not my point. My point is it excites me cuz if Nebraska can find a good fit, a head coach whether it's Riley or someone else, what happened to Youngstown State playing for a National Championship can happen here at Nebraska. Just like it used to on a very frequent basis. So that's what excites me. Now let me be very clear: I am perfectly fine with where Bo is currently coaching, just so you know. Now, it did make me thing of Tim Miles, the Nebraska basketball coach. As of right now (they're playing while I'm recording this video) but as of right now, they're undefeated in the Big Ten Conference, so hopefully they don't make a liar out of me. I hope they win today. But it shows -- this excites me -- because it shows when a coach is given time, and you find the right match. And we don't know. Maybe they make the tournament, maybe they don't as of right now they look really good. Alright?! I'm just saying when you do things the right way is what I'm getting at. And you do things -- you don't rush it -- you do things the right way, it excites me about what could happen here at Nebraska on the football field once again. Now I've talked about this in the past -- not rushing it. But when you find a good fit, when you do things the right way is my main point when I talk about Tim Miles and how it correlates to Nebraska football -- that's what excites me, what can happen here in Lincoln once again. I do think Riley can take one thing from Tim Miles though. Tim Miles simplified a lot of things for the basketball team this year so they can play a lot faster. Especially with the new quarterback next year, I think Riley could learn a lesson from that and it would really help the football team quite a bit. Now,
ALABAMA
! Whoa Nelly! I love watching Keith Jackson in the Rose Bowl game, the game he used to call for years. Alabama versus Clemson. My prediction for that game. Let's just talk about God's greatest gift to football, the Alabama Crimson Tide defense. Let me just rattle off these phenomenal stats. They could be one of the greatest defenses of all time. Here we go: they're #1 in the nation in scoring defense, #1 in the nation in rush defense, #1 in the nation in fewest yards per play. I think they walked on water at one point this year. They're #2 in sacks with 50. In the last 6 games, over the last two months of college football, they've only given up three offensive touchdowns to their opponents. But, you gotta keep in mind they probably played the weakest schedule a Nick Saban team has faced since he's been the coach of Alabama. When the final poll comes around, they will have only played 1 -- well, maybe by the end of the playoffs -- but through their regular season they will have played only one team that was ranked in the top 15 come that final poll (until the college football playoffs started). Now, they've also scored 15 non-offensive touchdowns, whether it be their defense, special teams or otherwise. They've played 14 games -- that's more than one a game. That's pretty phenomenal. But to me, it's made -- and I would have said this before Lane Kiffin "mutually agreed" to go to Florida Atlantic and Steve Sarkisian took over the playcalling duties, who has very little rapport with the players because he couldn't talk to them up until this week -- I would have said this: the 18 year old true freshman Jalen Hurts has had it easy this year. He's had it really good year, but he's had it easy this year because the defense doesn't let anyone score. He's going to get more than one touchdown per game from special teams or defense. All he had to do was not screw up. Well he's not going to be able to coast this game. He went 7 for 14 for 57 yards against Washington and they won by 17! Now you can say that's just how good they are, or you can say when he actually has to do something in this game against Clemson, it's going to be a little bit of a different story. So, when I look at Clemson, I look at a team -- what does Alabama struggle with on defense? Spread offense. Check. Mobile quarterback? Check. Lamar Jackson deserved the Heisman as the most outstanding player in the country but DeShaun Watson is the BEST player in the country. Last year against Alabama, he had almost 500 yards of total offense and four touchdowns. Clemson as a team had 31 first downs, 550 total yards, and 405 yards passing. They are exactly what Nick Saban struggles against and they know to move the ball and score against this Bama defense. I think Clemson was coasting this year. They didn't know how to be the targeted and they struggled with that this year. But you see what they can do once they got focused because once they got where they wanted to be which is in the playoffs, you saw what they did to Ohio State. They've been dreaming of a national title game rematch against Alabama and they've got it and they're ready. Keep in mind, if you look at just the bowl game results, one could argue the ACC is the best conference in college football this year. You could argue that (based on the bowl game results). So I would say they're motivated and here's something I also want to address: the #1 receiver coming out of college this year, going into the NFL draft right now is Mike Williams. He couldn't play in last year's national title game cuz of an injury. Also, their other stud receiver Deion Cain was suspended and couldn't play. So there's two players they're gonna have this year they didn't have last year. To me, this comes down to -- you could talk about Nick Saban vs Dabo Swinney. Advantage: Nick Saban. I'm gonna talk about true freshman 18 year old quarterback Jalen Hurts versus the best player in the country who wants revenge, DeShaun Watson. Advantage: Clemson. I do think this game will be low-scoring -- lower scoring than most people think. I've got Clemson 24, Alabama ... 21. Now, I wasn't going to talk about this but real quick: Randy Gregory, I already did a show on him early this year. Check that out if you want to, it was many months ago. But Randy, I know you like to watch my show, you also have my number. Give me a call. I'll help you in any way I can. But now, all you folks at home, get your kids outside, have them play 60 minutes a day. NFL plays 60, and I know it's snowing and it's cold -- go build a snowman! Get them outside and have them play NFL plays 60 every day. Now, I'm going to do a very special edition to the Carriker Chronicles tomorrow after the national championship game. Ya know the game that's almost as important as every other Husker game. So I'm going to do what I do after a lot of Husker games. I'm going to give a -- within 30 minutes or less of the end of the national title game, Bama vs Clemson, a gut reaction very short video. So check that out. So until Monday night, right after the National Championship, GO BIG RED and always remember to THROW THE BONES!
Views:
2017 views: