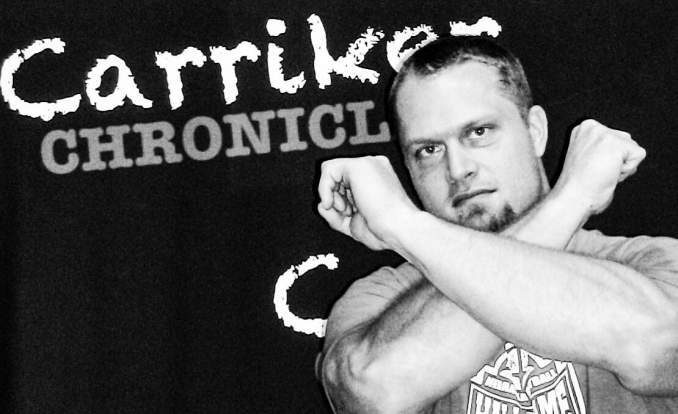 RETURN TO VIDEO 

Dec. 28, 2016
 
Bowl game prediction
Welcome, Husker Nation, and today I'm going to break down the Tennessee vs Nebraska Music City bowl game and I'm going to give my final prediction for that bowl game.
Now, just a heads-up, up to this point as of now when I'm recording this video, Tommy Armstrong has yet to practice so I'm assuming he's going to be out for this game. Going forward for the rest of this video, I'm going to assume that Ryker Fyfe is going to be our starting quarterback.
Now real quick, before I get into that, I want to talk about this awesome shirt I've got on. You've probably noticed that I have some pretty freakin' cool shirts that I've worn so far this year throughout the Carriker Chronicles but this year it's very special to me. My wife & I got married ten years ago and at our reception these are the shirts that we wore; this is what my groomsmen wore at the reception and the bridesmaids. Now, let me explain a little bit. Skull and crossbones: self-explanatory. Hey, I live this stuff, people! "The A Team": Adam and Angie, we're the A Team (sings "The A Team" theme song) ... probably only my older viewers will get that one, but that's OK – phenomenal TV show! And on the back, hers said "Bride" and mine says "Groom."
I swear to God, if this thing comes down on me again, I'm going to lay the spank-down on all five of my children, and I will do it, too! If you don't know what I'm talking about, go back and watch my show from last Monday – my kids about wrecked the entire show! But we're going to have our permanent backdrop in very soon, crisis will be averted.
But let's get back to the game at hand: Tennessee vs. Nebraska. Now, I've got some stats – I don't have a lot – but Tommy Armstrong, the most valuable player we have on offense, is going to be out; Jordan Westerkamp, our best receiver, is going to be out; Nathan Gerry, not only our best defensive player but our best over-all player is going to be out of the game; another cornerback is going to be out of the game; Tre Bryant's iffy; Alonso Moore is iffy. It almost feels like it's going to be Nebraska take the field but it almost feels like it's going to be a different team taking the field, even though I know it's really not, so I almost feel like stats don't apply.
As far as Gerry being out, it's unfortunate, I wished him the best of luck when I spoke with him but I'm excited to see some of the younger safeties get an opportunity to play – guys like Antonio Reed, guys who'll be playing for now and getting ready for next year and the future. It's funny, I'll hear people talk about how they're excited for next year, to see what a pocket quarterback, a pocket passing quarterback can do in Mike Riley's offense. I've been one of those guys, but if you think about it, if Ryker Fyfe is starting this game and that's pretty much what he is. Now, he can run a little bit – I was surprised what he showed in that Maryland game, he can run, but that's what he is.
Now, he wasn't recruited for this offense, but I'm excited because instead of being thrown in, "hey, you're going to start Saturday" or "you might start Saturday, you've got a couple three days to get ready to start," he's had an entire month to get ready for this game. So, I'm excited to see what a pocket passing quarterback can do in Mike Riley's offense with some time to prepare. Now, the Volunteers might not be as excited to see a back-up quarterback, because over the past fifteen years some of their worst losses have come to a back-up quarterback. So I don't know, maybe that plays in our favor, maybe it doesn't, I don't know - it depends on how you look at it.
I want to look at the Volunteers for a minute, really quickly. Now, they've had a ton of injuries, especially on the defensive side of the ball this year, and they've been very up and down. You look at a team like Tennessee who's lost to Vanderbilt and South Carolina: two teams who barely eked into bowl games this year, and Tennessee was a pre-season top 10 team! Tennessee is probably more athletic than we are, but I question whether they really want to be here because I've heard a lot of their players talk about (or seen articles) of their players talking about that they're getting ready for the NFL, they're excited for the combine, they're excited to go to the league. So I'm wondering if instead of being focused on the pads, helmets, and the end that's gonna be hitting them in the mouth, are their minds, come the Music City Bowl, going to be focused on their forty-yard dash, their vertical leap and their bench press? Are they going to be thinking about other things? Even though they might be playing, they might not be focused.
I mean, you think about guys like Leonard Fournette and Christian McCaffrey who just said, "I'm not going to play, I'm going to head on"... I'll give my take on that; I won't spend a bunch of time, but people asked me so I'll spend just a couple minutes. I look at it from a teammate's point of view, and I'm happy for a guy like Leonard and Christian if they're my teammate but I'm a little bit like, "hey man, you're kind of leaving us out to dry a little bit." It's a little bit selfish. Now, if I'm an NFL GM, I'm looking at them like, "wow, maybe they understand business" or maybe "they're not team players," I don't know – that's something I would have to investigate if I was looking into drafting one of those guys. Now, it is a selfish move, let's be honest; it's a selfish move, but this is business versus "team." You've got to keep that in mind if I'm Christian McCaffrey or Leonard Fournette (Leonard Fournette was 50-50 whether he was going to play, he was banged up). I'm pretty much OK with Leonard doing it. With guys like Christian McCaffrey and Leonard Fournette, you've got to look at the cost versus reward because one more game isn't going to raise their draft stock or lower it a whole bunch, but they could get hurt. It's a selfish move, but the NFL is a selfish business. And I'm not saying they're bad or selfish guys, I'm just saying the NFL is a double-standard, because NFL teams, I've seen them (pardon my language), screw over players and nobody says "boo," nobody cares about that but when players do something and they take care themselves thinking about business, all of a sudden they're bad guys and selfish for it – it's a bit of a double-standard. So I don't have a big problem with what they're doing and it might be different if they were playing in a New Year's Six or college playoff game, but they're not. Every bowl game matters but let's be honest – some bowl games matter more than others. But none matter more than the Music City Bowl! None! Not even the national championship – BOO YA!
That really had nothing to do with this video but I got one other thing that has nothing to do with this video: I just came across this random, cool stat: did you know that Mike Riley has been the coach of Nebraska for two years (I'm sure you knew that part), but did you know that he's the sixth most-tenured coach in the Big Ten conference? Wow – that makes you want to get into coaching, doesn't it? Anyways, let me get back to the game!
So, Tennessee: they've won games with Hail Marys this year, as I've said, they've lost some games they shouldn't of, they've won some games they got kind of lucky to win; they've had players leave – their best running back left. They did say they're coming to prove doubters wrong. Now, that might be lip service or it might be legit. As far as Nebraska, they should be motivated for this game. Some of the losses down the stretch – they should want to atone for those – and they should want to get the wins back but they should want to get this win and get some momentum going into next year. Nebraska's going to have to overcome some players being out, obviously.
Now, let me break down this game offense and defense-wise. Look at the Tennessee offense: Josh Dobbs, their quarterback. He's the catalyst on offense. He's not only their leading passer, he's their leading rusher as well. Tennessee's last four games of the regular season they averaged 50.3 points per game. Now, they're going to be going against a Blackshirts defense that has had a couple of rough games but pretty much overall improved this year: the 21st ranked defense in the country. The Nebraska offense, the last four games, averaged 16.4 points per game. If that stat doesn't disturb you versus what Tennessee did, I don't know what will.
But the Tennessee defense is disturbing as well because they're extremely banged up and against juggernauts, "major juggernauts," like Kentucky and Missouri they gave up over 400 yards rushing, so this could be a huge advantage for us. This almost makes me think of UCLA in the Foster Farms Bowl last year, where we ran all over them, and it could help take pressure off Ryker Fyfe. I'm excited to see what he's going to do but I don't exactly know how he's going to do, so if we could run the ball effectively, that would be huge and that's something Tennessee's struggled with.
My keys to this game:
#1: Motivation Bowl game – you hear it every year blah, blah, blah. No, it's not just because it's a bowl game, it's specific to this bowl game. Let's be honest – we're banged up, we got a lot of players out. Tennessee comes in, probably a little bit more athletic to begin with, but if they're disinterested, if they don't want to be in this game, that's a huge advantage for us. And I'm not saying they have to be disinterested for us to win, I'm simply saying we should be fired up and motivated after the way things went down the stretch, and if their heads are elsewhere, this motivation is number one and premier in this game, in my opinion.
#2: Ryker Fyfe Is it going to be the Ryker Fyfe that showed up against Maryland this year, which played really, really well, or against Purdue a couple of years ago when he struggled? To me, that's the second most important part of this game.
#3: Turnovers Now, maybe you remember at certain points during the season, we led, actually led, the entire country in interceptions, and turnovers were our calling card on defense at one point. I think forcing turnovers is going to be huge for Nebraska.
#4: I also remember the fourth quarter was a huge advantage for us. The first three quarters, not so exciting, but that fourth quarter was always huge for us and we need to get that back in this bowl game.
Those are my four keys. Now, my prediction – unfortunately, I've got to do something I've never done before in my entire career of doing the Carriker Chronicles, but I've got to keep some form of objectivity. You know, I'm never completely objective because of who I am, you know it's not 50-50 it's probably 60-40, in all honesty, but I've got to try to keep objectivity. I've got Tennessee eking this game out, 34 to 27. I'm sorry! I'm so very ashamed, my deepest apologies, but keep in mind Friday, immediately following the game, I will be giving my gut reaction within 30 minutes of the game on my Facebook, Twitter, and HuskerMax I will be posting just a couple of minutes , one or two minutes, my gut reaction – it's my emotional reaction – and then Saturday morning I will give my in-depth game breakdown. I'll gather myself and I'll break the game down in depth; I'll post that around 8 a.m., give or take when the kids get me up, on Saturday morning following the game.
So until Friday, and Saturday, GO BIG RED and always remember to THROW THE BONES!
Views:
2017 views: