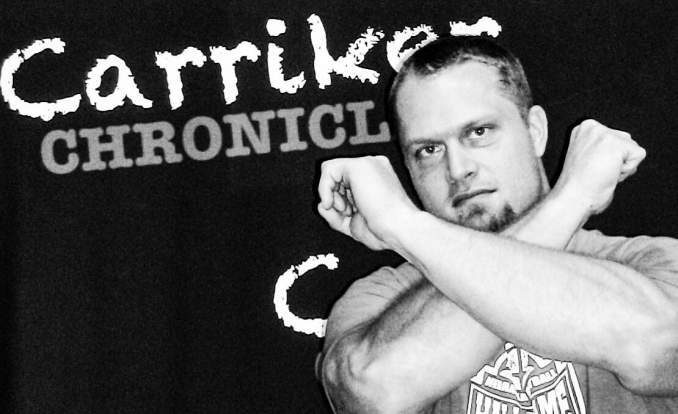 RETURN TO VIDEO 

Dec. 14, 2016
 
Practice philosophy
Welcome, Husker Nation, to the Carriker Chronicles; and today, we're gonna talk practice. Practice?! We talkin' bout practice, man? Practice. Come on, we talkin' bout practice? Unless you're Allen Iverson, you probably understand the importance of practice. Just ask Michael Jordan, the greatest NBA player of all time. I read books on him when I was growing up because I enjoyed watching him so much; he practiced more than any other player, probably, in history!
But, it's been interesting, ever since Mark Banker (after the Iowa game) gave the bloodbath quote, there have been some interesting reactions to that quote, and he came out this week and said "I was just trying to pay Iowa a compliment, that's what they do, they get in 22 personnel, 21, 12, they want to run the football." He was trying to compliment an opponent. It was a really strong compliment, but you gotta give him the benefit of the doubt. What bothered me a little bit more, immediately following the Hawkeye game, was when Coach Riley said that he thought the Huskers were ready to play. That bothered me a little bit more, but I think it's time to move on from those comments, and the Huskers are doing so this week, because they'll be getting their bowl prep practice getting ready for the Music City Bowl, against Tennessee in a couple of weeks.
So, I thought I would don my "Adam Carriker Chronicles coaching hat" and tell you what I would do if I was the coach and how I would approach bowl prep practices; and how I would approach practices throughout the entire football season as well, just real briefly. A lot of this is what I would do and a lot of this is based on what I've done in the past, whether it be at Nebraska, whether it be in the NFL, and I've had all sorts of different types of coaches. I've had coaches who think you should go full pads, day in and day out, we would even do two a days during the season if they could! That's no joke, they actually tried to until they found out that it was illegal. (I won't drop that coaches' name.) And I had another coach, Mike Shanahan who's won a couple of Super Bowls as I'm sure you know, who believed in keeping his players fresh. He did not have us do two a days before they changed the rules so there couldn't be two a days.
My freshman year at Nebraska, we had two-a-days every single day and then a day off once a week. And then my sophomore year, they changed it to two, one, two, one. You could have two a days, and then a one a day; two a days and a one a day. I actually hated that more, because they got rid of the day off every week rule, so we went 24 straight days going two one two one before we ever got a day off. I was more tired and more beat up from that. But now, you can't have two a days during fall camp, or any other time of the year. But, Coach Shanahan got rid of that before that rule ever came into place, and he believed in keeping players fresh. There were points during the season for the years I was there, come December, we would just walk through, we wouldn't even be in pads. We'd just walk through, and we'd be extremely fresh on Sunday.
Now, I'm not saying that's exactly what I would do, that's what he believed in, and the other coaches I had actually had a lot of success being physical day in and day out, so it's whatever you believe in. So for me, this is what I would do heading into bowl prep: Now, the first thing I would do, is you got about four weeks to get ready for this game, following the Iowa game. Now, first week is all about getting healthy. The coaches are out recruiting, and I would really back off and let the players get healthy and focus on that. Make that the primary goal week one; now, the next two weeks, that would be the bang and clang. That would be bring your big boy pads to practice stage, those next two weeks, because that's when I'd do a lot of the one on ones, I'd do a lot of the Oklahoma Drill, I'd do quite a bit of scrimmaging as well. You want to keep yourself sharp, you want to keep yourself physical, because you don't want to lose what you gained throughout the season over this month, because that can happen. So, the next two weeks are the physical weeks, where you're smash mouth, and hitting each other a lot and keeping yourself sharp. Then, that last week, that fourth week, is really ( you had a week to heal, you had two weeks where you really got into it, almost like a mini fall camp/ mini spring practice) then that last week before the bowl game, you beat yourself up just a little bit, so you back off. Maybe you don't even practice in pads, depending on how the team is doing and what they've shown. And you let yourself get fresh, get those legs back, so you're ready to go (almost like game one of the season all over again).
The other thing I would do, because a lot of the young guys have the opportunity to climb the depth chart, not necessarily for the bowl game, but for next year. They have the opportunity to get reps during these 15 practices, but at the same time, you want to honor and show respect to guys like Tommy Armstrong (I know he's not practicing right now) but a Nate Gerry, Jordan Westerkamp, guys who put in four to five years into this program; because this bowl game DOES matter, you want to win, you want them to get their reps, you want to show respect for what they've done. The younger guys will see that. They'll be excited for when they're seniors, the recruits will see that. You don't want to just disregard these seniors who put all this time in, because they are owed better than that, and also the younger players will see that as well.
So, I would have normal practices, and a lot of what we did when I was there, is at the end of those practices (and we even did it during the season) game's on Saturday, on Fridays, after the starters and the guys who were playing had their walkthrough, we would have scout teams scrimmages. So, we would have an hour to 90 minutes of scout team scrimmages so young guys could get their reps, you're getting better, and you're learning. I would do that at the end of these bowl practices as well. I'd have your regular practices, and a lot of young guys don't get a lot of reps, so I'd have another half hour depending on how many reps and numbers you got, and let these guys get their reps in. Now, that's a lot more demanding on the coaches, but guess what, that's part of being a college football coach, just like recruiting, just like missing Christmas, missing New Years, possibly missing Thanksgiving. That's part of the job. There's things that are great, there's things that are more demanding, this job ain't for everybody, that's why it's awesome.
So that's what I would do for the bowl prep, that's how I would structure it for the whole month, that's how I would structure it for the young guys, and the older guys as well. And the other thing I want to talk about; the weekly practices throughout the year, they're not the same as Spring or Fall camp practices. We'll talk about those when the time comes.
What I would do with the weekly practices throughout the year; you've got the game on Saturday, and you've got the option of taking Sunday off, and you can either come in and run, lift, and watch football on Monday, or you can watch film and have a short practice. We did that when I first got to Nebraska. But, what I would do, and what I'd prefer, is running, lifting, and watching film on Sunday. You can mentally learn, you can mentally move on, that way when you come back the following week, you're mentally ready to move on to the next game. Also, the sooner you get that lactic acid out of your joints and muscles, the fresher you are, and the longer you'll feel fresh throughout the season as well.
So, I would come in Sunday, run, lift, watch film, and I would take Monday off. Now, that's one less practice, if you were to take Monday off, so I'd let my guys know; Hey, you're getting one less practice a week, so when you come back on Tuesday, that's our most physical day of the week. We're gonna be full pads, and we're gonna bring it. We're gonna do Oklahoma drill, we're gonna do 9 on 7 drill, we're gonna hit it, we're gonna have competition, this is gonna be our physical day. That's every Tuesday. Then on Wednesday, I'd back off a little bit, and I would go half pads (no pads on the legs). Just so you know, for offensive and defensive linemen, half pads and full pads is absolutely no different. The only people it matters to, is the people on the outside (you know, the yackity yacks?) the wide receivers and DBs. It's a little bit easier for them. But what it would be, is it'd be a "thud" practice, versus (and you never scrimmage during the season, no need for that except for those bowl prep practices) but Wednesday would be a "thud." It would be toned down just a smidge. Tuesday's your most physical practice of the week, Wednesday's half pads, and Thursdays, no need for pads, no need for a long practice. If Tuesday and Wednesday are two hours, or a little longer, I'd make Thursday 90 minutes. You get in, you get out, make it fast, you're not hitting, your're just tagging off. And Friday is a 30 minute walk through and the game is on Saturday.
So that's what I would do throughout the season, that way you get a day or two of physicality, and you're fresh and ready to go for Saturday. Now the end of the season, I would change a little bit as well. Come November, I would maybe take off the pads. I wouldn't do a walkthrough every day of the week like we did with the Redskins (a little bit different in the NFL I would suppose) but I would back off a little bit. Now, if the team needed it, maybe I'd have one day of pads a week. But that's how I would approach practices for the bowl prep, and that's how I would approach practices throughout the year as well.
One other thing I wanted to talk about is, Mike Riley's offense isn't the most physical offense in the world. And that's okay. Coach Shanahan in Denver, lead the league in rushing just about every year he was there, and then when he came to DC, there were several points during his tenure in DC where we would be number one in rushing with his zone rushing attack. You can be very effective running these various schemes, so I have no problem with Coach Riley's scheme. I wouldn't try to force a square peg into a round hole by saying "you have to be physical," when that's not the essence of the offense; that's okay, let him be who he is.
On defense (and this is more getting ready during the season) when we're playing teams like Wisconsin, Minnesota, Michigan under Harbaugh, and you're gonna play these teams that are so physical, you need your defense to bring the wood. And they gotta be physical, it doesn't matter, because of who you're gonna play throughout the season. A lot of that, the ownness falls on who they're practicing against, which is the scout team for the most part of the season; the young guys. So, it's good for two parts; number one, it gets your defense ready to be physical, but number two, those young offensive guys learn physicality. Now, maybe they don't need it as much when they start playing later on under Coach Riley's scheme, nothing wrong with that, gotta be who ya are, but I'd rather have to tell a guy to be less physical, than try to train a young guy, who's now a junior/ senior, to be more physical. So I think it's a double-whammy for the good.
So that's personally what I would do; bowl prep, throughout the year, and how I would approach offense and defense. That's your "Coach Carriker, Carriker Chronicles" coaching hat, right there. Now, next Monday and Wednesday, we're gonna do Carriker Chronicles again, just like always until the bowl game, so Monday and Wednesday. One of those days, not sure which day, I had someone ask me "If I had a Christmas wish for Husker Athletics, what would it be?" So, either Monday or Wednesday, depending on what happens with the volleyball team this weekend, I might address that as well, because that's pretty frickin cool what they're doing for the second year in a row. So, until then, Go Big Red, and always remember to THROW THE BONES!
Views:
2017 views: