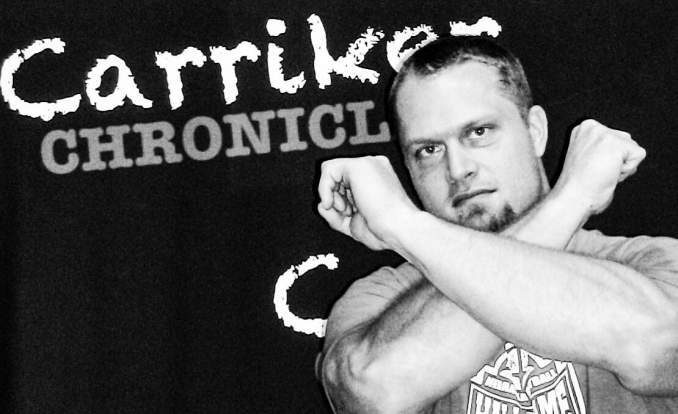 RETURN TO VIDEO 

Dec. 12, 2016
 
Husker Heismans
Welcome, Husker Nation, to the Carriker Chronicles and today I want to do something a little bit different, I want to have a little bit of fun, something a little bit off the wall just for kicks and grins. I want to talk about, because we have three Heisman Trophy winners here at the University of Nebraska, three great football players. I want to just have a little fun and debate who I think is my favorite personal Husker Heisman winner of all time. Three of the greatest college football players of all time – this is completely subjective – if you don't agree, hit me up and let me know what you think. But also I want to talk about of all the Husker players who did not win the Heisman Trophy, who should have and one name immediately popped into my mind.
This all started Saturday night; I'm watching the Heisman Trophy ceremony; I'm watching Lamar Jackson win the Heisman. This dude is one of the most electrifying players to play college football in recent memory. I think the guy is like Johnny Manziel and it was kind of funny, seeing Johnny next to Tim Tebow on the stage there (those jokes just kind of write themselves) but when Johnny had the football, that dude – he was Johnny Football, in college, he was actually better his sophomore year than his freshman year when he won the Heisman, in my opinion.
I think of guys like Charles Woodson. I know, '97 Michigan, right? Boo – but he's the only primarily defensive player in the history of college football to win the Heisman, and he returned kicks and he played offense as well. I loved watching the guy, he just played for the wrong team.
I think of guys like Michael Vick, who did not win the Heisman, but if you knew me as a kid growing up, I loved watching him. He was the fastest player. He was The Rock in football pads. Electrifying. "If you smell..." He was so electrifying and I loved watching him so I had to mention him, even though he didn't win the Heisman trophy.
Charlie Ward – I know, right? Bad memories for Husker fans like you and myself. Uh, from the Orange Bowls from Charlie Ward, and it's unfortunate; I don't want to say it's unfortunate, but for football fans it's unfortunate that Charlie Ward went and played in the NBA. Now, he had a great career, that's not what's unfortunate. It's unfortunate we didn't get to watch him in the NFL, 'cause he was the most dynamic player I watched as a child growing up.
Then I think of guys like Barry Sanders, before my time but I've seen his stats, I've seen the highlights. The stats he put up, with the amount of touches he actually got was absolutely incredible. You could make a case he's the greatest college football player of all time.
Bo Jackson comes to mind. I've seen his highlights; possibly the greatest athlete, you could make a case. I would say him and Deon Sanders to ever don a pair of college football pads, but Nebraska's got three Heisman Trophy winners. Pretty dynamic, pretty electrifying: Eric Crouch, Mike Rozier, and Johnny Rodgers. Now, I'm not going to go through all of their stats for each player; I'm not going to go through all their awards, 'cause it's a ridonculously long list for their stats and their awards. But when I think of Eric Crouch, I think of the 95-yard touchdown run he had against Missouri, where he showed off agility, speed, acceleration, and amazing quickness all in one play. I think of Black 41 Flash Reverse Pass against Oklahoma, of course.
Johnny Rodgers. You talk about electrifying; when that guy got the ball in his hands, it was a big play waiting to happen. And of course, "man, woman, and child, did he put 'em in the aisles. Johnny the Jet Rodgers just tore 'em loose from their shoes" – of course, the big punt return, Game of the Century in 1971 against Oklahoma.
Now, Mike Rozier, he's the only one of this bunch that I have not had the opportunity to get to know, do appearances with, and interact with in somewhat of an in-depth sort of fashion and I understand Johnny Rodgers and Mike Rozier are a little before my time, I didn't watch them growing up. Eric Crouch's senior year was right before my freshman year, but anybody who knows me and knows me growing up, not only did I want to emulate guys like Michael Vick, cause I was a high school quarterback, at 6 foot 6, 230, I was built just like Michael Vick, right? But that's who I wanted to emulate but I also had, at the time it was VHSs not DVDs, they weren't around yet, but VHSs stacked high of old Husker games and highlights and I watched all these guys, and I knew their stats. You gotta keep in mind before I went to Nebraska I was a fan. I'm proud of what I did on the field at Nebraska, but ever since I left I'm a fan, I'm a fan for life, and that's why I do this show, but I watched those VHSs over and over. The ones I watched the most? The '95 Orange Bowl, '96 Fiesta Bowl – hmm, wonder why?
But I have seen plenty of Johnny Rodgers and Mike Rozier but what stood out to me about Mike Rozier, and he is my personal Husker Heisman favorite winner of all time, and I'll tell you why: you watch him, explosion and amazing play-making ability. But you look at his stats, you look at what he did, and keep in mind, he did this in three years, not four, and he only really started for two of those years cause Roger Craig started his sophomore year then Rozier started his junior year, they moved Craig to fullback and keep in mind of lot of these guys today are playing four years that his stats are up against, at least in Husker history, and also if you look at the teams that are in the college football playoff now, they're playing 15 games. They will have played 15 games this year; he played 11, maybe 12. He played three seasons versus four, so these stats, and this is what makes him my personal favorite, he's the single-season rushing yards leader in Nebraska history with over 2,000 yards. He's the only running back in Nebraska history, and face it, Running Back U, to break the 2,000-yard mark. Uh, he is the rushing touchdown single-season leader, and this really wasn't even really close, of all time with 29 touchdowns in a single season. He's the career rushing touchdown, or he's second, I'm sorry, he's second in career rushing touchdowns at Nebraska with 49 but he is first in career rushing yards with just under 5,000 yards and that's what's so impressive to me: what he was able to do, and the stats he was able to put up, with the amount of touches he actually got, kinda like Barry Sanders, is what was so impressive to me, it makes him my personal favorite. It's subjective, if you don't agree, eh, too bad, but tell me about it; I'd love to hear what you have to say.
But, the other thing I want to talk about was, of all the Husker players who came close to winning the Heisman but didn't, who should've? Who could've or should've, and one name popped into my mind immediately, and that's Tommie Frazier. Now, no disrespect to Eddie George, who won the Heisman that year; Frazier was runner-up to Eddie. Eddie had 3 200-yard rushing games, Eddie had a 300-yard rushing game that year, so no disrespect to him. But in my opinion, Frazier could have, and maybe should have, won the Heisman that year. I mean, his resume: 1994 Orange Bowl MVP, '95 Orange Bowl MVP, '96 Fiesta Bowl MVP. He was the MVP for three straight national championship games; he got Nebraska over the hump to win those national championship games against the Florida teams that had, we struggled with for so long, and to me, the speed on defense and Tommie Frazier, and obviously Brook Berringer in '94, those were the things that were the difference in those years. He also won Big 8 Offensive Player of the Year, Johnny Unitas Golden Arm award winner, Quarterback of the Year, consensus All-American, it goes on and on. I've just always thought with what Tommie Frazier did, not just in his career, but in that senior year, on the greatest college football team of all time, undeniably, that he could've, maybe should've, won the Heisman. In my opinion, and you can make an argument for Eric Crouch, you can make an argument for Scott Frost, you can make an argument for a lot of guys, but in my opinion, Tommie Frazier is also the greatest option quarterback in college football history. That's just my personal opinion. But had he won the Heisman he probably would've gone down, and he already kind of is, but he would've gone down as one of the greatest, if not the greatest, college football players of all time, right next to Barry Sanders.
So I just wanted to have a little fun today, I wanted to do something a little different, a little off the wall, do something for some kicks and grins. I should mention this as well; and I had this written down, and I will talk about it real briefly: every single one of these guys had trials and tribulations they had to go through. For instance, Johnny Rodgers, when I've done appearances with him, he'll talk about his childhood and how rough it was, and he came from the not-so-nice part of town, and he had to overcome a lot of things, and he ended up winning the Heisman Trophy. Eric Crouch: now, I don't know the circumstances, doesn't really matter, but at one point he left the Nebraska team for a short while, I don't think it was very long and thank goodness he came back, but obviously he was going through some issues as well, and then Mike Rozier, was not heavily recruited and when he got hurt his senior year in high school, all the schools expect for Nebraska basically dropped him, and that's why he went to Nebraska. So it's interesting, and then you think about Lamar Jackson: schools wanted him to go to safety, they didn't want to start him at quarterback, they wanted to red shirt him – it just shows, when you get a little bit of adversity, hey, you rev that engine to climb the mountain, you don't rev it to go on straight ground. Having to climb these mountains is probably what helped to propel these guys to win the Heisman Trophy.
So, a little positivity. So until Wednesday, Husker Nation, Go Big Red and always remember to throw the bones.
Views:
2017 views: