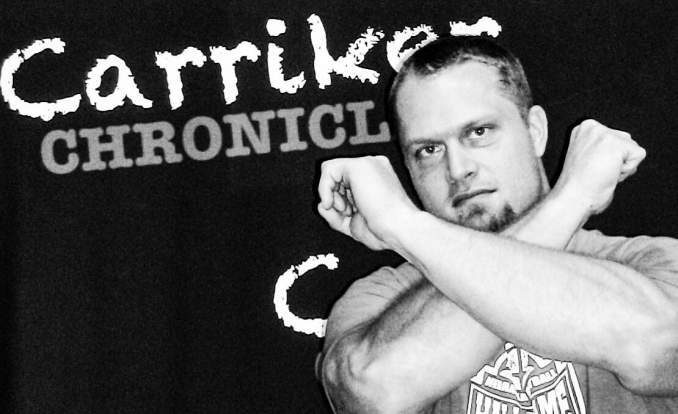 RETURN TO VIDEO 

Carriker Chronicles transcript
Oct. 12, 2016 – Indiana week – Eric Crouch update
 
Welcome, Husker Nation, to your weekly Huskers update.
I just got done working out, and I'm all pumped up and jacked up to do this show today. It doesn't matter whether you're during curls for the girls or tris for the guys, this is gonna be a great episode of the Carriker Chronicles today!
Now the Husker legend I'm going to be giving you an update on is none other than Eric Crouch himself. This former Heisman Trophy winner needs absolutely no introduction. Today Eric lives in Omaha with his wife and two kids. Eric and his wife manage a recreation business that they purchased back in 2004 known as Crouch Recreation. Now this recreation business designs, builds and furnishes playground projects for parks, schools and other organizations. Eric also coaches his son's football team and recently has been a college football analyst for Fox Sports, the Big Ten Network, Versus and Channel 7 in Omaha.
I spoke with Eric and asked him if he had a message he'd like me to relay to Husker Nation from himself. He said, "Adam, thanks for asking me. I hope Husker Nation travels well next week to Indiana. I always loved the support we got on road games. Best fans in the world."
Now I would like to share a personal story of myself and Eric Crouch. I don't even know if he is going to remember this, it was so long ago. I believe it was right after my freshman year at Nebraska, so I hadn't really played a whole lot just yet. We were set up to do a signing together at the same time in Broken Bow. So I was excited to meet Eric Crouch, I was excited to do my first signing ever. We get there, I meet Eric, that's cool. Then we go to our tables and the fans start pouring in for the signing. The signing is supposed to be maybe two hours long I'm pretty sure. Well right away, I start to notice that all the fans are going to Eric's table. And I also started to notice as this line gets longer at his table, they kind of looked at me and are kind of talking amongst themselves. It was almost as if the looks on their faces were saying "who's that guy over there? Who is that tall guy in a Huskers jersey over there? He must be a big fan or something."
So basically I sat there for two hours, played tic-tac-toe on the fold-out table that they gave me (true story, by the way) and watched Eric Crouch sign autographs for actually three hours, because that line out the door was there for three hours. And maybe signed 10 autographs myself. So I'd like to thank my wife's aunt Carol for setting up that wonderful occasion for me.
But in all honesty, it was a very humbling experience, and it still makes me laugh to this day. I thought you guys might enjoy that story.
But, in all seriousness, it is October. It is Breast Cancer Awareness Month. Ladies, remember to get yourselves checked.
Husker Nation, I know I asked you something similar on Monday's show; but I'm all pumped up and jacked up so I gotta ask you this: "Whatcha gonna do, brother, when the 24-inch pythons run wild on YOU!?"
And always remember to Throw the Bones!
Views:
2017 views: