Anatomy of an Era: Mike Anderson, Part 1
Excerpted from Chapter 88, No Place Like Nebraska: Anatomy of an Era, Vol. 2 by Paul Koch
Bonding within the organization takes place as one individual and then another steps up and raises his or her level of commitment, sacrifice, and performance. They demand and expect a lot of one another.
–Bill Walsh (with Craig Walsh and Steve Jamison),
The Score Takes Care of Itself: My Philosophy of Leadership
Like a cold virus' symptoms hanging around in the body for what seems an eternity, I just can't seem to shake my fascination with the 1993 Cornhusker squad and the last-second death of their dance with destiny. I can't tear myself away from the potent sparks thrown off by that display, as it led to the blazing of future years' fires. The same goes for many of that team's senior participants, and I was fortunate enough to have some time for conversation with a pivotal leader from that team's Blackshirt linebacking crew: Mike Anderson.
A Grand Islander with the strength of a Belgian and the spirit of a mustang, he's now a Ford man in Lincoln. Before automobiles were his vocation, however, he was hell-bent on the opposition's ruination, and he's got a few tales to tell. Part of his experience involved the earliest of player bonds of kinship and compacts that foretold that of the Unity Council's. Theirs was a brotherhood, a membership forged by repeated trials brought on by one singular man who -wittingly or not- drove the linebackers into one cohesive unit that refused to be broken. Their group's comradeship was an example to others and paid incredible dividends. Let's hear from Mike Anderson…
Notable quote #1:
"One thing that was in the back of my mind and everybody else's mind: at that time no Nebraska team had ever had less than a 9-win season in quite a while, so nobody wanted to be a part of that team that broke the 9-game win streak and the bowl game. So a lot of it was motivated by tradition and not being the team that screwed it up."
Mike Anderson
Scholarship recruit, Linebacker, Grand Island, Nebraska
Where are they now? Lincoln, Nebraska, Automobile Dealer
Question: It's been a long time, Mike. So you own a Ford dealership there in Lincoln, right?
Mike Anderson: Yeah, we're actually out on North 27th and Interstate 80, right on the exit there. In fact, I don't even think there was an exit there when you left back in '96. We have Ford, Lincoln, Mercury and Mazda.
Q: Hey, free advertising in the book… you can't beat it.
MA: We need all the help we can get. (laughs)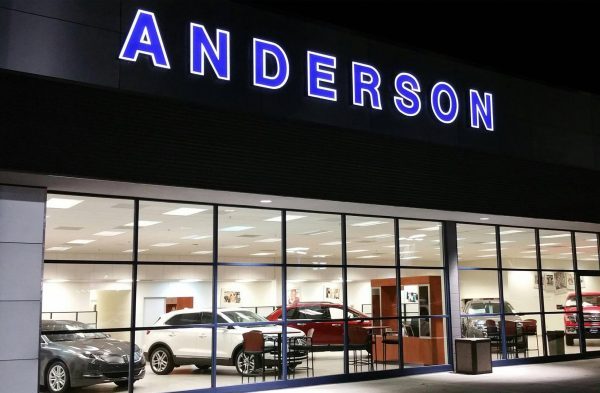 Q: Well, your name has come up a few times in the course of talking to guys.
MA: That's quite an honor my name even comes up.
Q: You, John Parrella, Kevin Ramaekers & Toby Wright, too. Those names are brought up a lot by the guys who came after you. So first things first, you're from G.I., right?
MA: Yep, and I actually moved to Grand Island when I was a sophomore in high school. I wasn't around Nebraska football as much growing up because I was originally from Wyoming.
As a kid my goal was to play college football and when I moved to Nebraska my goal was to be a Husker. And I never really got recruited by Nebraska until my senior year. I remember after my senior year when the season was done and Coach Osborne called and offered a scholarship, I remember accepting it right away and never really took any other trips to some of the other schools recruiting me.
When I lived in Wyoming -a majority of my childhood, in a town of like 2,200 people. We had a guy who got a scholarship to the University of Wyoming when I was in the 7th grade- and I remember talking to my parents about it. And they said to me, "You can do that, too, if you work hard enough." And I made it a goal of mine to get a scholarship to Wyoming at that time. And then I moved to Nebraska and you'd always seen them on TV and they had that kind of aura, you know? So they were a great team and I thought it would be cool to be a part of that.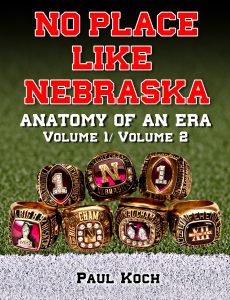 Available on Amazon.com
Q: Did you have any family with Nebraska roots?
MA: Well, my uncle used to be a high school football coach in Grand Island, Nebraska, and he and my Dad started talking about a car dealership that was about to come up for sale there in Grand Island, and he wanted to get into the car business. So they ended up buying it together, and that's how I ended up moving to Grand Island in '86 when I was a sophomore in high school.
Q: How about that? I always thought you were a homegrown boy.
MA: No, I just moved there when I was a sophomore in high school.
Q: Wow, I'm glad I asked. So where were your folks from?
MA: Well, my Dad was born and raised in Montrose, South Dakota, a little town outside of Sioux Falls, South Dakota, and my mom was born and raised in Sacramento, California.
Q: So tell me, do you recall your first few days as a freshman student-athlete?
MA: Well, I just remember seeing some of these guys that you watched play and thinking, 'Wow.' I remember even having a JUCO player there at the time and he was running over guys. I remember thinking, 'Man, I hope I don't get run over here.' It was Omar Soto, he was a fullback. I remember the first day we were running 'no pads' and he's running over guys. I thought, 'This could be an interesting deal.'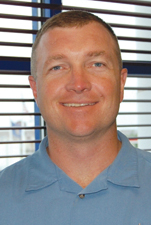 Q: Were you a linebacker prospect from the start?
MA: Yeah, I was. It was myself, Trev Alberts, Darren Williams and Troy Branch. All four of us were scholarship middle linebackers. And it was kind of funny: after the first week Coach Osborne came up to us and said, "We've got a few too many middle linebackers here. Would one of you be interested in moving to outside linebacker?" And I remember Trev, he goes, "Well, I'm the tallest one here. I guess I could move out there." (laughs) That was kind of funny.
Q: Do you keep in touch with any of the guys?
MA: As far as those guys, I see Troy quite often. He and I play racquetball together every once in a while. I kind of left a message welcoming Trev back when he got the job here recently but haven't talked to him, and Darren I've kind of lost track of. I have no idea where he's at these days.
Q: So Omar Soto has no pads and is running through guys. Did the speed and the size throw you for a loop?
MA: Yeah, and the other thing I remember, too, we had a Parade All-American lineman by the name of Lance Larson. He looked like that Tony Mandarich guy: a big, muscular guy, 6' 6" -built like Arnold Schwarzenegger, muscle-wise- and I remember thinking he looked like a stud. And then as soon as you put on the pads and started hitting, you could tell that he wasn't going to last. It was about a month and he quit. So that was interesting. Some guys come in with all the accolades from high school and they don't do squat, just didn't have the mentality to hit.
Q: He looked like Tarzan and played like Jane?
MA: Exactly. Yeah. (laughs)
Q: What year was your first fall camp?
MA: Fall of '89.
Q: So if you could summarize the fall of '89 to the fall of your senior year of '93, were there some momentous changes that took place as far as the culture around there?
MA: Yeah, that was when Coach Osborne implemented the Unity Council. I remember I was one of the guys who was on the Council at the beginning. They implemented that at that time, which was a pretty good deal. At least for me as a linebacker, we had a pretty tight-knit group. We felt like we were all suffering together because of the coach at the time, who was Kevin Steele. (laughs) He really kind of banded us all together. But I just remember how we were a tight-knit group and looking out for each other.
Q: I remember joining the strength staff over there with football in '88 and it seemed like the players were content with winning nine games every season, getting to a bowl game and then partying hard at the bowl site. It seemed there was a certain level of contentment with that. But a sea change in attitude took place a few years later…
MA: Well, yeah. I remember after my redshirt freshman year when we played Georgia Tech in the Citrus Bowl and we just got our butts handed to us in that game. Afterwards, I think Coach Osborne really went after the speed and all that from the recruiting standpoint, and we changed our defense over the years from a 5-2 to a 4-3.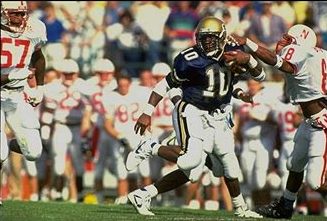 And my group, we wanted to be part of a team that won the Big 8 Championships and all that, and it just seemed like the attitude shifted when we got the guys I came in with, the guys who wanted to win. After we won the Big 8 Championship my sophomore year everybody's goal was to win the national championship. But obviously, we never got it done while I was there.
Q: What drove you?
MA: What drove me? I guess I'm just kind of a perfectionist. Every time I went out on the field I always tried to play the perfect game.
And I always got excited for the big games. For me, I always had a hard time getting up and getting excited for a lot of the smaller games, (laughs) but when it came time for the big games that was where I really enjoyed that. I just enjoyed being a part of Nebraska and my goal someday was to try to play in the NFL, so I was just motivated to be the best.
And I tell you, one thing that was in the back of my mind and everybody else's mind: at that time no Nebraska team had ever had less than a 9-win season in quite a while, so nobody wanted to be a part of that team that broke the 9-game win streak and the bowl game. So a lot of it was motivated by tradition and not being the team that screwed it up.
Q: So, in essence there was some, for lack of a better word, negative motivation?
MA: Yeah.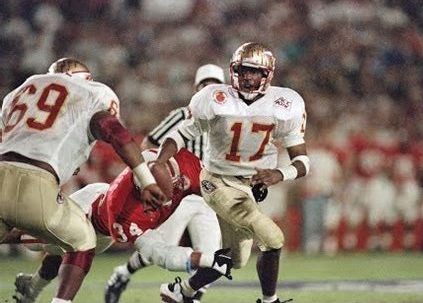 Q: Mike, that '93 team and that Florida State game, your last game, I think that was the one of the greatest college bowl games of the past 30 years.
MA: Yeah, I think we got robbed in that game. A lot of bad calls. I see it on ESPN Classic all the time, and every time I think we're going to win. I think we're going to pull it out. (laughs)
Q: So I'm not the only one who gets that feeling! Whew, that's a relief! (laughs)
MA: "Hey, I think they're going to win this one… I guess they didn't pull it out." I've never watched the whole thing.
To be continued tomorrow….
Copyright @ 2013 Thermopylae Press. All Rights Reserved.
Photo Credits : Unknown Original Sources/Updates Welcomed
Author assumes no responsibility for interviewee errors or misstatements of fact.