Anatomy of an Era: Jason Scott Jenkins, Part 2
Excerpted from Chapter 70, No Place Like Nebraska: Anatomy of an Era, Vol. 2 by Paul Koch
Anatomy of an Era: Jason Scott Jenkins, Part 2
Continued….
Q: Do you recall any first impressions of the tunnel walk and the home crowd?
Jason Scott Jenkins: I'll never forget those memories, they will last a lifetime. I would have the cold chills all over my body and my hair would stand up on the back of my neck. I felt like our team unity on game day and coming out of the tunnel and hearing that song… man, I was always just ready to hit somebody. I always wanted to hit somebody and take somebody out. Our mentality was "no holds barred." We were so strong and were good players and got after them.
Q: The teams of those days, Jason, did you have a mental edge? Could you ever see or sense that in the eyes of the visiting team?
JJ: I don't know if you could see it before the game, but I know shortly after the game started that a lot of times after the kickoff some of the guys wouldn't get up. Because we came down on the kickoff and hit them so hard, a lot of times their guys would just be laying down. I remember that. We just knew we were tough customers. We got after them and sacrificed our body…truly got after people. It was amazing.
Q: It seemed like our guys rarely ever got hurt, that it was always the other team's…
JJ: That's what it seemed like to me.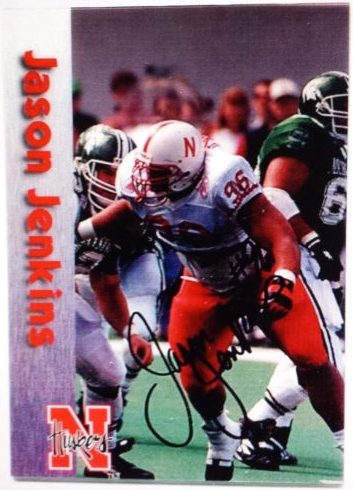 Q: Do you have a favorite game that sticks out?
JJ: Who was the guy for Iowa State? Troy Davis? I remember playing against him and making a couple tackles against him. I think he had almost 2,000 yards that year. I just remember making a good tackle for a loss against Troy Davis. And I remember making a sack with Jared Tomich against Michigan State, which stood out as well. Jared and I hit this guy from different sides at the same time.  I believe it was Tony Banks, who ended up playing in the NFL for a while.
Q: Do you have a favorite practice memory?
JJ: It's funny, there's so many. Practice was like a game a lot of times: just going against a bunch of All-Americans all the time. And you don't want to get pushed around, but you don't want to be going all out and get them mad at you, so it's kind of a fine line. (laughs) It was a trip.
A lot of times the whistle would be blowing and the guys were still getting after each other. That was our competitive nature. Nobody wanted to give anything up to each other. You know what that's like when a whistle blows and two guys are still getting after each other? Well, it was like that all the time.
Q: Like some guys and their wives, when they develop selective hearing, "What whistle? I didn't hear any whistle." (laughs)
JJ: We were always just battling, man, always battling. We'd get after each other. And that made us better.
Q: Sure, every day you'd go up against Brenden Stai, Aaron Graham, Zach Wiegert…
JJ: Those guys were huge.
Q: Made the next level almost pale in comparison?
JJ: Exactly. I ended up playing in the Canadian Football league for the Toronto Argonauts for a few years, and I played Arena Football for two years as well. It was pretty nuts, man. They had me as a defensive specialist so I didn't have to go both ways. It was a good experience, it was fun. I was getting paid to do what I loved so I enjoyed the years after Nebraska.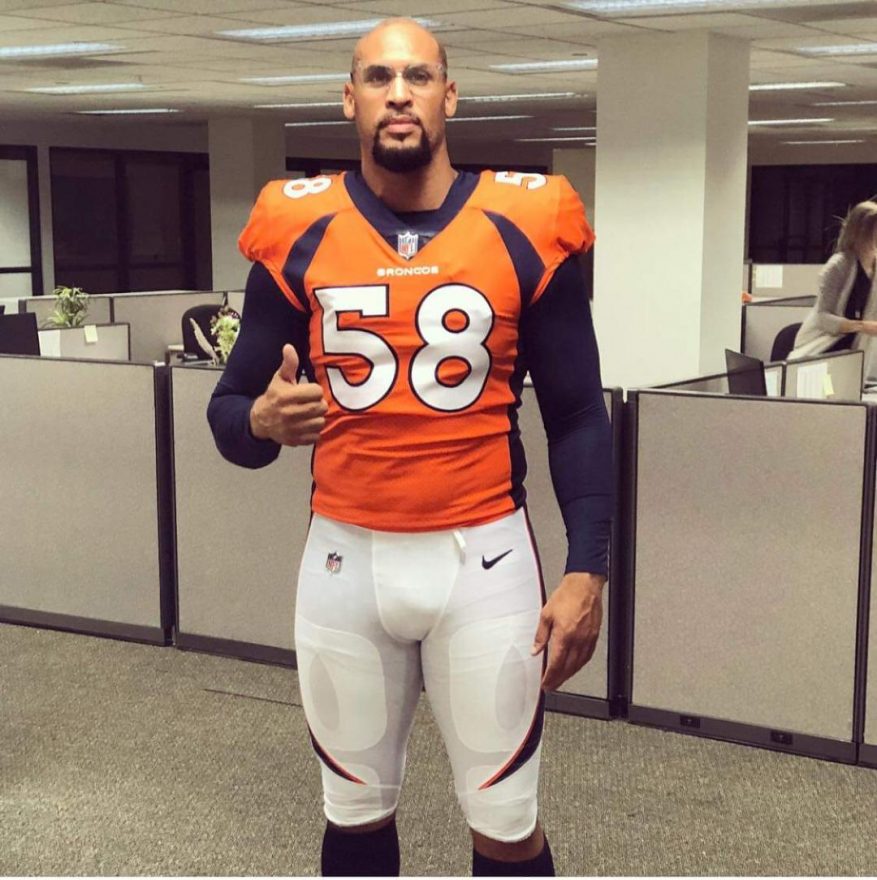 Jason Scott Jenkins channels his inner Von Miller for an ESPN commercial
Q: Did you ever get the chance to talk to other guys from other college teams about their college experience and how they compared and contrasted with yours?
JJ: You know, we all shared similar stories, so nothing really stands out. Everybody has their own selective stories, and they're usually funny, too. But nothing compares to my experience at Nebraska, though. We'd have similar situations, because we all went through two-a-days and grueling practices, but it was just a different level at Nebraska. There was a higher love- a standard- on our team for some reason.
And there were so many characters on that team: Larry Townsend came out that one time with his parka under his pads, he could hardly move in his "Triple Fat Goose Coat." His nickname was Black Steel. We keep in touch still, he is a great guy.
Q: (laughing) Yes, Black Steel.
JJ: Oh yeah, Christian and Jason had nicknames for everybody. That was one of them.  There was never a dull day. We always had our characters, the guys who would stand out and make some noise or play pranks. It was always amusing.
Q: The biggest prankster?
JJ: Christian was one of the biggest pranksters. He was always messing with somebody. I used to get a big kick out of watching him.
Q: Did you ever take part in 'the girthing'?
JJ: I remember that.  I never participated in that, but I watched it happen. And I felt bad for the guys they would get.
Q: You were too big to hold down, Jason.  You were pretty lucky there…
JJ: Yeah, that was wild times.
Q: Any memorable off-field stuff?
JJ: None that I can think of.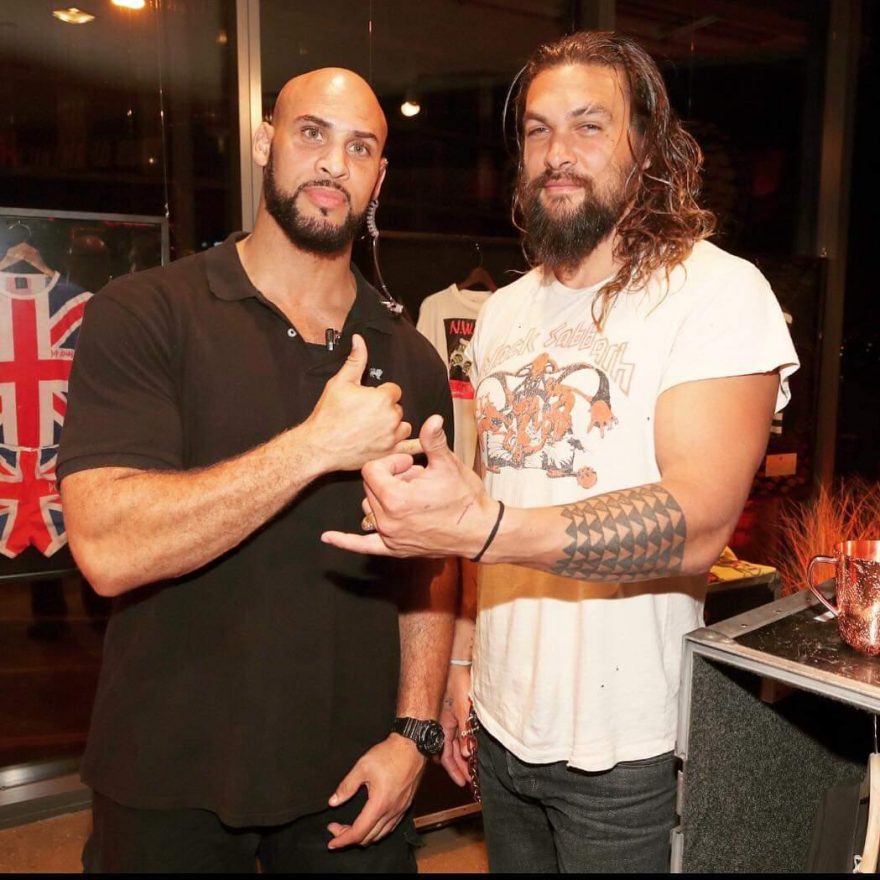 Jason Scott Jenkins and Aquaman (Jason Momoa)
Q: You were a choir boy and stayed home all the time and didn't get into any trouble?
JJ: No, I definitely was not a choirboy, but I do remember going to different parties and people just knowing who you are when you walk through the door, and that was a different experience.
Q: You couldn't be a wallflower at those things, eh?
JJ: Yes, everywhere we went they always knew everything about you. It was interesting.
Q: I hear Clester Johnson used to put on some great parties?
JJ: Yeah, there were a few guys who used to put on some great parties.
Q: Was there any one person behind the scenes who meant something to you or made a large difference?
JJ: You know, most of the assistant coaches and other players usually didn't get the props they deserved. I can't think of names off hand. I believe everybody on the team, even if you were third string, fourth string redshirt, everyone played a part in those back to back national championship years.  I didn't realize that until later on after college was over. The little things mean a lot.
And now that I think of it, someone who sticks out to me is Keith Zimmer. Zim always helped me with my studies.  He was a big part of the reason why I was ESPN's Academic All-American two years in a row. I had a B average or better. And speaking of Keith, he was a major contributor to helping me to get the bronze medallion in an athletic program and being on the Honor Roll, too.
Q: Surely your parents were quite proud of you…
JJ: Oh yeah, Phillips 66 Academic Honorable Mention my redshirt year and then ESPN Academic All-American my junior and senior year is something I've always been very proud of.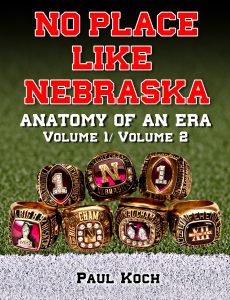 Available on Amazon.com
Q: What was your major?
JJ: Sociology. I still plan on using my degree one day. I'm about twelve credits shy of my Masters and want to go back and get that at some point to work with disadvantaged youth some day.  Just want to use my size…
Q: And later on you can use your good looks? (laughs)
JJ: I guess, yeah. (laughs) One day, one day when I'm done running around I'll settle down and want to work with children.
Q: Sounds like Lance 'Bullethead' Gray and his work with kids in Phoenix, who used to run down on those kickoffs and really ring their bells.
JJ: Yeah! And do you remember Aaron Penland? I remember watching him run down on those kickoffs and every time he'd hit somebody on a kickoff they weren't coming off. They'd be like, "Trainer, trainer, somebody's down!" and it would be some guy on the other team. And Aaron would come running to the sideline with a smile on his face. He was an animal. I enjoyed watching Aaron on the kickoffs. I was a fan.
Q: Anything else of note that you've taken with you from the experience?
JJ: Yeah, you know when you're younger there are a lot of lessons you learn. At the time you just take it as criticism or don't really understand that a lot of the things the coaches were implementing were going to last you a lifetime, helping you through life. That's something I didn't realize when I was there.
However, since then, I remember a lot of the things the coaches would say. And not only coaching you through the plays but being your life coach, as well. A lot of our coaches were life coaches and showed us a lot of things, including work ethic. Things that stick with you throughout life: how you carry yourself, your character, being kind to people, not letting things in difficult situations -when you're down and out, when things don't look so good?- there's usually another side to look at that's positive. Like I said earlier, the little things mean a lot. Coming from different ethnicities, different parts of the country and different lifestyles, but man, did Tom Osborne have us all working as one united family. That's something I'll never forget.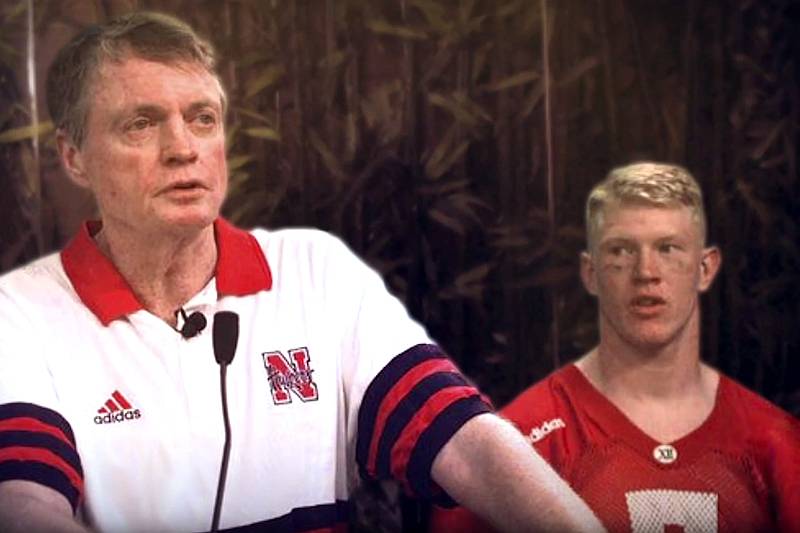 Q: How do you think he did that? Created that unity?
JJ: You know, he's one of history's elite coaches and he had a calm, cool, collected demeanor about him and he knew his stuff. He had a good relationship with all of his players. He was a great guy, a Christian. Coach Osborne is by far one of my favorite people in life. I want to visit a home game at Nebraska in the next couple years and make it a point to look him up and say hello.
Q: How about this, Jason: when he was in town for the Holiday Bowl he made the time to go down near the U.S/Mexican border to visit with Lawrence Phillips at the county jail…
JJ: Wow! You see that? That's the kind of guy he is. He's a guy who cares. He really cares.
Q: And then he promised to line Lawrence up with Dennis Leblanc to finish up his schoolwork toward earning a degree…
JJ: That's the kind of guy he is, he never stops caring. He's a beautiful Christian man. He's someone I look up to.
Q: Do you miss the Nebraska winters at all?
JJ: No! (laughs) The Nebraska winter beat me up. And Jersey's not too warm, either.
Q: Do you think the cold weather played a part at all, going through that?
JJ: I believe so. I believe that it's a mental thing. Some people are able to play in the cold and some people are not. That's one of the many obstacles I mentioned earlier. We were taught to be immune to a lot of things including the freezing cold weather. It would be below zero and they would come out in just their jersey and a half cut or tank top underneath their pads and just play ball. Christian was one of them.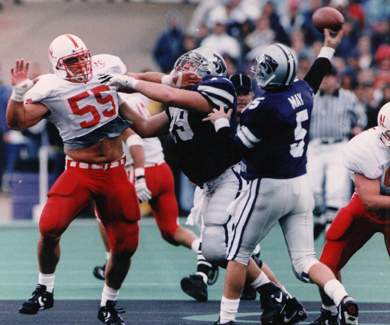 Christian Peter puts the heat on Kansas State QB Chad May in 1994.  (Ted Kirk)
Q: What was it about that guy?
JJ: Oh, yeah, I loved Christian. Christian was a great guy. We had that Jersey connection. He told you what was on his mind whether you liked it or not, and I always appreciated that about him. He just put it on the line, "Take it or leave it." A good guy.
Q: What kind of reaction do you get these days when people find out you played for Nebraska during those perfect championship seasons? Questions? Comments?
JJ: All the time. I get a lot of, "Wow! You played on that team!?  Like, that's one of the best teams in college football, ever!" They are just in awe. Even to this day. It's funny, because I'll get to know people and then I just happen to mention it and they're like, "What?!" They just get excited, because a lot of people remember that team.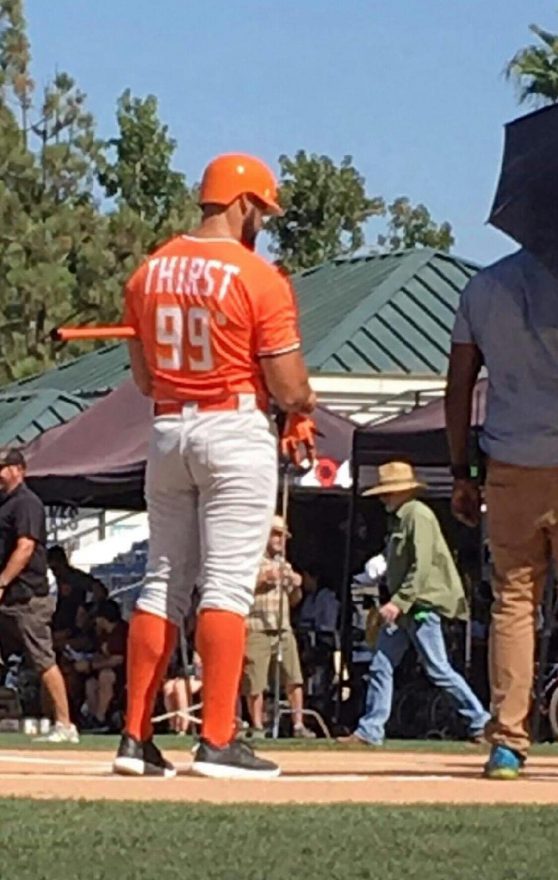 Prepping for lights, camera, action!
I've encountered fans who remember every play and come up to me and tell me the starting lineup and backups, just random people. I met a couple guys down at the Super Bowl in Tampa one time when I was with Jimmy Johnson, and they were saying, "Hey, you're Jason Jenkins and you played on the '94 and '95 team," and this and that. And they start quoting statistics. People still appreciate those teams.
Q: Nebraska fans are a different breed, huh?
JJ: Oh yeah, they're a very loyal bunch.
End conversation.
"..there was a lot of people who didn't really get their props who deserved props…" Including Jason. It's peculiar how, after the years have passed, only a small cadre of names comes to mind when revisiting players from past teams. Unfortunately, that's how the memory works. Hence, this is one reason for the incredible amount of interviews in this book, serving as a reminder that that wasn't necessarily so, because every person has a unique story to tell or a specific event to share, helping us drop another puzzle piece into place on this vast 60 & 3 Why and How mosaic. In the cut of the same cloth as our interview with Lance 'Bullethead' Gray's prowess earlier, I look forward to tracking down Aaron Penland, too, because the team was populated with these types of kamikaze kick-off killers.
Speaking of the assistant coaches, I've tracked down most of them for this project save for two or three. It saddens me that we couldn't get to know more about all of them, as only they could reveal themselves best as men, as leaders of youth, as teachers and surrogate fathers and mentors and (sometimes) bullies, even. Tom Osborne assembled quite a crew here, as you already know from what we've read, and there are still a few to come, Charlie McBride and Dan Young, namely. A quality I love about all of them, though, was their faithfulness to their head coach and their almost indefatigable love for the players in their respective position groups. Many could have gone on to head spots elsewhere or even to the professional ranks, but most knew a good thing when they saw it. And being an assistant at Nebraska was often worth a heck of a lot more than being a head honcho calling the shots somewhere else. It may not have been reflected in the pay, but they knew well enough that there are some things money can't buy. Playing a part in excellence was one of them.
Lights, camera, action! Jason mentioned the pride and tenacity among his teammates, too, "A lot of times the whistle would be blowing and the guys were still getting after each other… Nobody wanted to give anything up to each other…it was like that all the time." I would assume the filming of practices along with their public dissection in the next day's meetings created a culture of competition and spurred them on to avoid criticism, too. It's one thing to watch film of someone else and imagine your assignment in that person's place, but it's a gargantuan step up to actually view film of yourself as the coaches viewed you, creating 'teachable moments.'  The utilization of film sessions allowed practices to speed along and achieve game-type conditioning and organizational efficiency, with a great extent of the teaching and the correcting occurring the following day in pre-practice meetings. Which begs a question: I wonder if the video crew's cameras added ten pounds, like they do in Hollywood?
Notable quote #2:
Jason Scott Jenkins on the Husker Welcome Wagon: "I thought I got hit by a Mack truck! I never saw the guy coming, but he hit me and completely de-cleated me. Wiped me out! And then he stood over me and said, "Welcome to Nebraska football." That was one of my fondest memories of just joining the Nebraska football team."
Copyright @ 2013 Thermopylae Press. All Rights Reserved.
Photo Credits : Unknown Original Sources/Updates Welcomed
Author assumes no responsibility for interviewee errors or misstatements of fact.