Anatomy of an Era: Diane Yeutter, Unsung Hero, Part 2
Excerpted from Chapter 32, No Place Like Nebraska: Anatomy of an Era, Vol. 1 by Paul Koch
Diane Yeutter, Part 2
DY: I have to tell you -and this is rather sad- my father was killed in 1973 in a very tragic way on the night of my brother's high school graduation… very tragic, in a twelve car pileup. I can remember -and there are any number of reasons why one would cry- but I remember crying to my mother, 'Now who is going to take me to the Nebraska football games? I'll never go to another Nebraska football game as long as I live.' It makes me cry. (pause) Excuse me… but it reminds me of the time I spent with my father, (crying) and my childhood, thanks to my parents. So writing my letters and loving these boys, it's like I'm giving back to my Mom and Dad, too.
Q: I'm sure those early father/daughter outings mean a lot to you.
DY: Oh dear, yes. My father's Godly perception that all men are created equal and stand equal at the foot of the cross was lived out.
As a child I witnessed my father's applause of the players' effort and never heard him criticize play selection or use derogatory comments when the game didn't go well. Being part of the Big Red family is about understanding three life truths: 1) you belong to a family, 2) you are valued and accepted for who you are, and 3) success is attained when each family member does his job and does it well. When a person experiences these three life necessities: a sense of belonging, being valued, and being successful as a Husker you begin to understand why Nebraska Football is the state's passion and why Nebraskans drive hundreds of miles to attend Saturday's Big Red Family Reunion.
Q: So, are you season ticket holders once more now? Or are you on the waiting list?
DY: We are no longer season ticket holders, and that's probably a little bit of my doing. I was so disgruntled and upset with what was happening and didn't see an end to Callahan's reign that I just said, 'It's lost everything. It's lost its joy.' (Though we were still writing players at that time.) Well, anyway, my husband probably regrets it even more, because I find it easier to go with the flow.
And when Bo Pelini was hired, that February I was diagnosed with breast cancer and I had to have surgery; one breast removed because it was pretty well filled. And I don't want to cry again here, but my husband, here's what he did: I was dismissed from the hospital on the day of Bo Pelini's first spring game and wanted to go to the game soooo badly, but I'd just gotten out from major surgery and could not go. But my husband said, "Honey, I'll drive over the bridge (going past the stadium)." He rolled down my window for me and I could hear the band playing, I could see the crowd waving their arms and screaming, and I was crying like a baby. And it was that moment that I knew I was witnessing the part of a new era.
That broke my heart. I couldn't even go to last year's Spring Game because I had to have my other breast removed. Thank goodness it was not cancer that time. Breast cancer and then a hysterectomy kept me away, as well as chemo that first summer… so I haven't been part of the new era as much as I'd wanted to be, but I haven't had the health to be.
Q: Wow, and do you guys ever have the chance to pick up a spare ticket and make it to a game here and there?
DY: Yes, my husband's sister, through their business here in town, they have tickets and they are very generous. They often split it between a lot of people, but this year I will be healthy enough: "I will be healthy enough. I will be healthy enough." No ifs, ands, or buts about it, and I will go to the Spring Game! I have no other boobs to remove! (laughs) So I want to be there, definitely.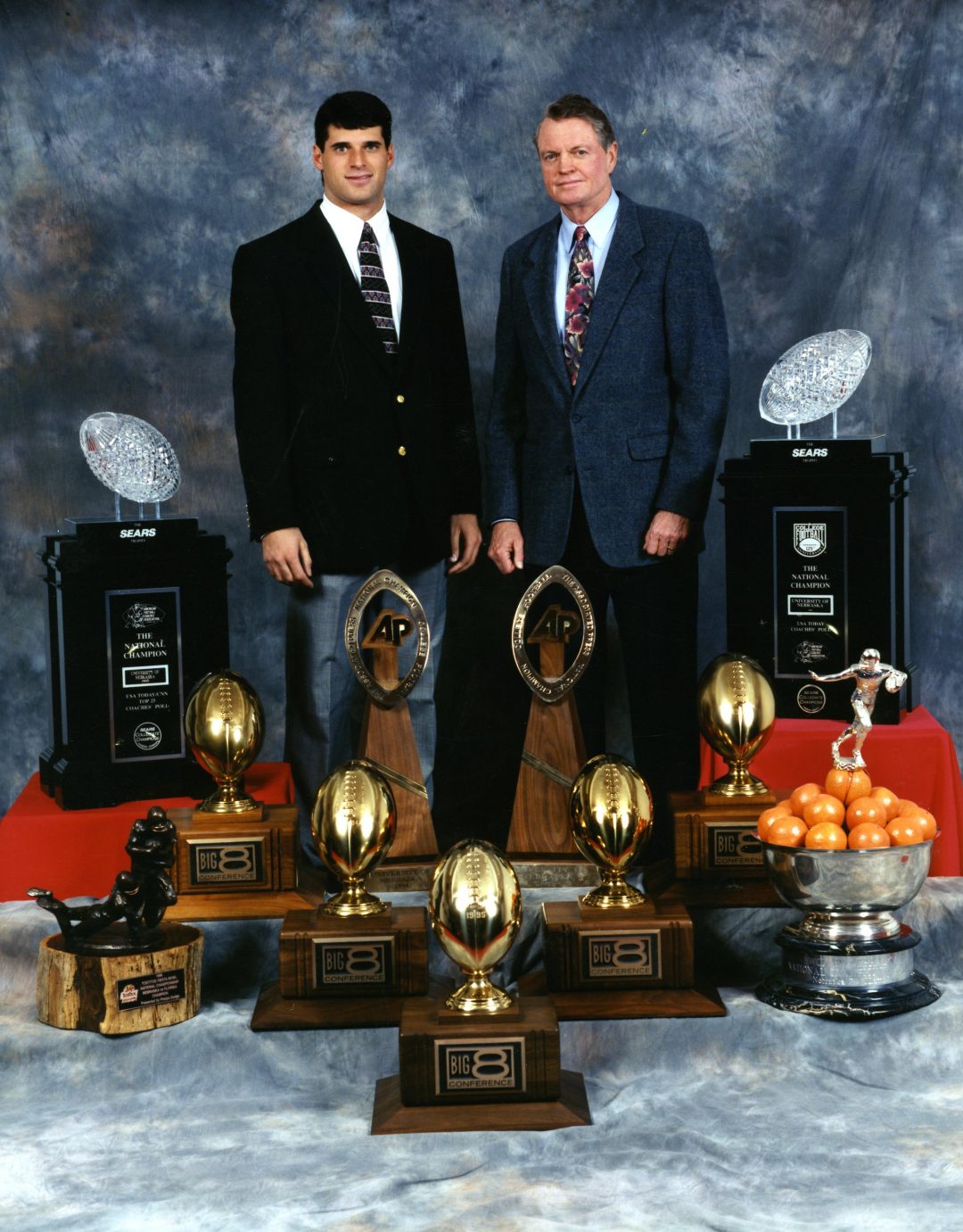 Brook Berringer & Tom Osborne (Nebr. Sports Info)
Q: What do you think when people say that Nebraska football is a state religion? What is your reaction?
DY: To be very honest, there are some people who treat it as a god. I do believe that there are. I really believe there are probably some people who might consider Nebraska Football that high of a pedestal experience. I really do. There are the realists who understand that it's a game. And it is a big business in Nebraska. But it's a game and it's a game of a group of diverse young men from all walks of life coming together under the umbrella of a coaching staff who cares about them, who has passion for them… Tom Osborne and Frank Solich would have certainly fit under that umbrella.
They come together; they come to Lincoln belonging to one family and then they recognize that Nebraska football is not a religion, but that Nebraska football is a family. And head coaches are the head of the family, Tom Osborne's the head of the family, and the players are our sons and, I hope not our daughters. (laughs) But they are Nebraska's sons. It doesn't matter who they are or where they come from or their ability, they are 'our boys.'  And that's what I love about Nebraska football, I consider those players our boys.
Q: Whether native or adopted, they're still sons?
DY: Exactly.
Q: It kind of parallels the early Christians, where you originally had only the Jews, then it clefted off to the Ethiopian, with the Word spreading through Corinth and the major trade routes, picking up believers and disciples along the way. And they'd be willing to give their life for it…
DY: Yes, and just as a sidebar -as a Christian, divorce breaks my heart – but as a Nebraska fan, the divorce from Callahan made my heart glad. (laughs) So long, sucker! (laughs) But you know what, I have to tell you, Paul, I believe that we as Nebraska fans enjoyed dominance for so many years, so many decades, and we knew that we knew that we knew that our family was close, we knew that our boys knew how to play to the best of their ability. Were they all blue-chippers? Big Red boys always don't have to be blue-chippers, they're red-chippers! And the coaches always knew how to pull the best out of them.
But during the time of Callahan and Pederson that changed and we lost that family feeling, that old loving feeling. We lost that. And I think we lost that magnitude and the intimacy and the purpose of the program, which is a bunch of guys getting together to become family, a diverse population coming together to become one family.
But in some respects I think it was  –I think in a way, that era of horridity that we experienced as fans?- as we look back it could have weakened us and destroyed us, but what it did was remind of us of who we are: and we are family. It's not about trophies, it's not about all the plaques… it's about the process of 'becoming.' And we lost that. But now we have it back with this staff and these players. The players, I believe, had it under Callahan. Callahan, he was an outsider looking in and couldn't be part of the family, but the tough times we went through has made us, set us up for an even bigger family again.
Q: Speaking of family, anything about those years in the '90's stick out to you from a fan's standpoint? A game? A play?
DY: Oh yeah, there's a game. (laughs) My husband and I had the pleasure of also being good friends with Phil Ellis and his uncle and aunt, Shirley and Ron Zimba, we went up with his uncle and aunt to the Michigan State game. And this was when Lawrence Phillips was just a young man and Tony Banks was their quarterback, right? Well, we dominated them as the game went on, we really did a fine job.
But I really liked the Michigan State kids' effort, and that was Nick Saban's first coaching job out of the pros, but what really torqued me was when we were on the way to the airport listening to the radio after the game, Nick Saban said on the radio, "We played like a bunch of boys. Nebraska played like men. That's the difference in the ballgame." And he was angry. And I remember thinking to myself, 'You jerk! You don't criticize the players.' So I remember, I wrote the Michigan State Athletic Director and I told him exactly what Nick Saban said. I wrote him, 'He is not a good coach. Good coaches do not criticize their players publicly, demeaning them and calling them names and comparing them to other teams in the manner that he did. He needs to be reprimanded. And I don't ever want to hear that type of talk from any coach again.'  I never heard back from him. (laughs)
But my favorite memory was going to the Tostitos Fiesta Bowl game. We followed the boys on down to Phoenix and it was absolutely a phenomenal experience. We were there against Florida, of course, and we happened to see the Florida players come out and stick their thumbs in their ears and wiggle their fingers at the players. I remember being so angry at those players. And I was looking around and their fans were going just crazy, "Fun & Gun! Fun & Gun!" And I wanted to tell them off, but our players did it for me. And the arrogance of the Florida players on the sidelines before the game? They were humbled and humiliated by the third quarter, and I looked around for the Florida fans and they were gone.
I don't ever remember being more proud of our Husker players, and having Christian Peter actually running so hard and fast, running to the end zone without running out of steam? That was incredible. And Tommie Frazier's run, the most impressive touchdown run in football history. Those boys played with one heart, one mind, one focus. They just kicked butt every game. (laughs)
Q: So what do you think football means to the state's people? Why are they so gaga over the game?
DY: I think it is the tradition. I used to write this to the players: "Every Saturday Nebraska has a family reunion." That's what it's all about: getting together with family, watching as family and beating up another family. (laughs) When those opposing teams come in they are not our enemy, they are our guest. They come to our home, our house, our dining table. They should be treated with the utmost respect, but it's a Big Red family reunion.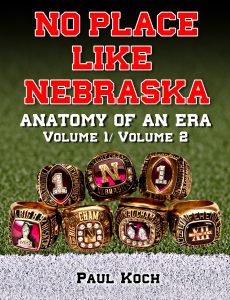 Both volumes available on Amazon.com
Q: A good, old-fashioned football contest, in other words?
DY: Yep.
Q: Well, if you want my take on it, my spiel on the psychology/sociology of Nebraska Football…there are a few differences that most Nebraskans don't realize, and one thing they take for granted is that they are an extremely hardy bunch. It takes a special devotion, ambition, perseverance, a drive, more than anything, to withstand the weather. Here in Southern California weather is just something that you pay attention to as far as deciding whether to wear a long sleeve or short sleeved shirt that day or if you should grab a coat as you head out the door, but in Nebraska weather can kill you. Literally snuff out your very life! Weather often comes at you sideways or vertically, and sometimes both.
Furthermore, Nebraska Football harkens back to work ethic, to family, like you've shared. And every fall Saturday you've got a playing out of the culture of Nebraska, where they say, "We're going to give it our best shot after the preparation and take on all the hurdles in our way," much like a farmer who plants a crop, fertilizes it, nurtures it. And when fall comes around he's in a big hurry to harvest it or he might lose it. There is a sense of urgency, looking for the payoff, reaping the reward, or he might lose a good portion of it. And all that timing -the weather, the preparation- that's what makes good crops as well as football players. I think that way of living and thinking is physically manifested on a Saturday afternoon in Memorial Stadium.
And the Midwestern way of life may not be the fanciest, the most glittery, may not always be glorified in the papers of the media capitals, but our way of life works. It simply works. It's functional and it's, for the most part, self-sufficient. And it's a celebration of simple, hardworking, independent people. And I don't know if the figure is still correct, but they used to say that the American farmer feeds about 144 people per year -and they don't get a lot of kudos for it- but it's the one time of year, a fall Saturday, where this way of life is validated and manifested and comes to life on a national stage. Anyway, that's my take on it at present.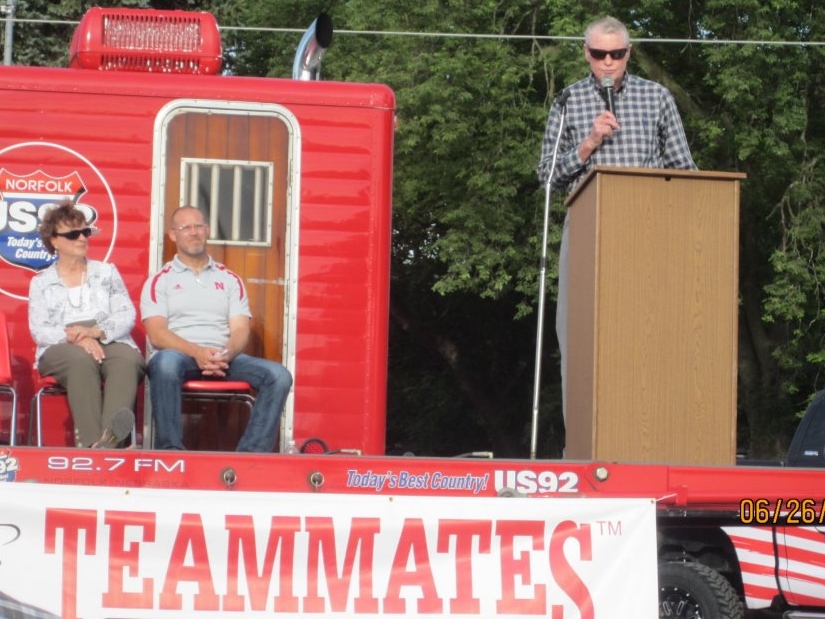 Tom Osborne speaks of the TeamMates mentoring program (Kathy Koch)
DY: Well, I think you have it right. And I thank Bob Devaney, his mindset where he got it all started, and Tom Osborne: those gentlemen were the root of everything.
And let me tell you something, there is another player who stands out to me: David Seizys. In fact, I wrote this to him on Facebook -and we haven't talked much about it here – but there's a factor that really stands out, and that's faith in the Lord Jesus Christ. There is a faith, and that's because of Tom Osborne, Ron Brown -there's just some major God-guys hanging around- and Ron Brown is one. And I tell you, I remember David Seizys: he was the first player in my memory to excite the crowd, to wave up and down to get them excited. And then, to find out that he just loved the Lord? That blessed me. And another memory I have, I loved the 1990's prayers after the games. I would hang around and wait for not only the Husker players, but for opposing players, Paul, for them to gather after this 'game' to give glory to God, whoever won or lost.
The second thing I love about Husker games is that after every single game, win or lose, when that opposing team goes into its locker room we applaud and cheer them on. We were at the game when Texas came to our home for that real tough game. Ricky Williams was running that night and he was ready to break that rushing record. He broke it on our field, and when he did that entire stadium stood and applauded him. I remember that, and even Mack Brown made a comment about it afterwards, that he couldn't believe the kindness and generosity of our fans. Basically, we're just good-hearted people.
Q: There is no place like Nebraska?
DY: There's nothing like it.
End conversation.
'Saturday's Big Red Family Reunion' was how Diane put it. Kind of makes you want to print up some special, red t-shirts for the occasion and show up for the fun, doesn't it? (Especially if you've got a zealous Husker Cousin like Diane Yeutter seated next to you) Well, they've been doing it like this every Lincoln football Saturday since November 3rd of 1962 when 36,501 packed the edifice erected five years post-World War I in honor of its fallen sons. Etched in stone on the eastern pillars of the Great Plains' version of Rome's Coliseum are the words: "In Commemoration of the men of Nebraska who served and fell in the Nations War" and "Their Lives they held their countrys trust; They kept its faith; They died its heroes." Men young and old still remove their caps at the presentation of the colors, the mass of red respectfully and humbly sings the national anthem in reverent tones, and Boy Scouts still display a spirit of servanthood and duty in chaperoning lost fans and old ladies to their proper seats. This is the heart of America, where style is overwhelmed by substance and where family devotion is valued and exemplified as tangibly as any Norman Rockwell canvas has shown.
Now, don't get me wrong, Nebraska has its fair share of scalawags, ne'er do wells, liars and cheats, too. You can take that to the bank. But inside this grand Memorial Stadium (still growing and enlarging and metamorphosing as time progresses) a spiritual and psychological disinfecting takes place. It's difficult to describe, to put into words.  It's as if every sort of schism and bent is checked at the gate, and inside the limestone-colored bowl you happen upon one perfect, singularly spectacular and unified mass of humanity willing its boys to victory.
Honestly, it sends shivers up my spine just thinking about it. The sounds of the Pride of all Nebraska: The Cornhusker Marching Band, as the drum line knocks out its cadence, and then the whole covey breaks into Hail Varsity, then Mr. Touchdown USA, then Come a Runnin' Boys until assembling for the Tunnel Walk and the human causeway for the players' jubilant pre-battlefield entrance. There are smells: Runzas and popcorn and hotdogs and Valentino's pizza slices, not to mention the stench of grilled, burnt bratwurst and a few spilt beers as some clumsy tailgater traipses into the seat-scape. But moreover, it's the sights: red, red, everywhere red! Your blood pressure and perhaps even your temperature jumps a notch or two: the anticipation, the emotion, the sensation of Husker Nation readying itself to explode into the 600 Stadium Drive atmosphere. Ah, Husker Gameday! If you can get a hold of a ticket, that is.
Notable quote #2:
Husker fan Diane Yeutter on Nebraska's affinity for the team: "It doesn't matter who they are or where they come from or their ability, they are 'our boys.'  And that's what I love about Nebraska football, I consider those players our boys."
Copyright @ 2013 Thermopylae Press. All Rights Reserved.
Photo Credits : Unknown Original Sources/Updates Welcomed
---
---
---