Anatomy of an Era: Dave Ellis, Part 1
Excerpted from Chapter 9, No Place Like Nebraska: Anatomy of an Era, Vol. 1 by Paul Koch
Pay close attention: this is good….
em-i-nence: high station, rank, or repute.
out-li-er: a person or thing that lies outside.
I've chosen to label a few select individuals a term I recently coined: Eminence Outliers. An Eminence Outlier –EO for short- is a person of supremely high competence who appears on the scene from elsewhere and functions primarily out of the public view, but has a markedly & excessively profound impact on the organization in their employ. In other words, these people are desired not only their unique skillsets, but for their secondary intangibles as well. Though functioning most often behind the scenes, to miss their effect is to miss the mark entirely.
To wit, I've heard tales of supposed big name coaches who were trumpeted as splash hires in the hopes of leading their new employer to football's Promised Land only to fail miserably and fall short of expectations. A primary reason for many of those failings is an exhorbitant ego mixed with an inability to acquire or retain eminence outliers (and inliers, for that matter) to their staff. Nebraska Football suffered mightily from this very curse in the following Pederson years during management/coach turnover, though it was quite fortunate to concurrently possess more than one of these EO's during the 60 & 3 years. A few names have been hinted at in previous conversations, and it was my fortune to catch up with Dave Ellis, our first Nebraska Football Eminence Outlier.
On any particular day of the year you'll find the former Omahan in the offices of a Foxborough, Massachusetts football stadium, an Ann Arbor, Michigan hockey rink, a San Diego, California baseball diamond, an Oklahoma City basketball arena, or any variety of U.S Special Forces locales (some undisclosed, due to reasons of National Security). A gregarious and affable personality with penetrating insight into athletic performance nutrition, Dave arrived on the Lincoln campus after a short stay at the University of Wisconsin with former Husker Linebacker and Head Badger Coach Barry Alvarez. Fresh from an historic Rose Bowl appearance and victory after that institution's 31 year bowl drought, you can bet your cheese & broccoli that Dave had a large hand in making that success happen by way of the training table.
Notable quote #1:
"So when you work around coaches that have job stability, sooner or later they get around to the little things, you know. That's sports psychology, nutrition…"
Dave Ellis Part 1
Sports Nutritionist
Question: So you're now a Colorado-based sports nutritionist serving the world, Dave?
Dave Ellis: Yeah, It's been a leap of faith, but it's gotten to be more of a -how shall we say it?- a very diverse practice. It's been very challenging, a lot of growth. Along with my collegiate exposure, my exposure's been very diverse: NASCAR, NHL, NFL, you name it, NBA, MLB, Olympic. I still have a hell of a college stable. It really caught me off guard; when I left Nebraska I didn't think they would ever pay to have somebody come in on a daily-charged basis like I do. Oklahoma hired me the day I left Nebraska, and it's just kind of kept going from there.
Q: How did they find out that you'd left Nebraska?
DE: Their strength coach Jerry Schmidt was my old roommate at Nebraska. Anyway, Schmitty snagged me right way, and then I just kept picking up colleges. I'm still working for Frank Solich at Ohio U. Anyway, I started the practice in March of '01 and it's really blossomed.
Q: Do you ever hook up with Dr. Jack Stark anymore, with NASCAR?
DE: Yeah, Jack is the guy that initially introduced me to some contacts at Hendrick Motors, and he's since gone on to work with Toyota. It's interesting. I enjoy going to it periodically, it's a 10 month season. Those guys are a bunch of nomads and live out of a bus. It's amazing.
Q: So Dave, your first year returning to Nebraska was the summer of '94, right?
DE: Yeah, I left Barry Alvarez's staff right before the Kickoff Classic against West Virginia. I was still with Wisconsin when we won our first Rose Bowl, the same time Nebraska played Florida State. I was starting to get some contact from Nebraska, they were finally going to be creating a nutrition position. So I came back. There was a committee: Turner Gill was on it, Mike Arthur, Rhonda Revelle the softball coach. They interviewed some people.
George Sullivan had the nutrition responsibilities under his wing for… historically, the trainers always had that. And Boyd got a shot at it in regards to having control of nutrition support services, and that would involve me coming back and handling body composition assessment and tracking things over the long haul, setting some realistic goals for the athletes, monitoring their frame size and growth, figuring out how much weight they could carry, managing the training table, managing the travel feeding, supplementation, just creating a full-fledged support service.
Of course, I was suddenly being pulled into recruiting, too: every sport wanted me to help them recruit. On your day off they still wanted you to come in and help recruit. It was a lot of fun. Those were good years. In total, I think I worked 16 years at Nebraska & 4 at Wisconsin, in the collegiate ranks. So I did my 20 years in the collegiate ranks before going private.
It was just time to step out and get some different exposures. And believe me, they're still stretching me. There isn't a week that goes by that I'm not standing in a Major League dugout or in the pits of NASCAR, the sideline of the Super Bowl or whatever, up in the mountains with our Special Forces. It's just such a diverse mix.
Q: Incredible. You were a freshman at the University of Nebraska in 1982, right?
DE: I went to Omaha Burke and came down to Lincoln in January of '82. It's when I came to campus as a student. Then I got a job from Boyd. I ought to send you this letter. I actually found a letter I wrote Boyd, kind of begging my way into working for him. It was the summer of '82. He let me on board because I was studying nutrition. He had plenty of strength guys, and he didn't really have control of nutrition back then. He knew the value of it. Osborne obviously knew the value of it, as far as a few head coaches who saw fueling as one of those percentage benefits that was worth having plugged in.
So when you work around coaches that have job stability, sooner or later they get around to the little things, you know. That's sports psychology, nutrition….some pieces that when a coach is still trying to put together a coaching staff and recruiting the caliber of athletes they want, they are really lost. Then they come around to button things up when they are past that "Am I gonna get fired?"-stage and have some stability, you know?  It's interesting, because rarely do you find a guy right out of the gates, who from day one, is worrying about sports psychology and nutrition. We're kind of the more advanced practices, if you want to think of it like that.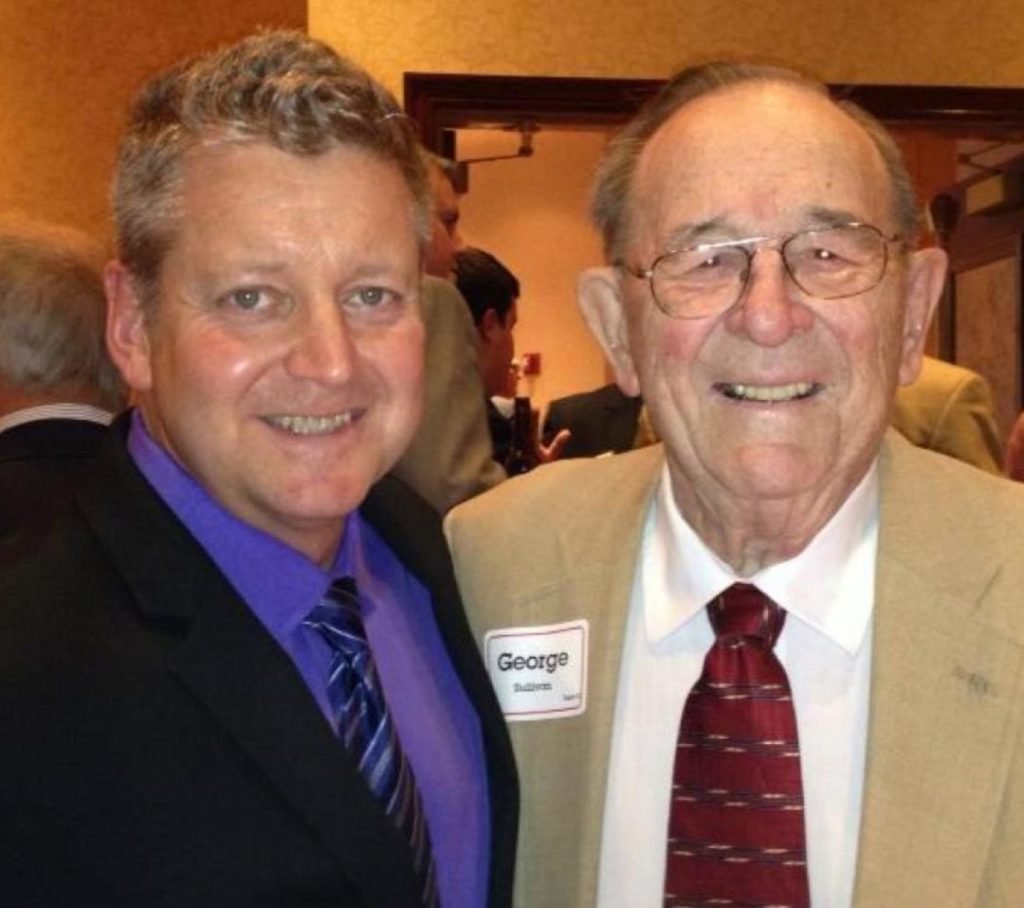 Dave Ellis and George Sullivan, an early mentor (Unknown/Uncredited)
Q: Didn't you initially work in some shape or form for the University before you left for Wisconsin?
DE: When I left for Wisconsin I was over working for Mike Arthur and Boyd Epley at Body Enterprises (a private company). I was still coming to campus on a regular basis and doing stuff, whenever they needed help. But it only took a couple of years of that for me to know that that's not what I was gonna want to do. I wanted to work for an athletic department and athletic setting, the strength and conditioning/nutrition side, when Alvarez got his job there.
I had 4 really good years there at Wisconsin and I literally had head strength coaching responsibilities. And they finally gave me nutrition responsibilities on a full-time basis there my last year. I think that's kind of what got Nebraska's attention. They had success and suddenly I was full-time on the nutrition side, so that got them spurred to start taking some actions and getting me back.
It was a no-brainer, going to Wisconsin, which was still in the developmental stages back then. Wisconsin very much resembles Nebraska now, but not back then. And going back to a very highly developed infrastructure with a very secure head coach and coaching staff in football wasn't something I wasn't going to pass up.
Officially, I rejoined Nebraska football after you guys left for the Kickoff Classic in '94. I joined the staff the day or so after the team left for that game, but I had already done the menus for the Kickoff Classic. The classic story is that it was the first time Sully (Head Trainer George Sullivan) had not been in control of the pregame meal. So I put together an entire new pregame meal format that wasn't really supervised (because I was in the middle of moving back to town), and I remember (Steve) Pederson (the Director of Football Operations) calling me from the Meadowlands and saying what a great success the new pregame format had been… but how traumatized Sully was upon going up to it, when he saw all that food was sitting out there. He was afraid everyone was going to overeat and cramp up. (laughs) It wasn't like the old pre-plated 'eat a piece of steak and the broccoli/potato/whatever' they had traditionally offered the players.
Q: Instead of a TV Dinner-type setup, you had more of a buffet?
DE: Yeah, I mean the kids just kind of have to paint a picture of the way they want the diversity of food on their plate. But the selections were all appropriate in nature -and you usually get half of your group- because there's a lot of idiosyncracies that go on on game day with guys and their appetites and their attitudes and the things they like to eat. It's also a matter of not sticking the wrong things out (on the buffet) so all the guys are burping it up at game time.
The fact is -long story short- had we lost that game and the guys had went out and cramped? God only knows if I would even be in the business. (laughs) It would have been over! Sully would have snatched the responsibilities back. And I've gotta tell you, I'm a big fan of Sully, because back on my first go around with the Athletic Department, Sully was one of those guys that invested in me. He got me trained in body composition assessment, he introduced me to the American College of Sports Medicine meetings, some regional meetings. So Sully and Boyd, together, both saw something they wanted to invest in, and they did.
But, you know, change comes really slow. Programs having success? A lot of them validate not making changes based on the fact that they've had success: "Well, we won back then, and we ate this way, so why are we gonna change?"  That second go-around after I came back from Wisconsin we made a lot of innovations in the way we fed them during two-a-days. Not just feeding traditional breakfast, lunch and dinner (knowing the kids were absolutely not going to have the appetite after that second practice in the heat), and maybe we needed to think about sending them to meetings after supplementing them with some appropriate foods and then bringing them back a couple hours later and then feeding them a hot meal. It was just one of those deals where we made a lot of changes. Within the first year and a half to two years coming back they just let me have free run of it, to be honest with you, and to have to take the helm on all these issues: supplementation, feeding, body composition assessment, all these different roles.
We had a very established school where we won the National Championship the first year, so it was kind of one of those fairytale deals. So change -along with success- is why you're hearing things from those guys (you're talking to). It was the commingling of the two, where Tom got over the hump and won his first National Championship in a very hostile environment in Miami -an extraordinarily hostile environment- almost unthinkable to go in there and jerk one out of their teeth on their turf in that cesspool. Miami was about as hostile a crowd as you'll ever be around, really. I've run into some beauties along the way, but it's right up there. That was huge.
And then for that team, that staff and those athletes to go on the kind of run that went on there where we won 3 National Championships in 4 years? To have that kind of percentage of winning was just extraordinary. To this day those are great, great memories. The early, formative years before I went to Wisconsin -great growth years all along the way- but until you really get that responsibility, people have the confidence in you and give you the responsibility? I was really fortunate along the way.
Q: When you did return to Nebraska were there any differences between this newer crop of athletes and the Nebraska players of old? Talent levels?
DE: Well, they got some skill kids in there. The days of corners and safeties having marginal speed were kind of over. Tom had kind of brought in a caliber of athlete that could run; that could run with any skilled team in the country.
I think he learned a tough lesson when he lost to Schnellenberger at Miami. He had tough kids and we could match up in some spots on the field -where people covered a little less space on the line- but we had a tough time matching up in some skill spots. It's not like we had a bunch of slowpokes; we had Mike Rozier back then, Irving Fryar, Turner Gill. But in the end, we didn't have probably what we needed at wide receiver, safety and defensive backs in particular. They were great kids, don't get me wrong, but they just weren't the kind of kids you'd routinely find around the state of Florida, you know?  I thought Tom and his staff had learned some valuable lessons on what they needed to strengthen and take care of, from a personnel standpoint.
And Tom's introduction of me to the team was, "Hey, we're bringing Dave back. He used to work for us. He's a guy that will roll up his sleeves and will get down in the trenches and work for you. He's gonna figure out how to make a difference and how to teach you guys the value of nutrition and food," you know?  That's my forte, applied sports nutrition. I'm not a clinician sitting in the office -not a 'bring me sick kids, shake a rubber porkchop-educator,' I'm a 'roll up your sleeves, let's impact the quality of the food supply, let's get the athletes trained to know how to use it on the days we're training and the days we're not training' kind of guy. That's the attitude I come in with, still today.
What I do is go in and take the food in play –the food you've got- and create a system so they understand how to use the fuel. A lot of people eat and it's just based on an impulse, alright?   They're hungry, and they go out and solve the hunger and they do it as cheap as they can and it's not healthy and it's a bit of a disaster. Training tables are a commitment to having a superior food supply, staying open later, and creating some type of a system so the athletes can truly understand how to 'paint the picture' on their plate the way it should be.
Literally everything I did at Nebraska, I still get paid to do today….because so many people are still not caught up to what we were doing back then. It's crazy!  Fifteen years later -what we were doing for our athletes?- I'm still getting paid to go implement with Super Bowl champions, World Series champions in Major League Baseball, and it's the first time they're hearing it! The first time they've done anything. And the whole time I'm just kind of giggling to myself thinking, 'Geez, I guess we were kind of a little bit ahead of the curve.' But it was due to Tom's commitment to nutrition that we were ahead of the curve, because of his own health issues that he'd dealt with.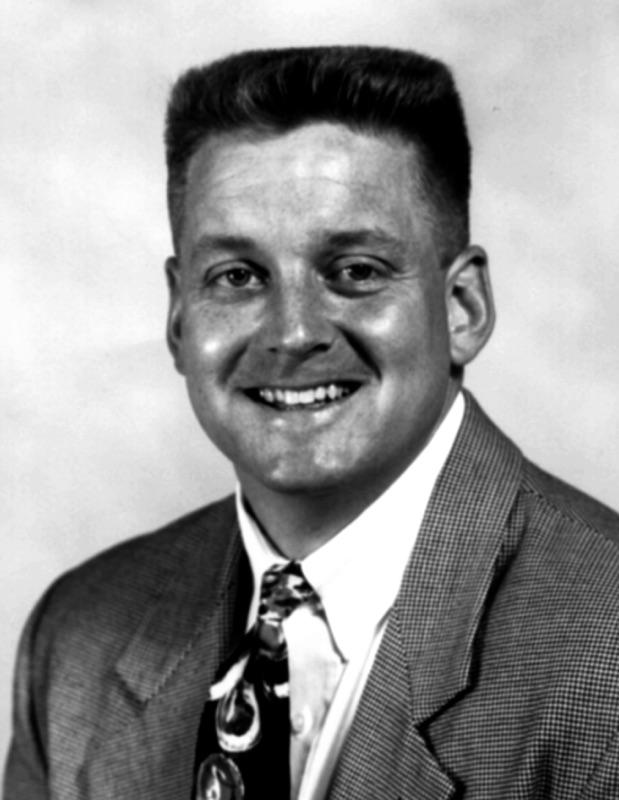 Dave Ellis, Sports Nutritionist (Nebr. Sports Info)
And, as a result, he knew he could push the troops harder. I think anybody who's ever had a brigade of warriors in any kind of battle -with the right rest and the right fuel you can march a little further and harder. Tom got it. Tom got it a long time ago, as did Boyd and Mike Arthur and the strength and conditioning coaches. They got it. "I guess we don't recover from our workouts very fast when our kids aren't fed and fueled. And we have only so many weeks to work out, and it seems if we recover faster we can kind of out-work the competition."
It was a great environment, because there wasn't much that you learned in your collegiate curriculum of studies that we weren't already living out. It was, 'you turn around and everything that you ever learned in any physiology, and biology, and nutrition or exercise class, you were already living it.' We were already doing it in day-to-day practice. It was kind of like, "Oh, that makes sense. We see that all the time." It was an extraordinarily valuable but taxing experience working full-time for Boyd. And as you know too, Paul, it was all done while turning around and simultaneously going to school.
Q: I remember pushing the envelope and falling asleep in the books at night. So you were doing both, too?
DE: Yeah, I did my undergraduate work and graduate work at Nebraska, and at all phases I was working for the Athletic Department in some capacity. And as you know, you went to work when Boyd needed you to work and school came second. So it took you a little longer to get through it all, through school.
But my point is that the paradigms that you were in, those types of settings were very concrete, because you were applying them. Obviously, it's a great education model because you're not just learning by rote, grinding on information. So it's not just in one ear and out the other. Until you get through the test of burning the candle at both ends… it might take longer, but the applied settings really and truly helped with understanding what you were learning.
Q: I recall at times wanting to correct some of my professors because it seemed they were teaching some pretty archaic stuff. (laughs) Upon taking the reins at Nebraska, were there any differences in team philosophy, unity, mindset, or attitude that stuck out to you when you came back in mid-'94?
DE: I think Jack Stark had gotten involved when I came back and entered the scene at Nebraska with the Unity Council. I don't think I knew Jack before I left, but I got to know him and we became fast friends upon my re-arrival at Nebraska. He was very well-connected with the kids and I knew he was having an impact and he was wired into the kids, and they talked. He had their attention, so Jack and I have done a lot together over the years. We don't talk too much anymore since I moved to Colorado.
Jack had done a good job of bringing the Unity Council into existence, and you know, what you learned there is this: when there is an element of self-governance with the athletes managing themselves, setting some rules for the team, doling out punishment for those who step over the line, quite often they're harder on themselves than the coaches would have been for the same infractions.
So there is a lot of value to modeling by the upperclassmen, who not only are leaders in the locker room and on the field, but off the field, also. It was really good for leadership development all around. And what Jack was doing with these kids, at the time when I came back, there were just some absolute warriors, the kind of leaders you run into once in a lifetime. The Zach Weigerts: Zach was the kind of guy who could get it done on the field and march up and down the sidelines when our backs were against the wall and get everybody to play over their head and play tougher than they could have ever played and mustered up on their own.
So when you see athletes pulling that kind of performance and digging down, trying to get the hard stuff out of their peers, and then you see them governing themselves to some degree with the Unity Council, it was just wonderful to see. And there were just legions of leaders that came through: Jared Tomich, Mike Brown, the Ralph Brown's, you could go on and on and on. The Peter brothers? These guys were just tougher than nails. And pain, discomfort, hot, cold? It didn't matter, they giggled at it all, laughing in the face of it all. On the road? It didn't matter.
These guys were the kind of warriors that are not so easy to find. It's a tough deal nowadays to identify kids like that, who can back it up on and off the field, you know? They're not ever going to be selfish, not going to 'check out' on you, they're not going to back down, and have so much pride in what they do that they're gonna contribute no matter how adverse the circumstances. There was such a special group of people. Tom brought skill in, governance and unity issues, and self-management. That was great.
And Tom, some of the best speeches he gave in that locker room that I was privy to, he could literally look the kids in the eye -like before his first national championship victory in that hot hell-hole of a locker room in the old Orange Bowl, where there was like 'no air', they were pumping air in there with fans, everybody was sweating buckets, jammed in there like sardines- when your head coach looks at you and says, "There's gonna be a time when momentum is just gonna shift. One minute they're gonna have it, then we're gonna have it. Don't worry about it. It's gonna come right back to you. And the reason it's going to come right back to you is because you are better prepared. You guys have outworked these guys. I can promise you they've never ever tried working as hard as you have on and off the field."
And the kids could literally look at each other, and they'd say, "Yeah, he's right!" And when things go wrong, you're not worried, "No matter how adverse this gets, we're gonna battle through and we're gonna be the champion in the end." And it had teeth. And it really meant something. Tom finally had everything in place: how we trained and how we fueled and how we had managed ourselves on and off the field with our leadership elements. And for a long time he was 'the guy that couldn't win the big one.' It was very consistent, but he didn't have the formula to win the big ones early on. Those were good years, Paul. Those were excellent years.
Copyright @ 2013 Thermopylae Press. All Rights Reserved.
Photo Credits : Unknown Original Sources/Updates Welcomed
Paul Koch