Anatomy of an Era: Clayton Carlin, Grad. Asst. Coach, Part 1
Excerpted from Chapter 44, No Place Like Nebraska: Anatomy of an Era, Vol. 1 by Paul Koch
If you don't invest very much, then defeat doesn't hurt very much and winning isn't very exciting.  
-Dick Vermeil, Football Coach of the Year at the High School, Junior College, NCAA Division I and Professional Football level.
Nebraska is the second-ranked beef-producing state in America, so it's only right that it had its own particular version of a Philly Steak Sandwich on staff, epitomized by a Philadelphian who capitalized on the assistance of a coaching legend's favor to garner a role during that 60 & 3 era.
Currently down south in Texas (formerly with Cornell University), Clayton Carlin still retains the taste of his Nebraska experience and relishes its lessons and people, perpetuating its wholehearted positivity and welcoming embrace. Let's hear from one of the younger kids on those days' coaching block with a very unique tie-in to the making of Husker History.
Notable quote #1:
"They all had the same goals and same vision, and they treated me and treated everybody with nothing but class and integrity… the players, they impacted me greatly, being so coachable. And no egos there, either. Just great kids."
Clayton Carlin 
Where are they now?  Defensive Coordinator, Sam Houston State Univ., Houston, TX         
Question: Hey Clayton, it's been a long time! I was watching some old film the other day and saw you roaming the Nebraska sidelines and figured I just had to get a hold of you for this book…
Clayton Carlin: (Laughs) I'm sure I looked a lot younger than I do now, some 15 years ago now.
Q: So you're married with kids? The whole works?
CC: Married with 5 children and a sixth on the way.
Q: Where did you meet your wife?
CC: In Nebraska. She's from Oakland, Nebraska. Yeah, it made those three years that much better. (laughs) We've been married a little over 11 years.
Q: With as hard as they worked you GA's, how did you find the time to find a wife?
CC: (laughs) You're not kidding, Paul. I'm still trying to figure it out. (laughs) It's the truth. She's just unbelievable. She's incredibly patient and supportive. A good girl to be married to in this crazy profession.
Q: You grew up in Philly, right?
CC: Right outside Philadelphia. A suburb outside of Philadelphia, Pennsylvania.
Q: What road did you follow to become a GA at the University of Nebraska, then?
CC: Well, here's exactly what I did: I was a high school coach for 5 years, Paul, and I coached at a Division 3 school, Delaware Valley College, which is in Doylestown, Pennsylvania, again, right outside of Philadelphia.
Then I got an opportunity to come to Nebraska. And I got it! I caught a big break because of Dick Vermeil. My father works for the Philadelphia Eagles, and Coach Vermeil was coach of the Eagles when I was growing up. I was able to get to know him and he was very helpful to me earlier in my career. Still is today. At that time he was broadcasting and doing different games around the country and dropping my resume at different places. He dropped it off with Coach Osborne and I came in for an interview… and a month later I was moving to Lincoln.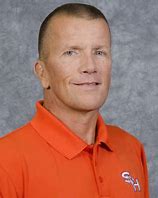 Q: What did your father do for the Eagles?
CC: He's the Director of Ticket Operations. He's been there, my gosh, for over 45 years. There was a three-year stint there when he was out. Remember the old United States Football League?
Q: Dude, I absolutely loved that league! The old USFL!
CC: Yeah, he left the Eagles to go with the Philadelphia franchise and was with them as the Vice President of Business Operations and Ticket Operations.
Q: The Philadelphia Stars! They had Kelvin Bryant at running back, Chuck Fusina..
CC: You got it, Chuck Fusina was the quarterback. Irv Eatman… there were some really great players there.
Q: I loved the Breakers teams. They had first dibs on all the former Nebraska players…
CC: They were great to watch. (laughs)
Q: So, going back to Coach Vermeil, I guess that old saying rings true: It's not what you know, but who you know?
CC: Oh yeah, no doubt. You get an opportunity to get it done and you have to hold your own when it happens.
Q: So you interviewed and then somebody gives you a call to come and join Nebraska?
CC: Yeah, that's exactly how it worked. I packed up and moved out there and the rest is history. Absolutely three wonderful, magical years.
Q: Did they tell you on site? On campus?
CC: They didn't tell me while I was there. It was another day or couple of days when Coach Osborne called me. They flew me out there and I visited with George Darlington and some other coaches. It was before the National Championship game versus Florida State.
Q: Really?
CC: It was before that game, so it was in December sometime. And I joined right after that game.
Q: So you spend the majority of your life back East, and then you show up in Nebraska. First impressions?
CC: Well, I would have to say, Paul, just the people. The people and the coaches there on staff, everybody involved with the football program was just so wonderful, they all had the same goals and same vision, and they treated me and treated everybody with nothing but class and integrity. That's what I'll always remember, how accepting everybody was. I just moved out there and didn't know a soul. George Darlington there, a wonderful man, and Charlie McBride and Tony Samuel? They were just great. And my first year there, it was Kevin Steele and then Craig Bohl. And then Frank Solich and Milt and Dan, Ron and Turner, it was all wonderful and, obviously, because of Coach Osborne. I remember the people being so gracious and so accepting and so helpful.
Q: Any recollections of that helpfulness?
CC: Yeah, there were no egos involved. You were a graduate assistant, but I tell you what, you were just treated very well. You had to work hard, obviously, and do some tough things, but everybody just treated you with nothing but the utmost respect day in and day out.
Q: You worked as the GA with the DB's and Coach Darlington, if I'm correct. What can you tell me about being a Graduate Assistant that most fans likely wouldn't be aware of?
CC: Well, I'll tell you what, I think Nebraska at that time was a unique place. I don't know if it is anymore, being a GA there, but at that time -because of George and Charlie- you got a chance to coach, too. You had to do the film breakdown and drawing the cards and prepare things but George had no problem: one day he took the safeties and I took the corners, and the next day vice versa. It was one of those deals where they'd give you as much responsibility as you can handle. That's what made it a unique place, and I grew as a coach there.
Q: What kind of impact did the coaching staff have on you, as far as your coaching methods and the leadership style that you use now?
CC: Well, certainly Coach Osborne had an impact. Just how he treated people and how he was always the same day in and day out. I learned from him to keep things on an even keel. There was no, there was very little difference that you could sense in his demeanor whether it was the start of spring practice or right before the national championship game. His demeanor day in and day out certainly impacted me. Just because of the man that he was, and how everybody there, Paul, had no egos, same goals, same vision. No one had any hidden agendas. They just really worked well together. Everybody impacted me, spiritually the way I was impacted. And Tony Samuel was very good to me, working side by side. Just the influence of a lot of people.
Q: When people ask you about Coach Osborne, of course they know the name but not so much the man, how do you describe him?
CC: Well, I don't know if there's words out there. I just tell people everywhere I've been that I still use a tremendous amount of things I learned from him. There are things I bring up in staff meetings here at Cornell. When we as a staff have to deal with a situation, I'll say, 'Well, here's how Tom Osborne would have approached it this way or handled it that way.' He had a heavy influence on me as a coach. What better way to describe my respect for him than that?
Q: So you showed up in the spring of '94, right?
CC: Yeah, January of '94. My first season was the first national championship when we beat the University of Miami. The second season was the Florida national championship game. And the third season, my final, was that game against Virginia Tech.
Q: That last year was the big flu game where Texas caught us at a weak moment?
CC: Yeah, they sure did. I remember it like it was yesterday. They ran a play action pass in the Alamodome and we bunched 'em all in in a two-tight formation, 4th and 1, and they snuck the tight end out and hit a long pass on us, you know.
Q: You can't get all the bounces, can you?
CC: No, you can't. (laughs)
Q: Now, I heard you had a connection with the Miami quarterback, Frank Costa…
CC: Well yeah, I was Frank's high school head coach at St. Joe's Prep School (where I also went to), in Philadelphia. Frank's junior and senior year I was his head coach. So we met again in the national championship game there. It was quite a story.
Q: I suppose you played a uniquely crucial role in the preparation for that game?
CC: I don't know if I did. I didn't have much more to offer than what we saw on film. I remember at that time just talking more about how we could just rattle him with some blitzes and different things like that, just talking about the type of young man he was, because they were so intelligent in what they were doing. But we did hit him quite a bit. He took some shots. I contributed whatever I could, so it was an interesting time.
Q: So here's a kid you're very proud of, and a few years later you're on the opposite sideline trying to get into his head…
CC: Yeah, it's funny how things like that happen. He's a great kid. Doing well to this day, married and has a couple kids and is in the financial services field in New Jersey.
Q: You keep in touch with him much?
CC: I do. I haven't talked to him recently, but we exchange e-mails and I know he's doing well.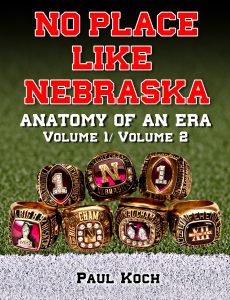 Both volumes available on Amazon.com
Q: And let me ask you, some of the athletes you were working with, who stands out to you among that group?
CC: Gosh, there were a couple, but the first young man that comes to mind is Mike Minter, just the type of young man he was and the type of player who practiced hard every day. And he overcame some adversity too, Paul, because he missed the first national championship season with a knee injury, but he came back the following year. Certainly, Barron Miles stands out as a guy that would just go 100 miles an hour. Just a very smart kind of guy who just loved playing, was very helpful to the younger players coming in. I remember Tony Veland, who was a quiet kid but who practiced hard. All those kids were just so great to be around and coach. Those three stand out.
Of course, you had Phil Ellis (a linebacker who was a Nebraska kid and had a good career), Grant Wistrom and Jared Tomich and the Peter brothers. And they practiced as hard as they played. They only knew one gear, and that was top gear.
Q: Any particular practice event stand out in your mind from those days?
CC: Nothing in particular. Just the intensity and how hard those teams practiced every single day throughout the year. That stood out to me. It was a continual thing.
Q: Speaking of that top gear, was it the coaches pushing the concept, the players themselves, or a combination of the two?
CC: It was a combination. The coaches did a great job and the players completely bought in and respected all the coaches. There wasn't a deal there in my three years, Paul, I don't know of anybody ever raising their voice. And that stems from the top, too..
Q: Even Charlie MCBride?! Come on!
CC: Okay, maybe Charlie once or twice, (laughs) over three years… (laughs) But I just think there was such a great -you talk about team- and the whole organization just worked together and there was great mutual respect from coaches to players, and players to coaches and staff. They just went hard all the time.
Q: Did that unity come as a shock you?
CC: No, I can't say that it shocked me. It was certainly impressive and something I still look back on to this day and just marvel at how it all came together. I can't say that it shocked me because, again, because of Coach Osborne and how he handled things and treated players and coaches and got everybody moving in the same direction.
To be continued….
Copyright @ 2013 Thermopylae Press. All Rights Reserved.
Photo Credits : Unknown Original Sources/Updates Welcomed
---
---
---