Anatomy of an Era: Bill Doleman, Part 2
Excerpted from Chapter 101, No Place Like Nebraska: Anatomy of an Era, Vol. 2 by Paul Koch
Anatomy of an Era: Bill Doleman, Part 2
Q: Any other coaches from that era leave any lasting impressions on you? Conversations in passing? Interactions?
BD: Looking back, the thing that strikes me about that staff was how unique the personalities were. You didn't have coaches who were all -how do I say this?- stereotypical. They were not all ex-jocks, or the prototypical football coaches who yelled a lot and all that stuff, but you had all different personalities. From Tom, and then you had Milt Tenopir and Dan Young as the offensive line coaches and kicking coach: they couldn't have been more laid back. Their personalities could not have meshed better with the guys that they coached.
And you know, they were all fun to be around in their own way. Turner Gill was such a classy guy, and to be around Turner Gill makes you a better person. And Ron Brown, I think, is one of the most interesting guys I've ever been around: his passion for his players is second to none and, of course, his passion for the Lord is awe-inspiring. And then there's Charlie McBride, the salt of the earth -I don't want to say 'down and dirty'- but just something about Charlie, the gruff guy. But if you get to know Charlie McBride there's probably not a better guy to hang out with and know. He had that gruff charisma that may have struck fear in you and ingratiated you to him at the same time, and the more I've happened to know Charlie the more I loved to be around him.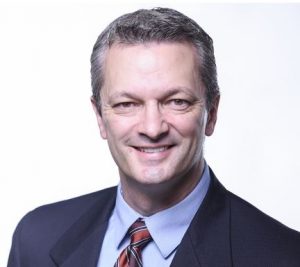 Kevin Steele, I got to be friends with him and I really liked Kevin. Tony Samuel, is there a more laid-back guy? He had that Trinidad and Tobago background and you're thinking the guy ought to be coaching on a beach head in a Hawaiian shirt or something, but his players were such vicious defensive ends and outside linebackers.
And the thing is, as different as those personalities were… and I go back to Frank Solich. He may have been the stereotypical football coach, a rock-solid guy, a great assistant coach who got the most out of his players at the running back position, and I had ton of respect for him -but as differing as those personalities were, the constant was Tom Osborne. He had great respect for his coaches and allowed them to do their jobs, and they in turn had tremendous respect and reverence for Tom Osborne and the way he treated them.
And that dynamic… to witness that dynamic for a couple of decades was phenomenal. I just don't know if there's probably been more than a handful of programs in football who've ever experienced a program like that, with the personalities involved and the character of the man at the top. It all came together and worked perfectly.
Of course, there's George Darlington, I almost forgot Crazy George. (laughs) I wouldn't say he was a loose cannon, but George marched to his own band. He spoke what was on his mind and was a genuine guy, who, like all the rest of them, would give his heart and soul to anybody who said they wanted to play football at the University of Nebraska. He's a great man, too. It was just an incredible staff to be around, and then to watch them work and work together was terrific.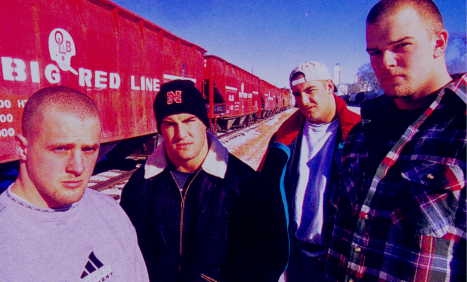 We did a piece on the show -I think it was called 'One-on-One'- and what we did was, we had players host a segment, and they would typically interview their position coach. And some of them were good… and some of them were good because they were Nebraska football players (Husker fans will watch anything). (laughs) But the one that really stands out was the one that we did with Christian Peter interviewing Charlie McBride. It was absolutely five minutes of some of the funniest TV -and you had to be in the Nebraska football family to get it, because you had to know Christian and you had to know Charlie- if you were a fan of Nebraska football and you knew them it was just incredibly funny.
That one particular episode? Tom would always watch the interviews, and I have never ever in my life… (and nobody's ever seen it) he laughed so hard watching that piece that he cried! He had tears coming down his face! And when we came out of that piece I asked Tom to give his reaction… and he couldn't speak! He was just crying because he was laughing so hard!
And we had an idea that it was going to be funny, so we actually isolated Tom on a camera and got his reaction as he watched it. We played that back later on in the year. I know we played it at the Christmas party because nobody had ever, ever -and probably to this day- has ever seen Tom Osborne laugh as hard as he did at that piece, the way he did. It was Nebraska football comedy gold.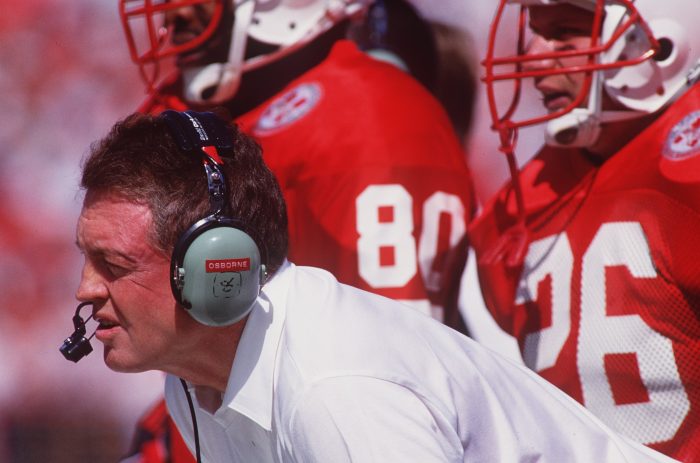 Credit: Earl Richardson/ALLSPORT
Q: (laughing) Is there a still a clip of that around somewhere?
BD: I would bet that HuskerVision would have that in their archives. It was unbelievable, because as it went on -and just thinking about it makes me laugh– and I don't remember everything about it, but it was just really, really funny. They took shots at each other, they took shots at Jason Peter and all those guys. And Tom, to see him watch and his face and his eyes light up with hysterical laughter was priceless. I'd forgotten about that until this very moment. That one was unbelievable.
Q: I suppose it was a great way to expose those unique bonds on the D-line…
BD: Yeah, I think people got an understanding watching a few of those pieces.
But what I think a lot of people got out of (those segments) was that there was a tremendous team chemistry that had been developed in the mid-1990's. There was a chemistry between the players and the coaches and there was chemistry between the teammates, and it didn't have to just be the offensive line and didn't just have to be different societal backgrounds: east coast, west coast, Midwest. I think there was a genuine love and respect among those players and coaches from those teams that had been intentionally fostered, and that worked. And I think that kind of came through in watching the Osborne Show. The fans understood that these guys are really good at what they do, that they really do love and respect each other; that was one of the things I think people got a chance to see.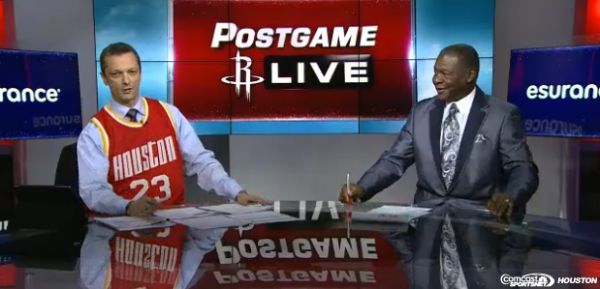 Q: That was my next question for you, Bill: from '85 when you showed up to the '94 year a decade later, was there any perceivable change in the atmosphere or culture around Memorial Stadium that one could palpably feel? Anything that had noticeably changed?
BD: I think after the losses in -what was it, 1990?- the loss to Oklahoma was like 45 to 10 down there, and then Nebraska ended up going to the Citrus Bowl and played Georgia Tech and I think they got beat 45 to 10, in back-to-back games, that just really seemed… I almost say that Tom 'lost a handle' on the program, but that wasn't the case.
There was something that just was not there. Maybe it was camaraderie? Maybe it was respect? I don't know, but something was lacking and there was a spirit to it that just wasn't there. I remember when they came back from that Citrus Bowl game and it was pretty down. That may have been as down as the program had been since the years I'd been around, but Tom came back and wanted to make some pretty significant changes in the way they played defense and the way they lifted weights.
I remember Tom mandating that "If you're a strength coach, you're gonna be on the floor of the weightroom working guys out." Maybe it was lack of commitment, maybe there was a sense of entitlement that the players had. "This is Nebraska football: you don't have to earn it, you just have to wear it."
Q: Coasting on past glories? On tradition rather than recent results?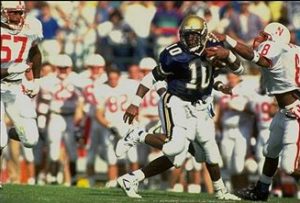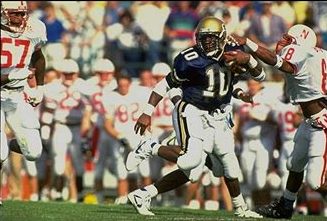 BD: Yeah, that might have been it. There was just a sense of entitlement, a lack of team chemistry, and really not much spirit, but Tom came back and made a concerted effort to get on the right page. And I know Jack Stark was involved in getting the Unity Council put together, and Tom bought in and fortunately the players that they recruited bought in.
And I think part of it was, at that time, maybe the recruits they were getting –while they were getting some big-time guys and sought-after recruits– they may not have been hitting a bunch of home runs because the success had been somewhat routine and they'd lost a lot of bowl games. So maybe some big recruits were deciding, "You know what, I'm a five-star guy and I'm going to go someplace else."
Maybe you lost those blue-chippers, but what you ended up getting was guys with work ethic and who maybe were overachievers, if you will. And when they came to the program (and especially if they were Nebraska kids) there was a certain pride for Nebraska guys to play football at Nebraska: you had something to uphold. And I think you had some guys from around the country who were overlooked by their home-state school, and Nebraska was a place that was going to give them a chance. So they were going to make the most of it.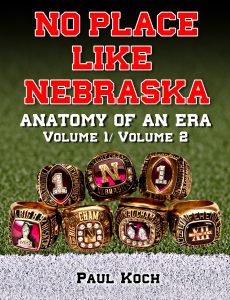 Available on Amazon.com
And that combination of Tom wanting to change the culture and the spirit of Nebraska Football, and try to capture something and bring in a bunch of players who were willing to work hard and prove a point? I think it all came together at the right time.
And I think the Unity Council was pretty significant. It may have sounded a little corny at the time: "We're going to get everybody together, a representative from every position, and you're all going to have some input with the coaches." Maybe in some places that would be lip service, "You're gonna have input," but all it basically says is that, "You're gonna talk amongst yourselves and you can tell us what you think, but we're gonna do whatever it is that we want to do." But I think the Unity Council they put together at Nebraska genuinely took the players' input and implemented it into the direction the program was going to go.
Q: Exactly, Bill. They served as the ship's rudder as well as its engine…
BD: Yeah, I remember we did a story on the Osborne Show. We got permission from the players and Jack Stark and Coach Osborne to do a feature on the Unity Council. I remember going into one of their meetings on some evening, whatever night it was they met…
Q: Tuesday nights, I think.
BD: Yeah, and I remember that we went in and we put our mikes out there and told the players, "This is what we're doing. We're not going to violate any confidentialities or violate your trust, we just want people to know what this is all about."
And obviously, being HuskerVision, they trusted us as to what we were going to do (and Jack was pretty clear that it was going to be okay), and I was really struck by the serious tone that the leaders had in that meeting. I remember guys like Phil Ellis… this was not a deal where a bunch of guys got together at the fraternity house and were going to yuck it up for a while and have bitch sessions. This was really an impressive deal where these guys were the team captains and were representatives of their positions, and they set the tone that this was a serious meeting and what they were doing was important, and what their teammates had to say was also important.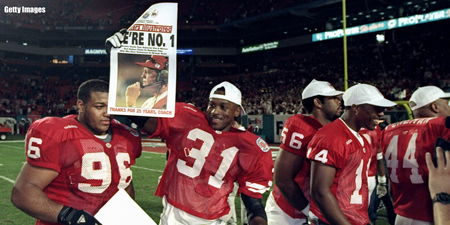 To watch those guys conduct that meeting -and there were a couple guys that were brought in that had skipped a class or whatever case it may have been- they had to stand up in front of the Unity Council. And I remember feeling somewhat uncomfortable for those guys. It wasn't that they got yelled at, but they got a stern, respectful talking to, that, "This is not the way to conduct yourself if you are going to be a Nebraska Football player."
Q: It was purely from their peers…
BD: Yeah, it was peer led and there was a lot of leadership, and I was really impressed by the way those guys conducted the meeting and how seriously they took it. And I think that's because they embraced the Unity Council and felt as if they were going to have a say, that they were going to be respected by the coaches and the staff. They took ownership of it and they made the most of it. And as a result of that spirit and pride and respect, Nebraska Football was reborn.
Q: I like the way you put that, Bill. When was your last year there and how did you end up to the point where you are now a studio guy for the Mountain West Conference Network?
BD: I left after Frank's first season. I guess that was the summer of '99 and went to Houston to become the Sports Director for a Christian Independent TV station that worked with the University of Houston. And then they decided they weren't going to do sports anymore, so I went back to Nebraska and worked there for radio and the Lincoln Saltdogs and ran the ESPN affiliate in Lincoln for a number of years, doing a talk show there, and continued to freelance in television.
I developed an affiliation with Mountain West Conference in about 2002, freelancing on some of their TV events, and the Mountain West Sports Network came into being and they asked if I wanted to become a network anchor. Apparently I must have done a good enough job that they asked me to do that and become one of the faces of The Mountain. They're great people and I could not pass up the opportunity.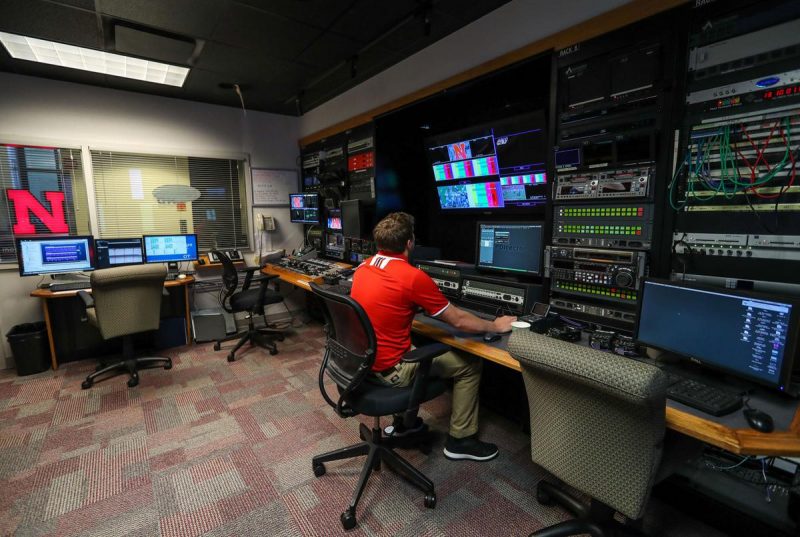 Q: The Mountain West Conference, how about that? Do you miss going to Husker Football games at all?
BD: Oh, absolutely. You know, I did go to a game as a fan the week that Steve Pederson got fired. Nebraska got beat and I remember thinking, 'The four-year case of the flu is about to come to an end.' And what was remarkable about that day, Nebraska played Texas A&M and it was a fairly close game and it never seemed as if Nebraska had or was going to take control, but I remember there was just a buzz around the stadium leading up to the game because Pederson had been fired and Tom Osborne had agreed to come on board and provide some guidance.
And there was some buzz before the game like, "Ahhh, Tom's back." (whimsically) And if Texas A&M scored during the game, the fans were like, "Oh, that's okay, because now Tom's back. (laughs) The sky is bluer and the reds are redder again. Everything looks great. And we're behind in the score… but that's okay, because Tom's back." That day it just seemed that everything was going to be okay because, "Tom's back." And it turned out those feelings that day were pretty well-founded.
Q: The Runzas and Valentino's pizza tasted a little bit better that day, huh?
BD: And the Fairbury brand hot dogs were a little bit redder! (laughing)
I miss those days of sitting on top of the open air crow's nest on top of the pressbox, on top of Memorial Stadium. I miss that. It was uncomfortable, but it was unbelievable to be up there and feel the air, hear the crowd and see the city, and just be there for that era doing that. It was the greatest era of college football. That was one of the greatest experiences of my life. That, I miss.
Q: Wow, that's a good story, Bill. Makes me wanna just crawl up there and watch a game right now.
BD: I have one more thing I'd like to tell you. And I don't know if you want to use it or not, but I'm sure you'll touch on the Lawrence Phillips thing. I remember after that thing went down it was pretty solemn around the department and around the team, but I remember it was right before the Arizona State game.
The players had a 'players only' meeting in the locker room, and I just happened to be down by the locker room at the equipment room talking to Glenn Abbott and Mike Mason at the time. I just happened to be there and I remember seeing players file in, and it was quiet. I don't remember who it was, whether it was Christian or Jason Peter, I remember the door being held open by one of the Captains and it was pretty clear that this was serious.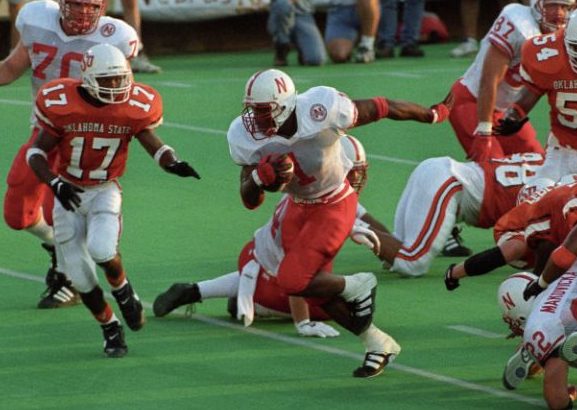 And then the door shut. And it was a big metal door. And I remember hearing Christian's voice and then Phil Ellis's, talking- and I remember Christian's voice saying, "What went down was horrible and all that, but this team is not going to be divided. It is not going to miss a beat. And we're going to stick together." I remember distinctly, though, him yelling, and it was loud. I remember hearing through that door, "We are not going to bring that man down!," because Tom had taken a lot of heat that week.
It was so intense, the media and all of that. But those players made it a point that they were going to rally behind their coach no matter what was going on outside the stadium, because they were threatening protests and all that, the 'win at all costs' and what not. I remember them saying, "How much those coaches love us, how much those coaches take care of us…" But I remember Christian Peter say, "Nobody is going to bring that man down…" and that they had to stay together.
And, of course, they went out for that game and it was the loudest cheer I probably ever heard at Memorial Stadium when they took the field, and they just demolished Arizona State by 53 points in the first half. The way those players galvanized themselves around Tom Osborne when things certainly could have gone the other way? They could have been divided or broken apart and demoralized, but those players took it upon themselves to have that team meeting, and with great intensity the leaders grabbed that team by the throat and said, "This is how it's gonna be, and we're not going to let that man down. We aren't going to let anybody bring that man down," talking about Coach Osborne. And talk about love and respect among that team? It was pretty evident they were going to do whatever they could.
And I felt it was always unique -people talk about the relationship Tom Osborne had with Brook Berringer: they had similar backgrounds and similar interest and all that- but I think Tom Osborne enjoyed Christian Peter and Jason Peter and Grant Wistrom and those guys, too. I think he just genuinely enjoyed being around them. I think he found them amusing, but I think he appreciated and understood that they really loved and respected him, too, and I thought that was really a unique relationship. There may have been players who had been more aligned with Tom Osborne's personality (and Christian Peter and those guys would probably not be in that camp), but I think Tom really enjoyed those guys as much as a coach can.

Christian Peter, 1995 vs. Arizona State
And while I'm thinking of it here, you mentioned that Florida State game and the '93 team… after that loss I was working for KFAB radio doing a little thing called "Meet the Huskers," like seventy players, and my job was to interview seventy players and send those to KFAB and they would run them as little radio spots later on that fall. So I would go down there to the stadium over the course of the summer conditioning, seven-on-seven and all of that, and it kind of goes back to that Unity Council meeting I talked about -the coaches weren't there and you strength coaches could stretch them and what not- but for the most part those players were in control of what they were doing. And I remember every day when I'd go down there they'd have the score 18 to 16 and 1:16 on the scoreboard every single day.
And I'd go down there every single day, but to see those players get on each other and make sure they'd maximize their effort? There was no slacking off, no half-assing it, no joking around. I mean, those players took that loss to heart and were so motivated by it, that to watch them work in hundred plus degree heat in Lincoln, Nebraska in June, July and August? It was really remarkable to see them do that. I can remember watching the team, thinking, 'Who's going to beat these guys? Who's working as hard as they are?'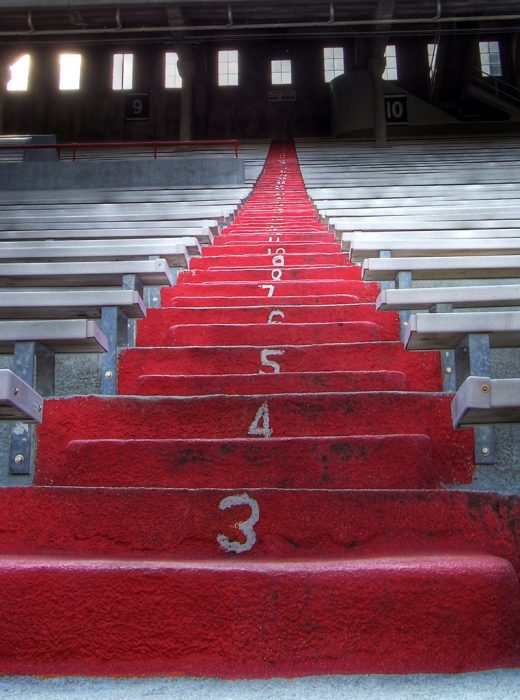 There was Christian Peter and Aaron Graham and all those guys, and they would not let their teammates slack off at all. It was, "Go hard all the time, because we're not going to end up on the short end of an 18 to 16 game again." If they would have won that game, I don't know if there would have been the same motivation in 1994, '95, '96 and '97. But I tell you what, that loss was certainly the impetus for the greatest run in college football, and it was because the players were accountable to make sure that didn't happen again.
End conversation.
Don't you just love a great ending? Coagulating this conversation into a neat little spoonful of insight is a bit difficult, because it entails my summarizing and better articulating a friend who happens to do this very thing for a living. (And very well, I may add, because he 'gets it'. The 'it' being the 'Nebraska Way') Though now living far past the western Nebraska borders in Colorado, I believe his heart still lies in the land of the Meadowlark and the Goldenrod, high, high, high up in the open air of the crow's nest atop Memorial Stadium's pressbox. If I ever make it up there, Bill, I promise to take a look around and report back to you its condition. 'Cause I'm sure the place just misses you something fierce, as well.
Gleaning what I can from mine and Bill's time together, he brought to light what's been in my heart and mind for over two decades when stating, "…it really taught me what the real purpose of college athletics -especially what the mission of Nebraska Athletics- was all about… And I became a much different fan." My hope is that you, too, by way of this meandering (yet purposeful) traipse through the remembrances and recollections of Huskers past, have come away with a deeper understanding of, an elevated appreciation for, and greater gratitude in your heart and mind for the special-ness that Nebraska Football was and still can be. (If you've given some thought to and taken the words printed here at face value, you'd have to be a cynic in the greatest sense of the word to feel otherwise.) I think a bit of the Husker spirit still now resides in many a Husker fan's heart, especially since the trusted leader is (at the writing of this book) at the helm: "…that's okay, because now Tom's back. The sky is bluer and the reds are redder again. Everything looks great." In his 1985 book More Than Winning, Tom Osborne spoke of Rice's immortal verse when he wrote, "Obviously Grantland Rice was emphasizing the importance of the process of athletics -what we as athletes, coaches, and fans become in the process of athletic competition. He was saying that the end result –the final score, the outcome- is of only secondary importance." Not meaning to commandeer the bulk of our time together by focusing on Tom Osborne alone, Bill just couldn't help himself. And I can't say that I blame him, because Coach Osborne's persona was not an act, not a staged event when the media's cameras were rolling, but it was part and parcel to the man's every fiber of being, and without him the great 60 & 3 era never would have been. I think we can all agree on that point by now. Leadership starts at the top.
Then Bill crisply brought us to the view from the stands with new eyes -from a layman's perspective- a view weeks and months before the ticket-paying crowds ever would see the panorama's result. And it spoke volumes: "I'd go down there every single day… (and) see those players get on each other and make sure they'd maximize their effort. There was no slacking off, no half-assing it, no joking around… to watch them work in hundred plus degree heat in Lincoln, Nebraska in June, July and August, it was really remarkable to see them do that… "Who's going to beat these guys? Who's working as hard?" I couldn't have put it better myself, Bill. Those teammates were each others' hammer on the Stadium turf's anvil, pounding out the dull edges and slowly, assuredly taking a shape, the heat of those sultry summer days forging a fall and winter's mettle for one and all. It was the greatest of eras, it was the most trying of eras.
Notable quote #2:
Bill Doleman on Cornhusker chemistry during the great 60 & 3 era: "…you had some guys from around the country who were overlooked by their home-state school, and Nebraska was a place that was going to give them a chance. So they were going to make the most of it."
Copyright @ 2013 Thermopylae Press. All Rights Reserved.
Photo Credits : Unknown Original Sources/Updates Welcomed
Author assumes no responsibility for interviewee errors or misstatements of fact.