Khus the Red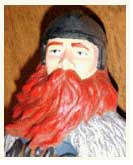 Keeping it Close

Dadgummit.
That said, it says a lot when Milt Tenopir can't say enough about this team and these coaches on the post-game call-in show. A lot of inspiring superlatives about grit, determination, heart and so on could be said about this game, and most of it already has. Somewhere along the line you would have to mention a Nebraska team throwing a go-ahead touchdown pass on a fade to the corner late in the game, something I cannot recall happening in recent memory. You would also need to mention Uncle Milt's own memory reaching back to his 29 years with the program and recalling that never, not under Bob Devaney, not under Tom Osborne, not under Frank Solich has a Nebraska team come back from 21 points down.
Yes, of course, we know. It's over, it was just one game, it's in the past, we won't carry it with us.
No. It's not, it wasn't, it's not, and we should. I don't mean stay mired in the gray bitterness of what-ifs and coulda-beens. Games like this provide far too many of those. I mean that this team should hang on to the fact that it came back when it looked like a Tech waxing was Mack-trucking its way through Memorial Stadium. This team should not lose sight of the confidence it had in the second half. Most importantly, this team needs to remember that this game was had, and then handed over.
That's not bitterness; this is to take into the rest of the season the knowledge that the best opponent we have faced this year was bested and all but beaten. These rip-my-still-beating-heart-out-of-my-chest losses often take a team either of two ways: One is the way of the Cyclone, which loses a tight one, then responds by losing to Baylor at home. Suddenly, a team is demoralized and the rest of the schedule looks like a long, icy slide into the bloody teeth of an imploding season that feels an awful lot like a three-month post-rave coma.
The other way is to keep it close and remember that if this team can spot the bloodsucking Leach three scores and four give-aways and still nearly take it back, then Gary Pinkel is confusable, Bill Snyder is frustratable, Bob Stoops is poutable and Gary Barnett is still laughable.
This is not to say that the North will part like our own Red sea, however. The secondary still got lit up from time to time, though the Blackshirts in general got salty in the second half. The offense took a quarter or so to wake up, but once it did it welcomed Cody Glenn to the party. And we're losing key players at a distressing rate. Hardy was hobbled and Stew Bradley is likely out with an ACL. Rumor is that we may see Barry Turner at linebacker. Yes, that Barry Turner, the young stud at DE, all 9'4" of him. Turner has been brought in as a frosh on passing downs because of his speed off the end, and his quicks will be needed at LB as he'll presumably share time with Ickes.
So the red Raiders slip out of town with a sheepish grin and a gift in the hip pocket, and NU goes to Waco for the first road game of the year. Baylor feels all un-Baylor-like after pasting Samford, kicking sand in A&M's eyes and beating a Prozac-laden ISU. This may not be your father's Baylor (which means, the Baylor of last year and pretty much every year prior), but with all due respect to Guy Morrissssss's scrappy squad, they're still Baylor.
Apologies for this one being brief, Red friends. We're honing the gameday battleaxe against the clock this week, but we'll talk again soon.
=====
Cry havoc! and let slip the Blackshirts of war.